Shifting His Focus To Female-Led Films Felt Natural For Park Chan-Wook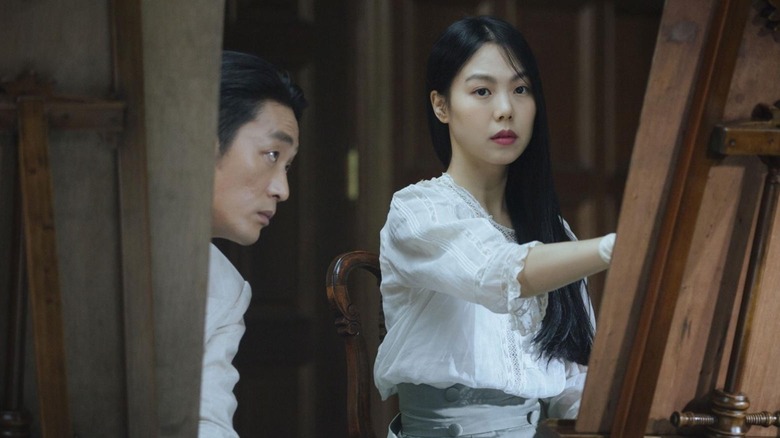 CJ ENM
Park Chan-wook earned worldwide acclaim for his 2003 thriller "Oldboy," but with each new film the director proves his commitment to centering well-developed female characters in his stories. His 2022 Cannes entry, "Decision to Leave," features a female lead as the primary suspect in the murder of her husband. An antagonistic woman would be an interesting new direction for Park Chan-wook, but things in his films are rarely as they seem.
The 2016 BAFTA award-winning period drama "The Handmaiden" is no exception to this rule. A Korean con man hires a meek and streetwise orphan to help him swindle a wealthy Japanese heiress out of her money. Things go awry for the con man when the two women fall in love and team up to get their revenge on him. The film is adapted loosely from the erotic novel "Fingersmith," published in 2002 by Welsh writer Sarah Waters. The novel is set in Victorian England and was adapted to Japanese-occupied Korea in the early 20th century. Park was initially drawn to a scene in "Fingersmith" where "one person [is] teaching the other ... how you make love," he told GoldDerby. He thought it was "funny, and yet, there's something sad about it." The complexity of emotion drove him to adapt the novel.
Park made more and more films driven by women throughout his career, though he told Film Comment:
"I wouldn't exactly call ['The Handmaiden'] a culmination [of the director's exploration of female characters], but it's a movie where I pushed the feminist perspective the most."
The shift to female leads started after Old Boy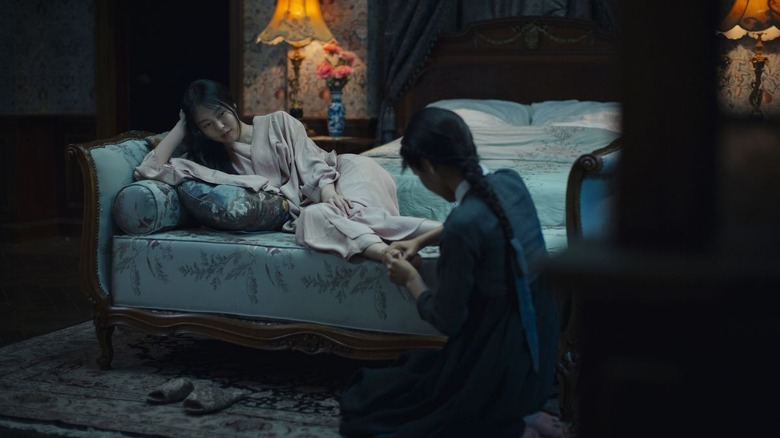 CJ ENM
Park Chan-wook's inclination to focus on female characters first began after "Oldboy" in 2003. He was bothered by the fact that the female lead character in the film "is not privy to the truth," he told Film Comment, despite that "she needed to be excluded from the truth by the necessity of the narrative." This is what inspired him to make his next film, "Lady Vengeance" (2005). He felt that giving a film a female protagonist made it more "enriched" and "sophisticated."
Park may rely on female characters to bring complexity to his films, but he writes them with complexity as well. He wanted there to be many "distinguishing factors" between the two leads in "The Handmaiden" so each was their own distinct character (via PopcornTalk). This required some creative departure from the source material when Park adapted it into a screenplay. He added that the women would be of two different nationalities — one Japanese, one Korean — and he also increased their age gap. In bringing the film to life on screen, he incorporated another layer between the two characters by casting award-winning actress Kim Min-hee as the Japanese heiress and newcomer Kim Tae-ri as the titular handmaiden.
These creative choices demonstrate Park didn't choose to make a love story between two women for the novelty of it, but instead sees his two female leads as complicated and multifaceted characters that each have their own identities. The male characters of "The Handmaiden," on the other hand, are all "villains" and "pathetic," the director told Film Comment. "The only cool characters are women."
The Handmaiden is unlike the rest of Park's films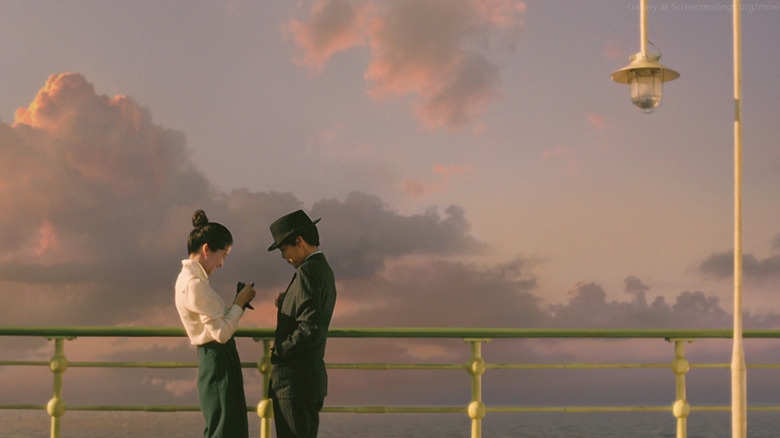 CJ ENM
Park Chan-wook feels that "The Handmaiden" is fundamentally different from his other female-led films because "it's not just one woman fighting a lonely battle ... it is two women who find love and form a bond of solidarity," told Film Comment. The women "prove superior to the male characters, and there's a sense that they don't have any need for men." He concedes that the film ends on a utopic note, which he amplified with the visuals of the final scene. He describes the scene as being "imbued with [the] beauty" of a "fairy-tale world." His intention was not a staunch commitment to realism, but rather to demonstrate that "we're dreaming about this type of idealized world."
This makes "The Handmaiden" unlike his other films in that it does not shy away from taking a moral stance. Park has said that he doesn't aim to send a message with his work, but explained to Film Courage that "The Handmaiden" is different because "this story had the message where the women who had been oppressed by the violent male gaze, through forming solidarity, were able to escape from it."
"The Handmaiden" is not only a mind-bending thriller and a compelling love story, but it is also a distinctly feminist perspective — a rare accomplishment for a male filmmaker. The film has the perfect balance of romanticism and self-awareness to bring refreshing new elements to its source material. The feminist narrative and LGBTQ+ romance aren't made into gimmicks or spectacles. Instead, they strengthen the film, drive it, and keep it unpredictable.