Prey Teaser: The Hunt Is On In Dan Trachtenberg's Predator Prequel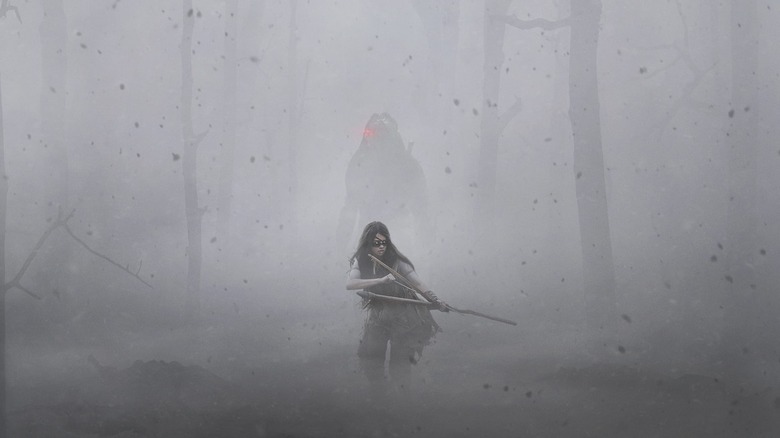 20th Century Studios
2016's "10 Cloverfield Lane" still stands tall as one of the best and most thrilling original horror movies to grace the silver screen in the last decade or so, a feat that only becomes even more impressive when considering it was director Dan Trachtenberg's feature film debut. There are few things I love more than a filmmaker bursting onto the scene on the biggest possible stage and leaving the rest of us to look forward to what they might do next to follow up on such success ... but several years after the fact, we've still been waiting. Trachtenberg has taken to television in the meantime, helming episodes of "Black Mirror" (which, coincidentally, was just announced to receive a brand-new season), "The Boys," and most recently Peacock's "The Lost Symbol." But finally, the exciting storyteller is set to make his return to the big screen with another genre picture — which will once again involve some pesky extraterrestrials.
The "Predator" franchise had to be considered on life support after Shane Black's 2018 film, which (in)famously underwent quite a bit of studio interference on the way to its lackluster performance. In the aftermath of that setback, however, a fresh creative vision was needed to shake up the franchise in ways that it hasn't since, arguably, the 1987 John McTiernan-directed original. Excitingly, that meant bringing Trachtenberg on board for a prequel that would revolve around a much earlier period in Earth history: 300 years ago, to be precise. We've seen the fearsome Predators hunting hapless humans everywhere, from the jungles of Vietnam to the streets of Los Angeles, but much like its title would imply, "Prey" is set to change things up drastically by shifting the action to the Comanche Nation in America's Great Plains.
Today, the very first trailer has been released, giving eager fans an all-too-brief look at what this latest film has in store. Watch it for yourself below!
Prey trailer
Directed by Dan Trachtenberg from a script by Patrick Aison, "Prey" already seems ready to up the ante in terms of horror-thriller vibes while giving us a refreshingly new group of heroes (and a sorely underrepresented one, at that) to root for in between all the gory and likely terrifying alien mayhem. As you might expect, this first footage doesn't give much away beyond establishing the premise of the picture. A pair of Comanche natives fleeing from a forest and turning around to face their foe, armed only with pitifully inadequate bows and arrows? Yeah, that and Trachtenberg's involvement are more than enough to pique our interests.
In addition, 20th Century Studios boasts that the film features "a cast comprised almost entirely of Native and First Nation's talent," including Amber Midthunder ("The Ice Road," "Roswell, New Mexico"), Stormee Kipp ("Sooyii"), Michelle Thrush ("The Journey Home"), Julian Black Antelope ("Tribal"), and newcomer Dakota Beavers. Reassuringly, the studio also goes on to state that:
"The filmmakers were committed to creating a film that provides an accurate portrayal of the Comanche and brings a level of authenticity that rings true to its Indigenous peoples. [Producer Jhane] Myers, an acclaimed filmmaker, Sundance Fellow and member of the Comanche nation herself, is known for her attention and dedication to films surrounding the Comanche and Blackfeet nations and her passion for honoring the legacies of the Native communities."
After all that good news, I suppose it's only fair to break the disappointing development that it would seem that fans won't get the chance to see this in theaters. "Prey" is set to debut exclusively on Hulu August 5, 2022.
Set in the Comanche Nation 300 years ago, "Prey" is the story of a young woman, Naru, a fierce and highly skilled warrior. She has been raised in the shadow of some of the most legendary hunters who roam the Great Plains, so when danger threatens her camp, she sets out to protect her people. The prey she stalks, and ultimately confronts, turns out to be a highly evolved alien predator with a technically advanced arsenal, resulting in a vicious and terrifying showdown between the two adversaries.