Why Alan Ruck Was Working At Sears After Shooting Ferris Bueller's Day Off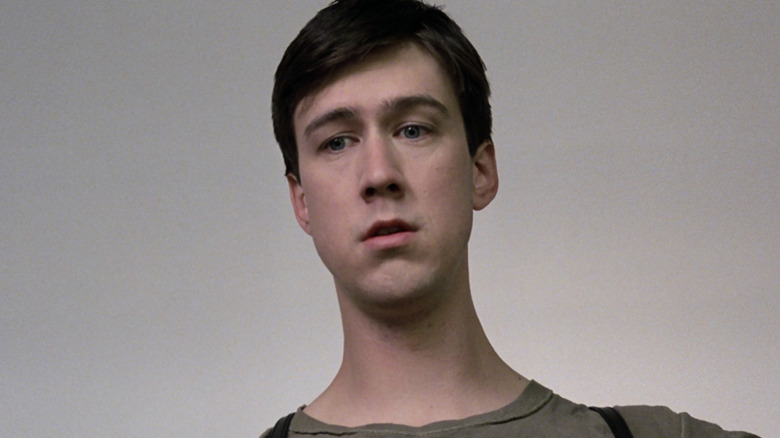 Paramount Pictures
Nearly 40 years after his role as Cameron in "Ferris Bueller's Day Off," actor Alan Ruck has reentered the cultural zeitgeist with his role as Connor in HBO's "Succession" and Jay Rosen in Hulu's "The Dropout."
There are no big gaps in Ruck's resume — the actor spent decades bouncing between supporting parts in moderately successful television shows from "Spin City" to "Greek" — but Ruck had a hard time finding a project as exciting as "Ferris Bueller" to follow up his breakout role. A couple of bad career moves landed the actor down on his luck after the film was released, and people began recognizing the blockbuster star in the unlikeliest of places.
"Ferris Bueller" was a smash hit upon its release in 1986. Alan Ruck played the major supporting role of Cameron, Ferris' neurotic best friend with a head cold who is reluctantly brought along on his escapades. Despite the success of "Ferris Bueller," Ruck's paycheck was hardly enough to be life-changing. The movie made him no more than $40,000, he told Jimmy Kimmel, explaining that "it was my first big part in a movie, and they're gonna find any excuse not to pay you."
He counted his chickens before they hatched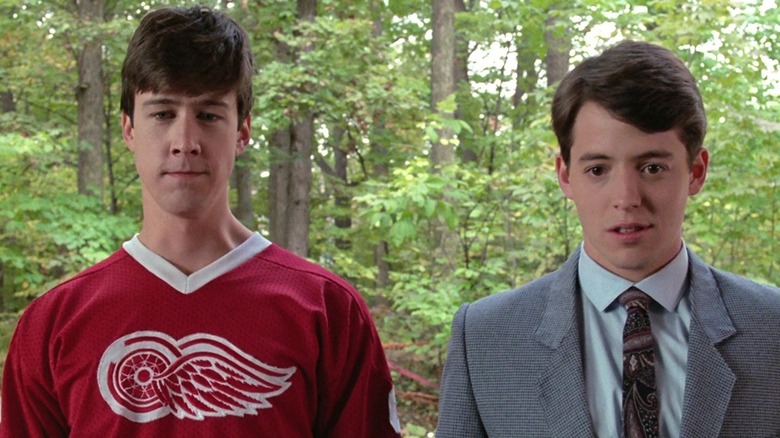 Paramount Pictures
By 1989, Alan Ruck was already in his 30s — he shot "Ferris Bueller" at age 29, his "swan song as a teen actor" — and had started a family in Chicago (via Rich Eisen). In pursuit of more work, the actor landed a pilot at NBC called "Morton's by the Bay," he told A.V. Club. Since his co-star had a deal with the network already, he felt confident that the show would be greenlit and moved his wife and kids out to Los Angeles, spending the last of his money. Sadly, the pilot totally bombed. "It turned out to be a nothing," he said. "It was just formless."
With no other work on the horizon and no way to make ends meet, Ruck was forced to seek assistance from employment services. Ruck "had no marketable skills," as he put it, so he was sent to the Sears warehouse. When people recognized the actor from "Ferris Bueller," which came out a few years earlier, he would pretend it wasn't him. He concealed his identity to shield himself from embarrassment, he explained:
"I thought that they'd probably go, 'You were in the movies and then you wound up here? We should just beat you for being stupid!' So it was very grim and very humbling."
From Sears to Succession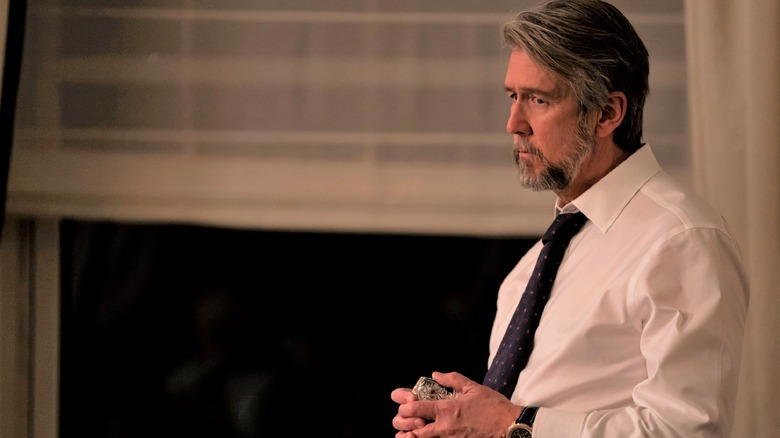 Paramount Pictures
Luckily for Alan Ruck, his fortune would soon turn. While working at Sears, he landed a spot on a major network television series, an ABC sitcom called "Going Places." The stable income permitted him to buy a house and quit his minimum wage job, but it wasn't exactly the creative breakthrough he was hoping for. The show aired for 19 episodes, but Ruck claims that only one of the 19 is worth watching. "They did a very good job on that one episode ... but the show just didn't work, he told the A.V. Club.
The best part about the story is  it has a happy ending. Ruck now stars in the ensemble cast of HBO's Emmy award-winning show "Succession," a groundbreaking drama about an exorbitantly wealthy family struggling for power over a media empire. If you feel that the series marks a watershed moment in Ruck's career, you aren't alone — the actor would agree with you. "I've been waiting for this for 30 years," he told Kimmel. We may not have known it, Alan, but so have we.