Awkwafina's Audition For The Farewell Wasn't What Lulu Wang Was Expecting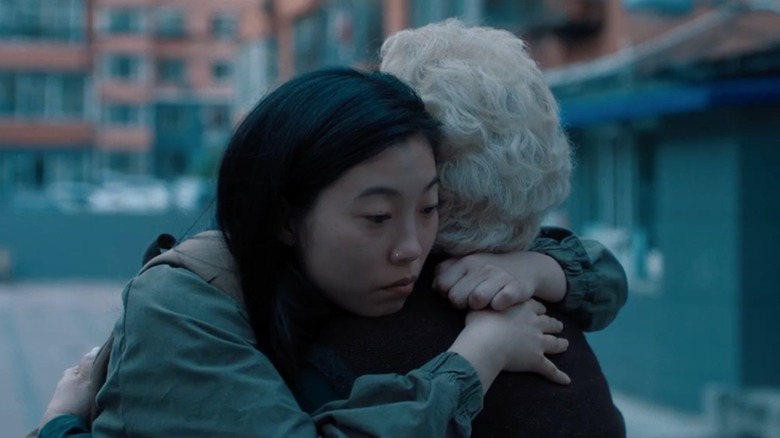 A24
At the end of 2019, writer/director Lulu Wang's film "The Farewell" had made its way onto multiple critics' top-ten lists, and it was even a favorite of former POTUS Barack Obama. A gentle, sad, sweet film, "The Farewell" tell the story of a young woman named Billi (Awkwafina) who has just been rejected for a Guggenheim Fellowship and  finds herself adrift. When she receives news that her grandmother Nai Nai (Zhao Shu-zhen) is dying, she goes to China to say farewell. Given the nature of her family, however, Nai Nai has not been told of her prognosis, and Billi is asked to keep the grim truth hidden. The rest of the film is a tragicomic series of excuses to throw big farewell parties for a placid and kind grandma and trying to keep her away from the phone in case the doctor calls. 
Because Nai Nai is unaware of her fate, her casual and kind advice is finally and profoundly listened to. "The Farewell" climaxes when Billi tells Nai Nai of her failure at Guggenheim, and her grandmother compares her to a bull ramming its horns repeatedly into the corner of a room. To be clear, she tells Billi not to get hung up on what she hasn't accomplished. It's a moment of deep compassion and understanding in a film full of emotional warmth, honest sadness, and eventual hope and sunlight. Awkwafina's performance was so striking that it earned her a Golden Globe and much more awards recognition otherwise. 
Awkwafina's acclaimed performance actually came as quite a surprise to Wang herself. While "The Farewell" is her sixth acting credit, Awkwafina was still better known in 2019 for her rap videos and raunchy humor. In a 2019 interview with Rolling Stone, Wang pointed out that when she was casting "The Farewell," neither "Crazy Rich Asians" nor "Ocean's 8" had been released yet, making Awkwafina's "My Vag" music video the thing she was best known for. When Wang heard that Awkwafina wanted to read for the part of Billi, she was a little taken aback. 
'The girl who did 'My Vag' wants to read for this?!'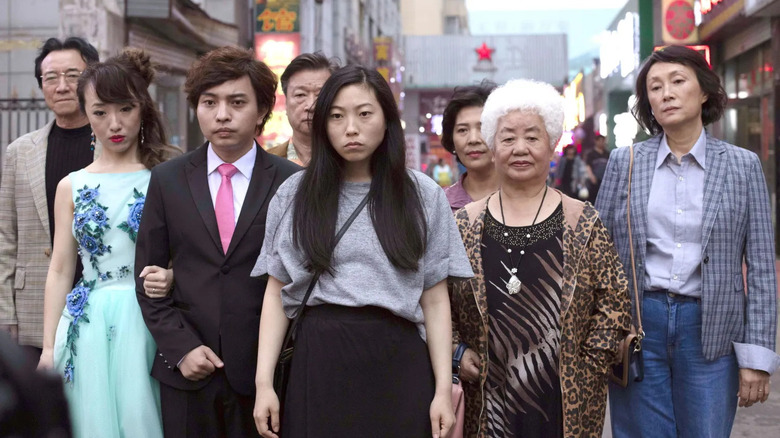 A24
If Awkwafina was interested, Wang was concerned that her script was being read as a farce. Awkwafina had previously played herself in the MTV series "Girl Code" and had a voice role in the animated comedy "Storks," so Wang was concerned her reputation wouldn't be good for the movie. The filmmaker recalled:
"I think my reaction was, 'The girl who did 'My Vag"'wants to read for this?!' She'd finished 'Crazy Rich Asians' but it hadn't come out. I don't think she'd done 'Ocean's 8.' I just knew her music videos, because my brother was a fan. When they suggested her, the first thought I had was, 'Guys, I thought we were on the same page here. No broad comedy!'"
As the Rolling Stone interview points out, Wang and Awkwafina actually had a lot in common. They were both raised primarily by Chinese grandmothers, and both of them understood the half-in-half-out nature of the Chinese American experience. In China, they are seen as too American, and in America, they are seen as too Chinese. Awkwafina was sent a few scenes to read and sent Wang videos of her audition. Wang was startled at how good a job she did, projecting her natural New York roots while also meshing well with the outsider vibe her character had:
"And when you saw how wonderfully raw she was, how she just sort of oozed Queens, it was like, 'Oh, she could be the black sheep of this family, easily,' Energetically, she wasn't going to fit in with everybody else. That was the contrast we needed."
Real acting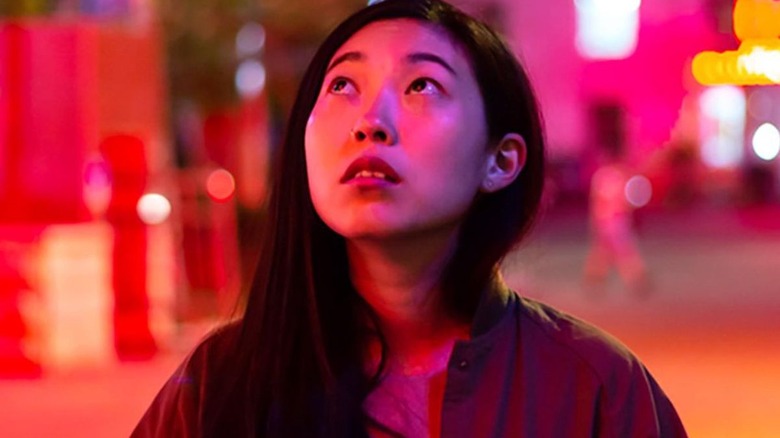 A24
Wang explained further in a separate interview she had with Screen Daily. talking about how Billi needed to be a character, and that "The Farewell" should not become a vehicle for a star's personality. "The Farewell" was a personal project for Wang, as it was based on her own true story (she had previously told the story on an episode of "This American Life"). While Wang appreciated Awkwafina's enthusiasm, it would take proof to see if she could play the part: 
"Someone can be passionate about the role but you don't know how they come across on screen. I didn't know if she could do a dramatic part. She sent in a scene, and it felt very lived-in. It wasn't like somebody acting, I felt like I saw Billi on screen."
Billi was a bit of a challenge for both Wang and for Awkwafina. Billi was based on Wang, but had to emerge as a complete character otherwise. This meant that Billi had to become Awkwafina's creation, forcing a balance between the performer and her established personality. Awkwafina was, in short, required to really act. Luckily, Wang had some advice for her: 
"I just told her this clearly, 'Don't think about this as playing me. Billi is not me, so don't study me. Dig up your feelings from yourself in her, your feelings about family.'
And that's how Awkwafina was able to deliver what will undoubtedly be one of the best performances of her career.
"The Farewell" is available to stream on Kanopy, Fubo, Showtime, DirecTV, and Spectrum. Awkwafina's next film will be "Renfield," due in theaters April 14, 2023. Meanwhile, Wang is currently working on the TV series "Expats," starring Nicole Kidman and set to debut on Amazon Video.