'Storks' Trailer: Andy Samberg Will Teach You Where Babies Come From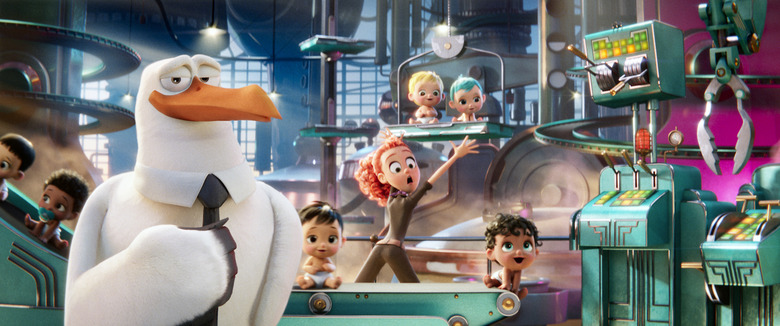 After sending up pop stars with Popstar: Never Stop Never Stopping, Andy Samberg will move on to delivering babies. Storks stars Samberg as, yep, a stork, who's tasked with delivering an adorable baby girl. The problem is that said baby is completely unauthorized, and could derail his career if he gets caught by his boss (Kelsey Grammer). You see, in the Storks version of the world, storks no longer deliver babies, having long ago switched to delivering packages for an Amazon-like retailer.
The logical question raised by this concept is who does deliver human babies in the Storks universe, now that the birds are no longer handling that task. Have humans had to resort to pushing them out of their bodies (you know, the way humans do in our real world)? Or has some other animal taken over delivering duties? The latest Storks trailer doesn't answer those inquiries, but it does show a flustered Samberg warning his human friend Tulip about the dangers of baby cuteness. Watch the Storks trailer after the jump. 
The latest Storks trailer debuted during the Nickelodeon Kids' Choice Awards this weekend.
Warner Bros. delivers Storks on September 23, 2016. Nicholas Stoller and Doug Sweetland directed.
Storks deliver babies...or at least they used to. Now they deliver packages for global internet giant Cornerstore.com. Junior, the company's top delivery stork, is about to be promoted when he accidentally activates the Baby Making Machine, producing an adorable and wholly unauthorized baby girl. Desperate to deliver this bundle of trouble before the boss gets wise, Junior and his friend Tulip, the only human on Stork Mountain, race to make their first-ever baby drop – in a wild and revealing journey that could make more than one family whole and restore the storks' true mission in the world.