Ewan McGregor Forgot How To Obi-Wan Kenobi Before Returning To The Character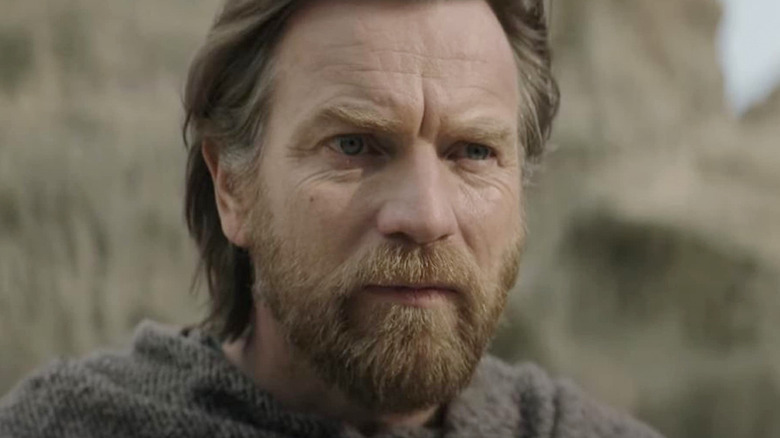 Disney+/Lucasfilm
It's been 17 years since Ewan McGregor picked up his lightsaber to play Obi-Wan Kenobi in 2005's "Star Wars: Revenge of the Sith," giving birth to a plethora of the internet's favorite reaction gifs and memes. ("Hello there!") But after so many years away from the role, it took the actor a while to regain the high ground and figure out how to Obi-Wan his way once more for the character's solo series on Disney+. Lucky for him, he had plenty of time to remaster his Alec Guinness impersonation before the start of filming.
As you may recall, development on "Obi-Wan Kenobi" has been a bit of a roller coaster ride. After years of envisioning the project as a film, Disney and Lucasfilm scrapped those plans in response to the box office failure of 2018's "Solo: A Star Wars Story." (Lucasfilm was quick to deny this when the news first leaked, no doubt hoping to avoid more bad buzz.) "Obi-Wan Kenobi" was then re-purposed as a limited series for Disney+, with Deborah Chow acting as director on the heels of her acclaimed work on "The Mandalorian" season 1.
All seemed to be going well, too, until the "Obi-Wan Kenobi" show hit a snag and paused to undergo heavy rewrites in January 2020. It was just as well, though, given that every movie and TV production would shut down two months later due to the pandemic. Filming would ultimately begin in April 2021, with Chow calling the shots and McGregor starring.
'I totally didn't have his voice'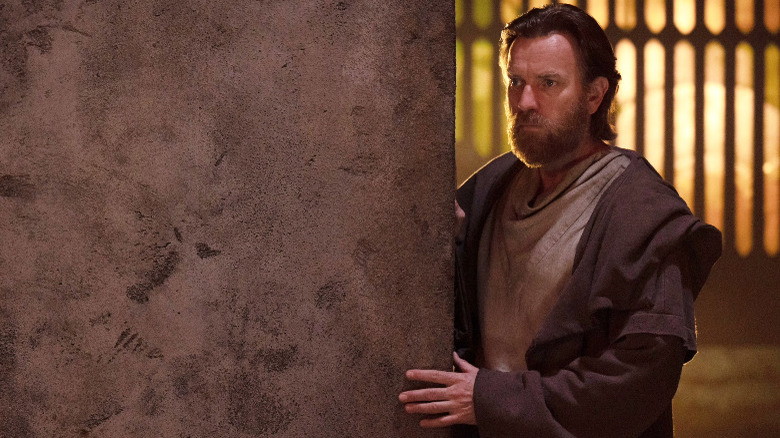 Disney+/Lucasfilm
On his end, Ewan McGregor was glad to have extra time to recapture the Obi-Wan Kenobi voice he had developed for the "Star Wars" prequel films, prior to reprising his role for the Disney+ series. As he told On Demand Entertainment:
"When we came to do the actual scenes, I totally didn't have his voice. I was just doing this vague, English voice, it sounded like a sort of school teacher or something. But it sadly didn't sound like Alec Guinness, and it didn't sound like Obi-Wan. It just had been so long, I didn't have it. But it was quite good that we got to do it and I got to realize that then. Seven months later, when we came to start shooting, I had done my homework and I'd listened to a lot of Alec Guinness, and now he's back."
There were other benefits to "Obi-Wan Kenobi" being delayed, too. For starters, McGregor is now closer in age to where Obi-Wan should be in the "Star Wars" timeline, given that Alec Guinness was 63 years old when he made 1977's "Star Wars: A New Hope," even though he's still only 51 years old as of this writing. What's more, the "Obi-Wan Kenobi" series now has access to the ILM StageCraft tech that was pioneered by "The Mandalorian" and "The Book of Boba Fett" before it, which might not have been the case, had it been made into a movie years ago. McGregor is no doubt grateful for the show's immersive "digital sets," too, given how hard he found it to act opposite little more than blue and green screens during filming on the "Star Wars" prequel movies.
"Obi-Wan Kenobi" premieres on Disney+ on May 27, 2022. Here's the official synopsis:
The story begins 10 years after the dramatic events of "Star Wars: Revenge of the Sith" where Obi-Wan Kenobi faced his greatest defeat—the downfall and corruption of his best friend and Jedi apprentice, Anakin Skywalker, who turned to the dark side as evil Sith Lord Darth Vader. The series stars Ewan McGregor, reprising his role as the iconic Jedi Master, and also marks the return of Hayden Christensen in the role of Darth Vader. Joining the cast are Moses Ingram, Joel Edgerton, Bonnie Piesse, Kumail Nanjiani, Indira Varma, Rupert Friend, O'Shea Jackson Jr., Sung Kang, Simone Kessell, and Benny Safdie.