Why Alec Guinness Almost Refused To Star In The Bridge On The River Kwai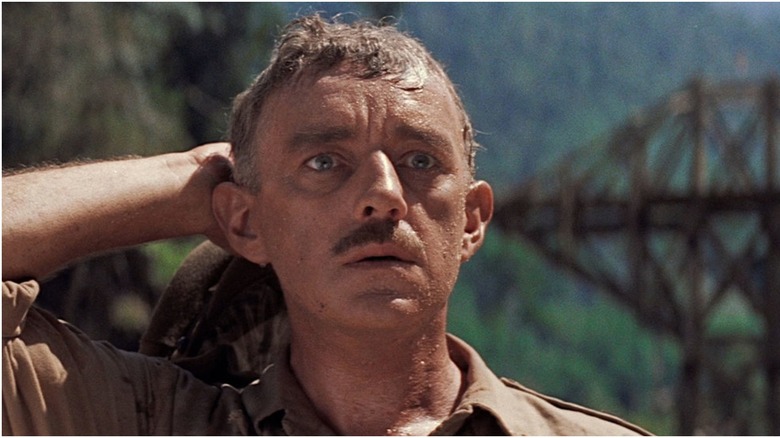 Columbia Pictures
The production of David Lean's "The Bridge on the River Kwai" is as fascinating a tale as the film itself — no small feat considering "Bridge" won Best Picture at the 30th Academy Awards. For one, the film's credited writer was Pierre Boulle, author of the film's literary source material. In truth, however, Boulle did not speak English and the true scribes were blacklisted screenwriters Carl Foreman and Michael Wilson; their contributions were secret and only acknowledged decades later. The film also had a difficult time securing the actor for its lead role, Colonel Nicholson. The character was ultimately played by Alec Guinness in a Best Actor-winning turn. However, had the film been made purely at the whims of its director, that may not have been the case.
Getting to Guinness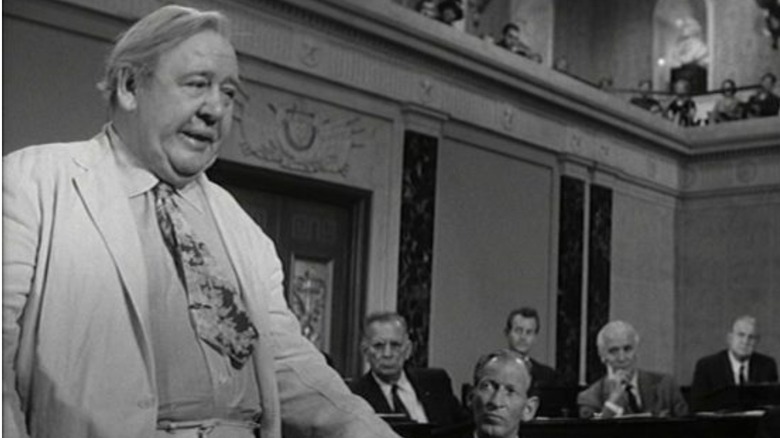 Columbia Pictures
According to "Beyond the Epic: The Life and Films of David Lean" by Gene Phillips, David Lean's first choice for Nicholson was Charles Laughton. However, the famously portly Laughton was uninsurable for the film's shoot in the jungles of Ceylon. Producer Sam Spiegel dissuaded Lean from putting Laughton on a diet and instead suggested Alec Guinness.
Though Lean and Guinness had worked together twice before, in 1946's "Great Expectations" and 1948's "Oliver Twist," the director was unconvinced that the actor was the right choice for Nicholson. Guinness had earned fame for comedic parts, such as Henry Holland in "The Lavender Hill Mob," and Lean was unsure if audiences would buy into the actor playing in a dramatic role.
For his part, Guinness needed to be wrangled onto set as well. After Spiegel sent the actor the script's first draft, penned by Foreman, Guinness dismissed it as "rubbish" and was further disinterested by the script recasting his character in a secondary role. Spiegel tried again and sent Guinness the second draft, penned by Wilson, but Guinness still felt Nicholson was a "blinkered" character and had gotten wind of Lean's preference for Laughton. It took Spiegel taking Guinness out to dinner to convince the actor to accept the part. That doesn't mean it was smooth sailing from there, though.
Guinness and Lean's working relationship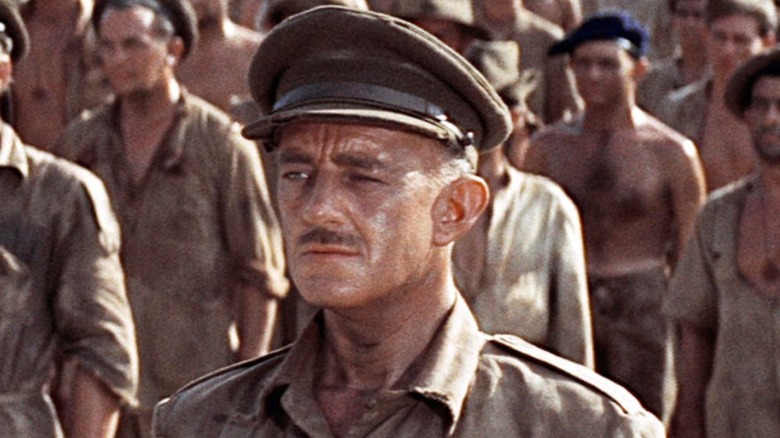 Columbia Pictures
When Guinness first arrived in Ceylon, Lean remarked, "You know, I really wanted Charles Laughton." Guinness in turn almost quit then and there, writing in his own autobiography "Blessings in Disguise," "I felt like turning around and getting back on the plane and paying my own fare home."
Their disagreements continued during the shooting. As Phillips' book further details, Lean and Guinness had different views on how to bring Nicholson to life. Guinness wanted to inject humor into Nicholson to make him more sympathetic, while Lean wanted to play the character utterly straight. Guinness was intent on a "less is more" performance (reflective of a military man with a stiff upper lip), but Lean kept directing him to show more emotion. However, the end product clearly didn't suffer from this on-set conflict, and Guinness' passion for the role is a far cry from his famous antipathy towards his role as Obi-Wan Kenobi in "Star Wars."
Despite their disagreements, Guinness and Lean would work together again in "Lawrence of Arabia." In a repeat of the circumstances from "Bridge," Guinness only secured the part of Prince Faisal after Laurence Olivier dropped out. Guinness' writings decades later indicate he maintained respect for Lean despite their disagreements. In "Blessings in Disguise," he said, "Let me make clear that I admire [Lean's] work enormously ... the fact that he didn't particularly want me for 'The Bridge on the River Kwai' is understandable but of no consequence."