See The Original 'Star Wars' Casting Announcements From Before 1977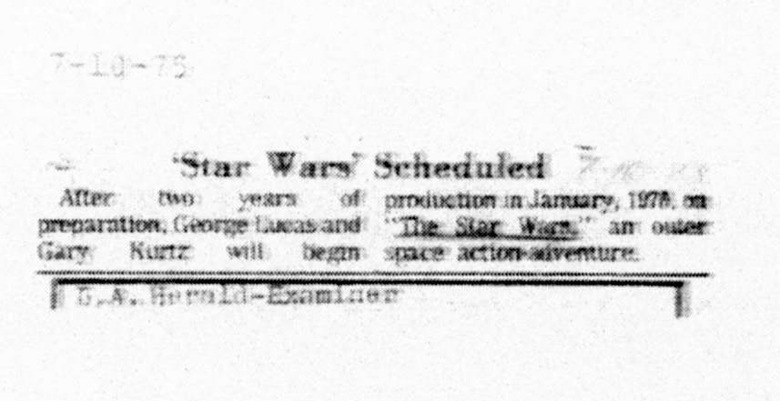 Tuesday's Star Wars Episode VII casting announcement made international headlines. The world stopped and looked at the photo posted on Star Wars.com featuring returning cast members like Harrison Ford and Carrie Fisher and new additions like John Boyega and Daisy Ridley. That's partially because social media has changed how we digest news and also because fans have wanted to see what's next since 1983.
Things were a tad different in 1975 when the cast for a film then called The Star Wars was announced. Small blurbs in Box Office Magazine, the LA Times and Variety revealed to the world little known actors Mark Hamill, Harrison Ford and Carrie Fisher were going to be in an ambitious sci-fi film from the guy who did American Graffiti.
The Academy of Motion Picture Arts & Sciences dug deep into their archives and posted those original Star Wars casting announcements online. Check them out below.
All of these photos come from the Academy of Motion Picture Arts & Sciences Facebook (via Business Insider). They start with early announcements of the movie happening, go into Alec Guinness being cast - by far the picture's biggest name at the time –  then move on to Hamill, Ford and Fisher, Peter Cushing, and the crew. Finally, there's a ticket to an early Academy screening, which took place the day before the movie world changed forever.
The Academy also posted some classic articles on the immediate success of the film, and the full-page ad Steven Spielberg took out in Variety to congratulate George Lucas. (Lucas did something similar when James Cameron's Titanic passed Star Wars.)
If you're interested in this kind of stuff, and if you are reading this you probably are, I can't recommend J.W. Rinzler's Making of books enough. They have all this stuff for each of the three films, and then that same level of detail through the development, production and release. They're amazing.
What do you think of the original Star Wars casting announcements?