Being Behind The Camera On Brokeback Mountain Put Ang Lee To Sleep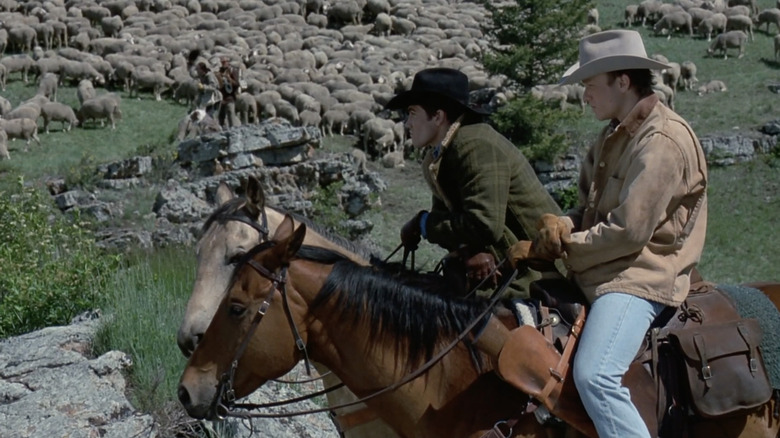 Focus Features
One of the truly great moments in the history of the Academy Awards was Jack Nicholson announcing that the Best Picture winner of 2005 was "Crash." Not because "Crash" won. No, the moment is phenomenal because of the absolutely incredulous reaction to seeing who won by Jack Nicholson. After announcing the title, he looks off to the side of the stage, mouthing an over exaggerated "Whoa!" in total disbelief. Even he in the moment knew it was an absolutely crazy thing to have happened. Those patented Nicholson eyebrows could not have risen any higher.
The shock comes from two places. The first is obviously because "Crash" is not a very good movie, but not very good movies win Oscars all the time. The second reason was because the presumed favorite to take home that award was Ang Lee's romantic Western "Brokeback Mountain." It was supposed to be a landmark moment where this love story between two men, played by Heath Ledger and Jake Gyllenhaal (both Oscar nominated), was going to win that top prize. It had been the critical favorite and took in a rather astounding $178 million at the worldwide box office. It looked as though the tide was turning for queer films to be properly recognized. Lee even won Best Director for his work, priming it for that Best Picture win even more. Then, "Crash" happened.
While "Brokeback Mountain" was revolutionary in a lot of ways, one person who did not really see it that way was the director himself. Ang Lee is a fascinating figure, initially making his name in the realm of family dramas and comedies before eventually shifting into full-on genre fare with wild swings that hit ("Crouching Tiger, Hidden Dragon") and don't ("Hulk"). Now, Lee is all about high frame rate, shooting his last two films, "Billy Lynn's Long Halftime Walk" and "Gemini Man," in 120 frames per second in 3D. Knowing what drives him as a filmmaker can be rather confusing, despite him making some truly tremendous pictures. One of those is "Brokeback Mountain," but while that film may have been eye-opening for a lot of us, it was just another day at the office for ol' Ang Lee.
'Shoot some pretty shots, I can do that all day'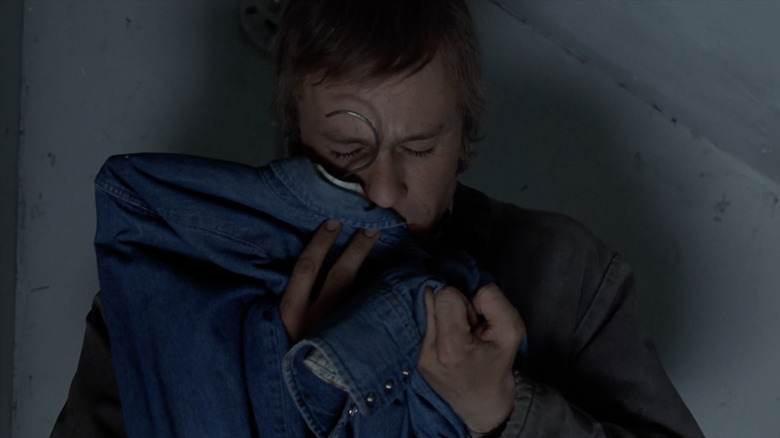 Focus Features
Ang Lee was coming off of a few gigantic productions for his previous two films. "Hulk," in particular, was a behemoth, both as a character and a film. He made this experimental art film indebted to classic Universal monster movies about the sins of the father, and everybody rejected it outright. We were now in a post-Sam Raimi "Spider-Man" world. People expected certain things from their superhero movies now. Lee turned to "Brokeback Mountain" almost as a way to steady himself. This is low-key character drama, and he had made plenty of those in his past. This was an easy gig to get him back in the pocket. In an interview with the Toronto Star, Lee said he was "practically half-asleep making it. I just secured the actors and got them to perform. The shots are boring, really basic."
The candor behind that sentiment is honestly rather refreshing. He showed up, cast the right people, did his job, and that was that. Of course, it is probably overly humble, and he should maybe take a little more pride in his work on the film. But it must be rather amusing to win an Oscar for a movie you'll openly admit during production you were "practically half-asleep." He goes even further, though, saying how easy it all was:
"I just make pretty shots ... It's the easiest thing. Shoot some pretty shots, I can do that all day. It's, like, really easy. I had limited time, and the actors were great, Texas was good. It was a gay drama, and I didn't think many people would see it."
He even thinks that "Brokeback Mountain" is "the safest movie [he's] ever done." There is probably a bit of self-deprecating sarcasm in all of this, but if you look at the breadth of his filmography, he's not wrong. There are no crazy visual effects (except the sheep), no elaborate set pieces, and no hardcore, penetrative sex on screen, which are all things in his other films. I would say "Sense and Sensibility" is probably his safest film, but "Brokeback Mountain" is not far behind. If it were released today, it would probably be seen as rather safe, but that's mainly because we have gotten 17 years of movies indebted to it.