Ang Lee Has Some Conflicting Thoughts On How He Handled Hulk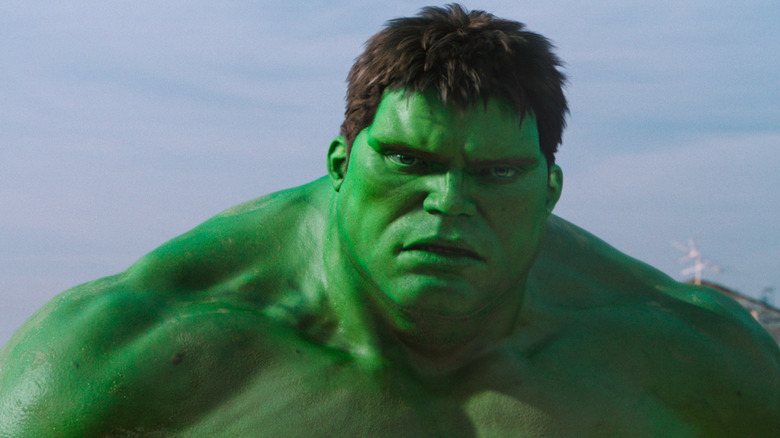 Universal
After the success of "Crouching Tiger, Hidden Dragon" in 2000, director Ang Lee signed on to helm Universal's "Hulk," the long-developing film adaptation of the Marvel comic books. Keep in mind, superhero movies were in a very different place at the time. "X-Men" had only just hinted at the genre's future box office dominance, building on the modest success of "Blade" in 1998. Elsewhere, both the "Batman" and "Superman" films were on an extended break after their most recent entries has misfired, critically and financially.
Never one to follow the beaten path, Lee saw "Hulk" as a drama where the main character's inner turmoil causes him to turn in a giant green being and start smashing things. He drew inspiration from classic monster horror movies like "Bride of Frankenstein" and, of course, "Dr. Jekyll and Mr. Hyde," reasoning that Hulk is a tortured creation of science gone wrong, not a soldier. At the same time, the film emulates the look of comic book panels, using split screens (merging as many as four unique shots in a single frame) and dissolves from one shot to the next, often in a stylishly dramatic and over-the-top fashion.
The result is a pensive, downbeat story about adults coming to terms with their childhood traumas and the effect their estranged fathers have had on their ability to form healthy relationships. It's also a film where the Hulk battles a pack of giant mutated dogs, chucks tanks across a desert, and takes on an enemy who uses their super-powers to turn into a lake. "Hulk" is very weird, in other words, and it doesn't fully work. But it's also audacious, splashy, and has far more personality than any superhero movie by committee ever could. It's little wonder Lee has conflicting thoughts about the way it all went down.
'It was like I was on a shopping spree'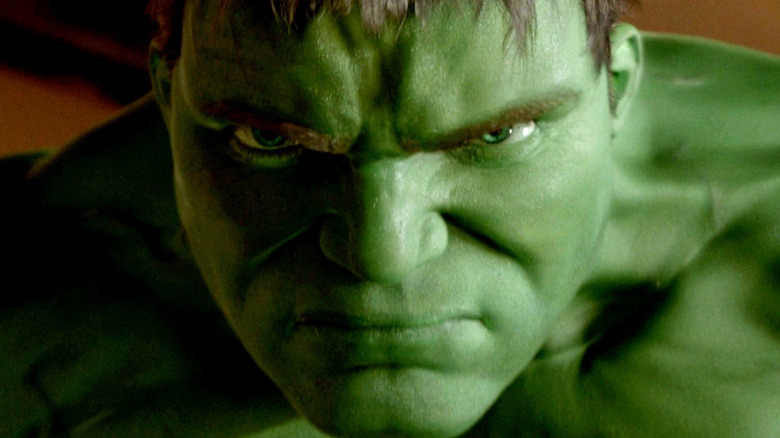 Universal
A superhero adventure by way of moody arthouse drama didn't exactly fly high in 2003, with "Hulk" earning mixed reviews from critics and far harsher responses from casual filmgoers. In an interview with The Guardian in 2019, Lee reflected on the experience and what he took away from the whole thing:
"[Sam Raimi's] 'Spider-Man' came out while I was making 'Hulk.' And here I was shooting [a] psychodrama! Back then the system was not as strict as it is today. After 'Crouching Tiger,' they must have thought: 'Maybe this guy can do anything.' 'Hulk' was the one time I had absolute freedom, which may be good or bad. Whatever I wanted, at any expense, was mine. It was like I was on a shopping spree. Anything goes!"
It's hard not to read Lee's comments and be a little envious. Due to the wild success of the Marvel Cinematic Universe (starting with 2008's "Iron Man"), Marvel superhero film directors now have to adapt their visions to service the broad-appeal tone and style of the MCU, as opposed to having the creative freedom Lee was afforded on "Hulk." While there are still filmmakers who have found ways to leave their stamp on the MCU (be they James Gunn or Taika Waititi), they're only able to do so while adhering to the guidelines already set in place for the franchise. Financially it makes sense, but it's still frustrating when you think about the unrealized artistic potential of so many Marvel movies.
Lee, for his part, said he has a better understanding now of the audience expectations that comes with any mainstream genre, superhero or otherwise: 
"I'm still proud of 'Hulk,' but I underestimated the power of genre and how you have to wrestle with a general audience."
Lee doesn't care for the 'artifice' of the MCU Hulk movies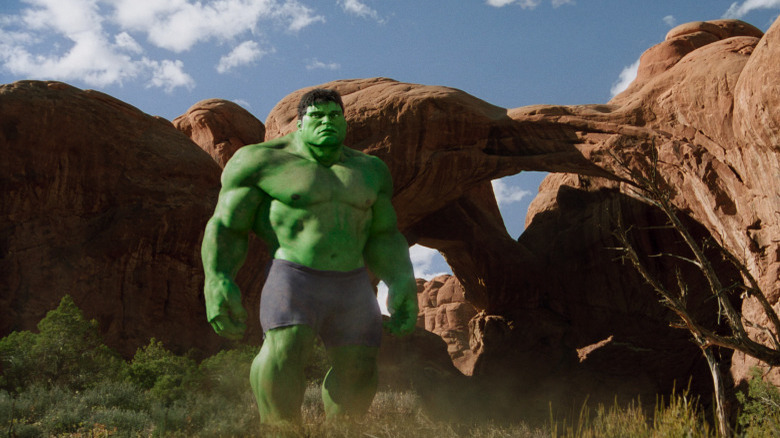 Universal
Far from a smash (*rimshot*), "Hulk" grossed $245 million at the box office against a $137 million budget. As a result, Universal scrapped its plans for a sequel before teaming up with Marvel Studios to reboot the property for the newly-launched Marvel Cinematic Universe with 2008's "The Incredible Hulk." Directed by Louis Leterrier ("Transporter 2," "Now You See Me"), the movie forgoes the experimental approach Lee took on "Hulk," favoring high-octane thrills over character drama and dynamic, fast-cutting action over the bravado shot compositions and scene transitions that Lee favored.
Hulk has gone on to appear in multiple other MCU movies as a co-lead or supporting character, with Mark Ruffalo taking over the role from "The Incredible Hulk" star Edward Norton. Lee, however, isn't the biggest fan of those films, as he admitted to The Guardian ("sheepishly," the outlet noted):
"I've watched them on airplanes. Sometimes with the sound down. I didn't really care that much. To do that kind of movie, you have to coat it with artifice. I didn't do that with my Hulk. I went at it straight, as though it was real."
Lee, who was promoting his 2019 movie "Gemini Man" at the time, added that he's "more aware of movie culture, more respectful of its power. When we are in a cinema, this collective imagination is like a religion. You can't explain it. That's the part of moviemaking that humbles you. You don't always get your way." This, I'm sorry to say, may also explain why "Gemini Man" turned out to be a bit of a dud. It's a film that clearly wants to explore the deeper psychological implications of its setup (a hitman battles his younger clone), yet too often sabotages its own efforts to do so. Give me the untamed messiness of "Hulk" over that any day.