The 15 Best Jake Gyllenhaal Movies Ranked
DFree/Shutterstock
One of the rare child stars who became just as successful as an adult, Jake Gyllenhaal is one of the best actors working today. Gyllenhaal had a leg up getting his career started thanks to his Hollywood parents, director Stephen Gyllenhaal and screenwriter Naomi Foner, but established himself as a talented performer in his own right with a series of acclaimed performances throughout the '90s.
Gyllenhaal continues to deliver interesting turns in beloved films, earning his first Academy Award nomination for "Brokeback Mountain." After video game adaptation "Prince of Persia: The Sands of Time" became a box office bomb and earned Gyllenhaal criticism for whitewashing the character Prince Dastan, the actor apologized for taking the part. Gyllenhaal rebounded from that failure by taking on smaller projects from some of the industry's best directors. Although he likes the freedom of independent films, Gyllenhaal returned to tentpoles with a performance as the Marvel villain Mysterio in "Spider-Man: Far from Home." Next, he will star in Michael Bay's action-thriller "Ambulance" and the adaptation of Robert Kirkman's graphic novel "Oblivion Song."
Narrowing down Gyllenhaal's best work is a challenge, as he gives wildly different performances across many genres. Here are the 15 greatest Jake Gyllenhaal movies, ranked.
15. The Sisters Brothers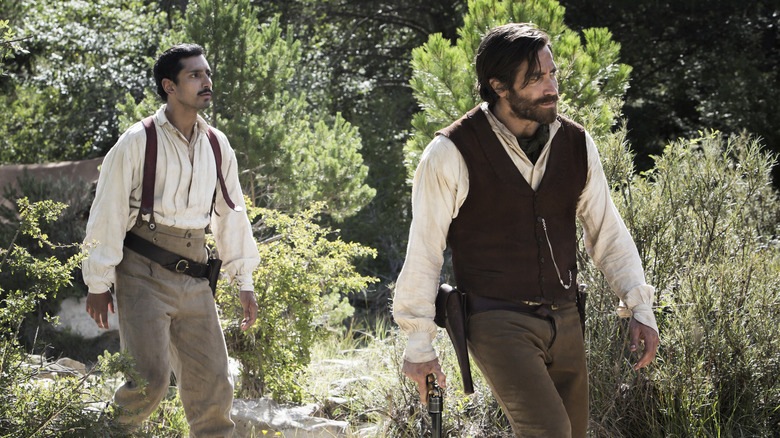 Annapurna Pictures
"The Sisters Brothers" is a realistic western that examines male sensitivity through four troubled men who form a hasty alliance. The titular outlaw brothers Eli (John C. Reilly) and Charlie (Joaquin Phoenix) hunt for an inventor named Hermann (Riz Ahmed), who created a device that can locate treasure and plans to build a utopia. Hermann is also pursued by Gyllenhaal's character, Detective John Morris, who befriends the warm-hearted man and decides to assist him.
Gyllenhaal captures a softness in Morris, who despite his expertise, is kinder than most lawman of the time. It's fascinating to see Gyllenhaal re-teaming with his "Nightcrawler" co-star Ahmed for a much more pleasant relationship; the two men respect each other's ambitions and plan to create a society outside that will let them escape their harsh reality. While the story ultimately goes in a darker direction, watching Morris and Hermann team up with the Eli and Charlie and share their collective experience is delightful.
14. Nocturnal Animals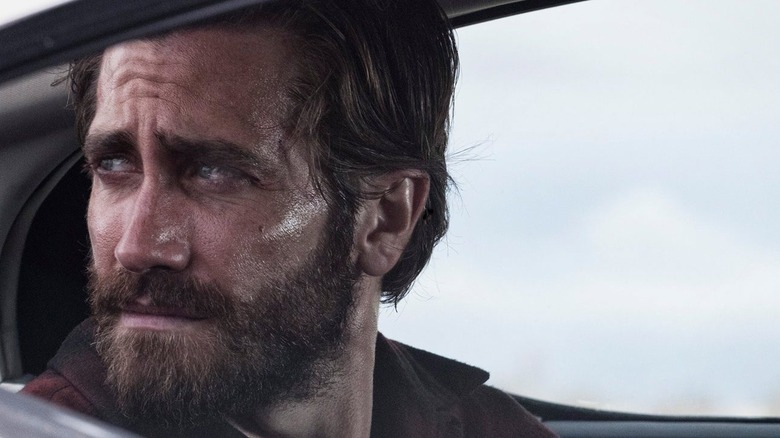 Focus Features
Gyllenhaal took on an interesting dual role in "Nocturnal Animals." The arthouse thriller follows reclusive novelist Edward (Gyllenhaal) as he briefly reunites with his estranged ex-wife Susan (Amy Adams), giving her a copy of his latest novel. Although "Nocturnal Animals" centers Susan's perspective, she's moved by his twisted book and discovers that many events in Edward's story mirror those from their actual marriage. Gyllenhaal, Adams, and the other people in the "real" world also play the characters in the book.
Edward's stand-in character is troubled father Tony, whose wife and daughter are kidnapped by a vile criminal (Aaron Taylor-Johnson). As Edward turns to a brutal local sheriff (Michael Shannon) for help, his soft personality becomes corrupted as they uncover a web of crime. Gyllenhaal subtly hints at Edward's pent-up anger towards Susan through the story, and expertly builds parallels between the movie's facts and its fiction.
13. Demolition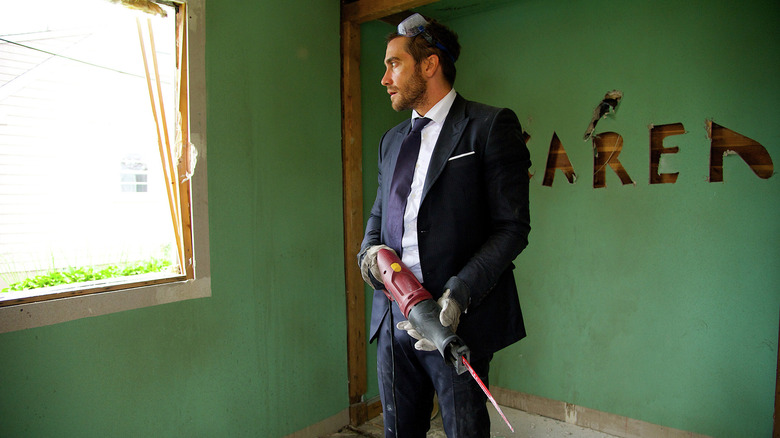 Fox Searchlight
"Demolition" is a bold film that succeeds thanks to the committed performance by Gyllenhaal. He stars as perpetually nervous investment banker Davis Mitchell, whose wife Julia (Heather Lind) is killed in a sudden car accident. Davis has a strained relationship with Julia's father Phil (Chris Cooper), who is also his boss. Phil bullies Davis on a daily basis, taking out his anger and his grief on his son-in-law. Not sure how to cope, Davis strikes up an unusual romance with a friendly customer service representative, Karen (Naomi Watts).
Davis is a quirky character, and Gyllenhaal makes the less-than-subtle metaphor of him physically deconstructing his home feel sincere. While Davis' neurotic fixation on strange details and unusual observations risk being irritating, Gyllenhaal makes them endearing. Davis' development is well-handled as he finds ways to honor Julia's memory by aiding Karen's son and building an honorary memorial for his wife.
12. Brothers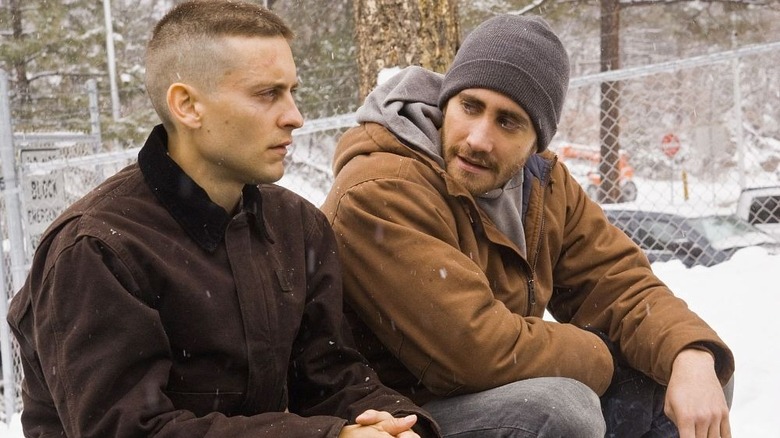 Lionsgate
"Brothers" features an unusually dark central performance from Tobey Maguire, who sheds his "boy next door" persona for a tortured performance as Afghanistan veteran Captain Sam Cahill. Gyllenhaal co-stars as his irresponsible brother Tommy, who is forced to take on added responsibility when Sam is presumed killed in action. Tommy feels like he needs to honor his brother's legacy by caring for his wife Grace (Natalie Portman) and her young children. Both Tommy and Grace are conflicted when romance blossoms, but they soon discover that, as friends, they're able to cope with Tommy's absence together.
The situation grows complex more when Tommy ends up alive; Gyllenhaal shows both Sam's relief and his shock at his brother's post-traumatic stress disorder. Gyllenhaal captures the anxiety of a changed man who isn't sure how to help, and he's tormented by Sam's fixation on Grace's infidelity. The complex process of healing is explored as Sam patiently allows Tommy to recount his experiences.
11. Jarhead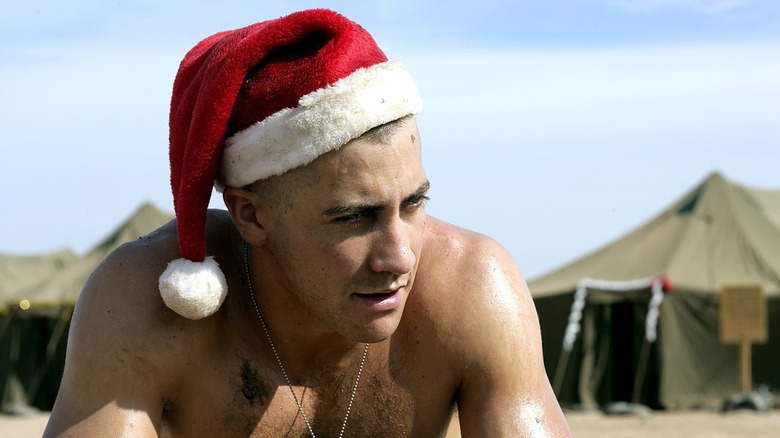 Universal Pictures
"Jarhead" is an unusual war film, as it is both satirical and realistic. The film adapts the biographical account of Lance Corporal Anthony Swofford's tenure in the Gulf War, with Gyllenhaal starring as the lead character and narrator. Gyllenhaal makes the voiceover feel personal, as Swofford's perspective on his military service and the conflict itself change over time. Swofford's father is a Vietnam veteran and he wants to honor his family legacy, but he is instantly uncomfortable with the laid-back attitude of his corporal, Alan Troy (Peter Sarsgaard).
Swofford gradually realizes that the men are at war without a purpose, and they're left to pass time in the middle of the desert. Gyllenhaal shows how Swofford slowly begins to adopt the eccentric, wild behavior of his squad as they descend into madness. Gyllenhaal also explores Swofford's regrets and trauma when he returns home, not sure if his service was worth anything.
10. End of Watch
Open Road Films
"End of Watch" is not your standard buddy cop movie. Shot by writer-director David Ayer as a documentary-style account by Gyllenhaal's character, officer Bryan Taylor, and his partner Miguel Zavala (Michael Pena), the film explores the everyday responsibilities that the two cops face on the job. The film is full of banter, and Gyllenhaal and Pena have terrific chemistry. They're believable as longtime partners who've grown accustomed to each other's quirks, and their playful arguments are the heart of the film.
Although he likes to lampoon Miguel for his eccentric family, Bryan begins to desire the life that his partner enjoys, and discusses his romantic encounters with Miguel. However, their responsibilities as police officers strain their relationships outside of the force. "End of Watch" never shies away from showing the danger of the job, and its gripping climax is emotional thanks largely to Gyllenhaal's nuanced performances.
9. Enemy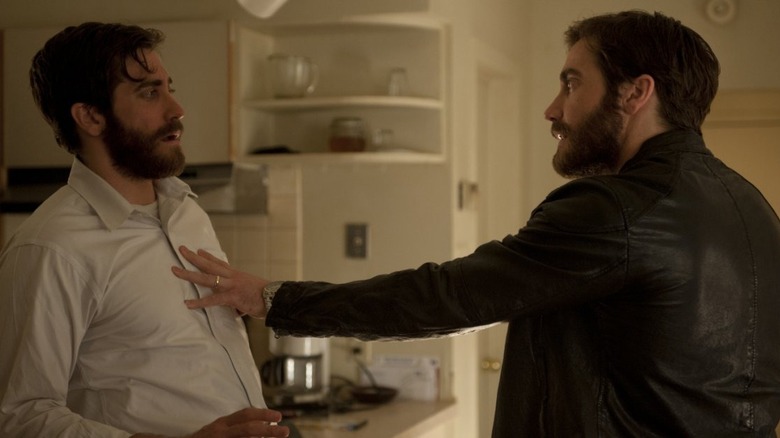 Entertainment One
"Enemy" is already one of the most complex films ever made, and playing the dual lead roles presented Gyllenhaal with a unique challenge. He stars in the film as Adam Bell, a reclusive college professor who discovers that he has a doppelgänger in local actor Anthony Claire. After Adam tracks Anthony down, the two twins become obsessed with learning about each other's lives, each one yearning for what the other has. Gyllenhaal shares many scenes with himself as Adam and Anthony converse, argue, and eventually brawl.
Many have interpreted "Enemy" as the story of one man at odds with himself. In this reading, Adam and Anthony are the same person, a man struggling with his secret infidelities and exploits. He starts hiding things from his wife (Melanie Laurent), but he's also lying to himself and has become delusional as a result. Gyllenhaal subtly plays up this interpretation throughout the film — both Adam and Anthony realize they're denying their own reality.
8. Wildlife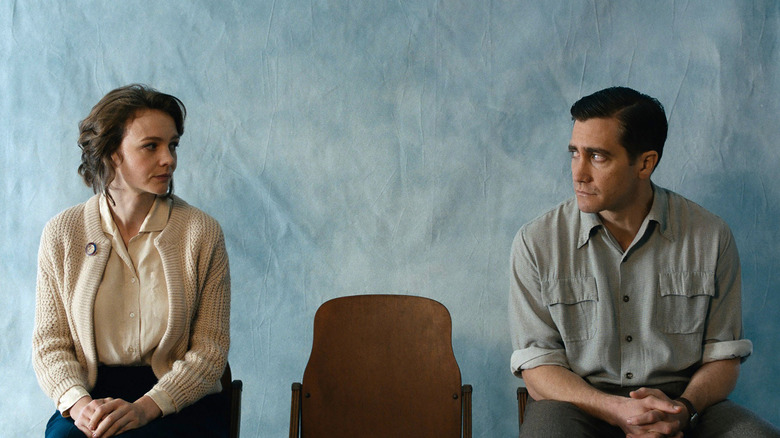 IFC Films
"Wildlife" is an understated character drama that shows a crumbling marriage through the eyes of a child. Based on the classic novel by Robert Ford, "Wildlife" is the directorial debut of actor Paul Dano, who clearly understands how to get intimate performances out of his cast. Set in the Great Falls of Montana in the '60s, "Wildlife" follows a soft-hearted teenager named Joe (Ed Oxenbould) as he watches his parents Jerry (Gyllenhaal) and Jeanette (Carey Mulligan) grow apart over many years.
Jerry is a proud man who is embarrassed when he's fired from his job, and refuses to let his family down. Gyllenhaal captures Jerry's old-fashioned pride without making him haughty, and he's sensitive when interacting with his impressionable son. As Joe spends more and more time with his mother while his father is away looking for work, Gyllenhaal appears less frequently — but, like his character, he makes the most of his visits. It's heartbreaking to watch Gyllenhaal show affection for a son who has grown up in his absence.
7. Source Code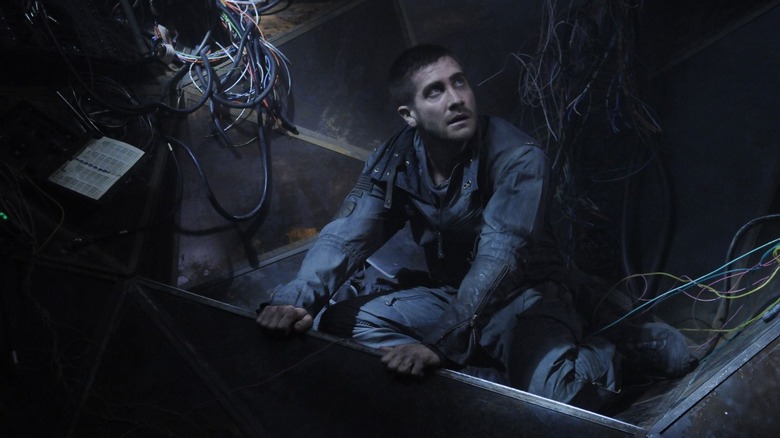 Summit Enterainment
In "Source Code," Gyllenhaal brought emotional earnestness to a complex science fiction premise. The film's high concept is only successful if its characters are as compelling as its twists, and Gyllenhaal serves as a great gateway through which the audience can explore this time-travel story. "Source Code" opens with U.S. Captain Colter Stevens (Gyllenhaal) waking up on a train with only fleeting memories of surviving a mission to Afghanistan. Stevens is shocked to learn that he's in another man's body — that of school teacher Sean Fentress. Fentress' girlfriend Christina (Michelle Monaghan) can't see the difference, and talks to Steven about a life he didn't lead.
Stevens realizes that he's in a virtual reality simulator designed to show what happened to a train in the minutes before a bomb blows it up. Stevens' body was lost, but his consciousness remains; in a twist on the "Groundhog Day" formula, Stevens experiences the events on a loop while he tries to piece together clues and find the culprit.
Gyllenhaal shows how Stevens is conflicted about his various responsibilities. He doesn't want to upset Christina by changing Sean's personality, yet he also wants to find the bomber so the police can stop future crimes. Stevens also has things from his own life he wants to address — in an emotional phone call to his father, Stevens poses as a fellow soldier, ultimately reconciling with his estranged parent.
6. Stronger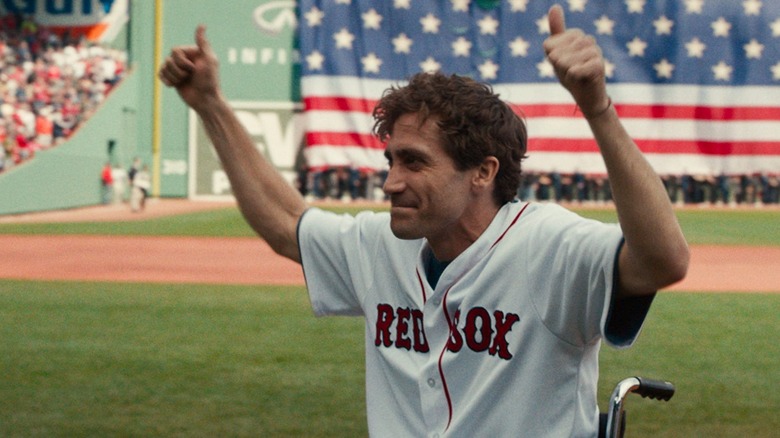 Lionsgate Roadside Attractions
"Stronger" depicts the aftermath of the Boston Marathon Bombing with graceful nuance, following a survivor as he struggles to cope with lasting trauma. Jeff Bauman (Gyllenhaal) had shown up at the race to support his ex-girlfriend Erin (Tatiana Maslany) and lost both of his legs in the explosion; not only must he learn to walk with prosthetic legs, but he talks to other survivors as he struggles with post-traumatic stress disorder.
"Stronger" excels by depicting Jeff as a well-intentioned but irresponsible character. While he's charming and entertaining, Jeff's relationship with Erin was in shambles before the tragic event took place. He's instantly sympathetic, but Jeff's debilitating injuries combined with his own initial refusal to improve put stress on both Erin and his family. Gyllenhaal shows Jeff's growth; he learns that he must put in the work to get better, and that he must take responsibility for the things he can control. His awareness grows as he meets other victims and learns that his story is just one of many.
"Stronger" shows the complexity of heroism. Jeff doesn't view himself as a hero, but he realizes how his recovery can be an inspiration to others who are struggling. In the film's most powerful scene, Gyllenhaal attends an emotional Boston Red Socks game and is overwhelmed when he sees how many lives his story has touched.
5. Nightcrawler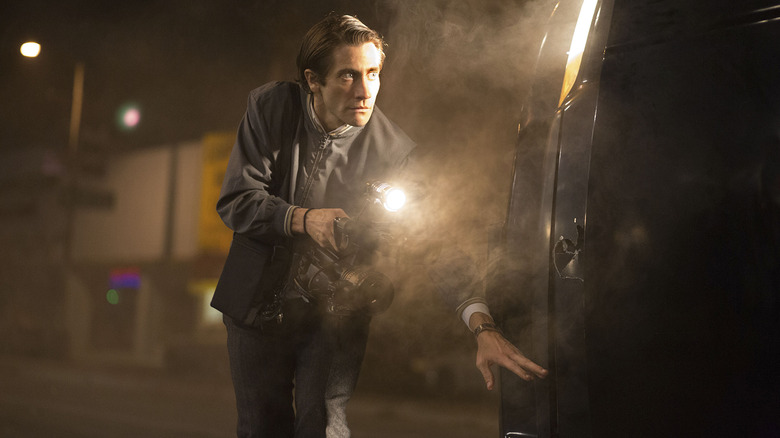 Open Road Films
With "Nightcrawler," Gyllenhaal created one of his most memorable characters: idiosyncratic ambulance chaser Lou Bloom. Bloom is both darkly funny and absolutely terrifying. Dan Gilroy's directorial debut relies on having an adaptable star who can capture Bloom's dynamic personality, and Gyllenhaal delivered, turning in one of his bravest performances.
Bloom is a mischievous Los Angeles-based thief who is convinced that he can talk himself out of any situation. He has developed a talent for digging through seedy environments, and is fascinated with crime. Although Lou tries to put on a warm front, Lou doesn't feel normal emotions, and finds that stringing together news footage of crimes in action may be his ideal career. Even if he doesn't feel empathy, Lou is intensely competitive and aims to best local stringer Joe Loder (Bill Paxton) by getting a recurring gig working for a television news station. Lou only imagines that television audiences have the same aptitude for brutality that he does.
Gyllenhaal only occasionally shows the extent of Lou's rage, teasing the extremes he will go to find depraved situations. When Lou recruits his assistant Rick (Riz Ahmed), he grows scarier as it becomes clear that Rick's life is in danger. Gyllenhaal and Ahmed have an awkward dynamic that begins with humor, yet ends in gripping tragedy.
4. Prisoners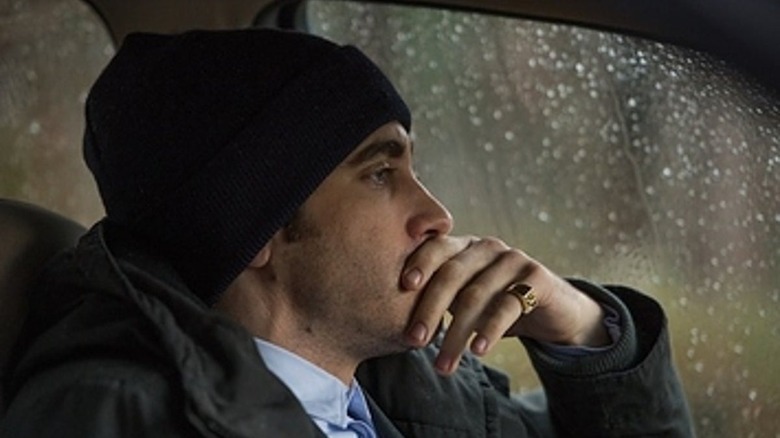 Warner Brothers
"Prisoners" is both a tightly wound investigative mystery and a thought-provoking morality tale. The film questions the lengths taken to rescue kidnapped children by both their families and law enforcement, and explores how the emotional stakes and responsibilities vary across different parties. Despite its 153-minute runtime, director Denis Villenueve keeps the tension high as the danger to the young lives grows more severe.
While celebrating Thanksgiving, an austere woodsman Keller Dover (Hugh Jackman) and his loving wife Grace (Maria Dover) are shocked when their daughter and her friend go missing. Detective Loki (Gyllenhaal) becomes involved in the case after finding a potential suspect, and eventually begins talking to both families. Loki is put in a challenging situation, and Gyllenhaal revels in the strain felt by the talented detective. Loki knows that the families are in indescribable pain, but he can't express empathy without violating his professionalism.
But Loki is a good detective, and Gyllenhaal captures Loki's expertise as well as his growing emotional investment in the case. He's both angry about and terrified of what Keller is capable of, and fears the consequences he will face if he takes the law into his own hands.
3. Brokeback Mountain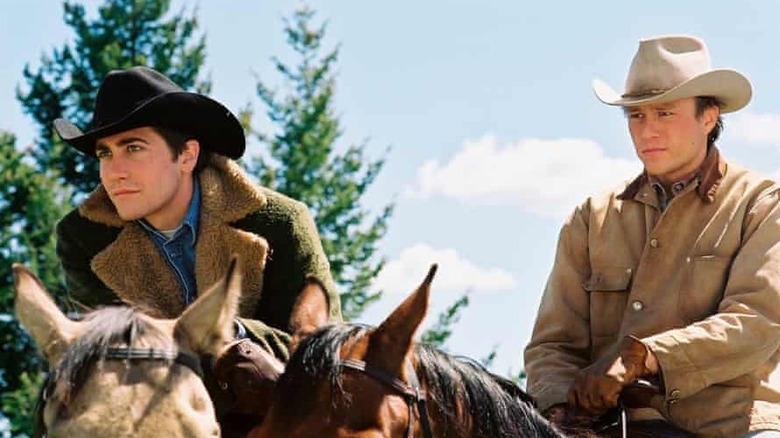 Focus Features
Gyllenhaal's lone Oscar win was for a deserving role. "Brokeback Mountain" bravely shatters stereotypes surrounding western masculinity with a touching love story featuring two cowboys. While the film never shies away from the hardships these men face as they endure bigotry and struggle to keep their romance secret, director Ang Lee seems most interested in the beauty of their love.
"Brokeback Mountain" wouldn't have had the same impact if it wasn't for the two towering performances at its center. Ennis Del Mar (Heath Ledger) and Jack Twist (Gyllenhaal) are assigned to work for an entire summer on a sheepherding task, and Gyllenhaal and Ledger show how the intimate nature of the job blossoms into attraction. Twist is the first to express his feelings, and Gyllenhaal's openness makes Ennis feel conflicted — he knows that their romance can't leave the isolated mountain.
Even when they don't share the screen together, Gyllenhaal and Ledger play up the painstaking trauma of the men's separation. Ennis only gradually learns about Jack's difficult home life and the discrimination he faces from his parents, making Gyllenhaal's pursuit of love even braver. Both men are shackled by the restrictive gender stereotypes they're expected to abide by, but Gyllenhaal still shows Twist's softer, charismatic side.
2. Zodiac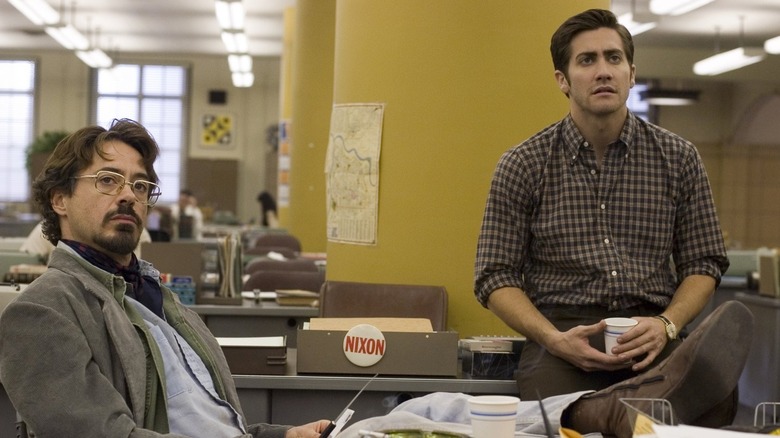 Paramount Pictures
"Zodiac" is no standard serial killer film. The famously unsolved case of the Zodiac Killer haunted San Francisco Bay for decades, but rather than focusing on the depravity of the murders, director David Fincher chooses to track the obsessions of the men pursuing the criminal. Political cartoonist Robert Graysmith (Gyllenhaal) initially spars with veteran crime reporter Paul Avery (Robert Downey Jr.), but they ultimately begin working together to unravel the enigmatic messages that the killer sends to their newspaper. Graysmith's aptitude for solving puzzles sparks the interest of Inspector Dave Toschi (Mark Ruffalo), who suspects that an untraditional investigation may be the only way to track down the killer's identity.
As time passes, Graysmith's relationship with the case changes. He's not a crime reporter, but unsolved mysteries fascinate him. Gyllenhaal shows how Graysmith's good-natured curiosity transforms into obsession.
A heartfelt romance between Graysmith and Melanie (Chloe Sevigny) develops; Gyllenhaal and Sevigny have great chemistry as two earnest puzzle solvers, but the charming relationship is shattered as Graysmith refuses to set aside his fixations. It's heartbreaking to watch Graysmith slip into madness, but he's relatable enough that the climax, during which he's trapped with the presumed killer, is still a nail-biter.
1. Donnie Darko
Newmarket films
Richard Kelly's landmark science fiction thriller "Donnie Darko" is one of the most impressive directorial debuts of all time. Kelly weaves an intricate time travel narrative through the eyes of a lonely teenager who is visited by a masked figure known only as "Frank." The film requires serious attention from audiences, but its satire of suburban communities and its relatable central character make "Donnie Darko" totally unique.
Gyllenhaal's performance is essential to the film's success, and a major reason why it persists as a favorite. The film needs an engaging character to guide viewers as they unravel the mystery at the film's core. With his dismissive attitude, Donnie could've been unlikable, but Gyllenhaal captures his isolation in a way that makes him sympathetic, not annoying. As the suspense builds, Gyllenhaal does an excellent job portraying Donnie's increasing paranoia.
"Donnie Darko" is also hilarious, thanks largely to Donnie's odd philosophical ramblings and his observations about the strange inhabitants of his home town. Gyllenhaal creates an amusing character, but he also sells the emotional weight of Donnie's key decisions, ensuring that the climax of "Donnie Darko" is one you'll never forget.