Brad Pitt Action Movie Bullet Train Moved Back A Week To August 5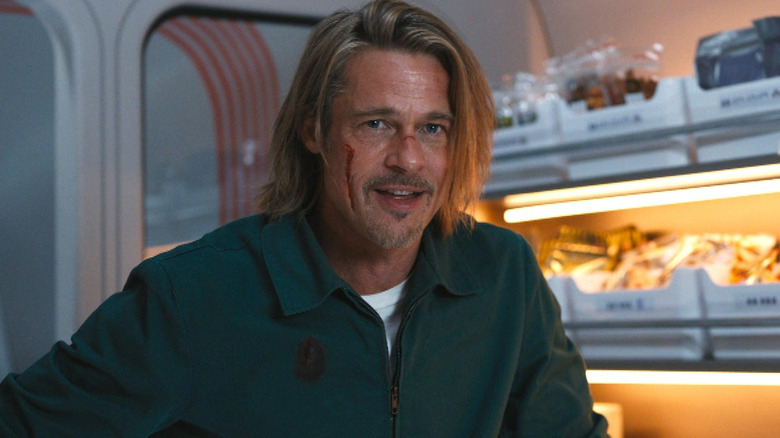 Columbia Pictures
"Bullet Train" is leaving the station a little later than expected. Damn these pesky train schedules — now the wait to see Brad Pitt kick butt as a dangerous assassin is even longer! Thankfully, this isn't one of those lengthy pandemic-fueled delays, "Bullet Train" is only being pushed back by a single week, premiering in theaters on August 5, 2022 instead of on July 29. The film will screen in premium large formats and IMAX. This strategic move from Colombia Pictures puts another week of distance between this and another highly anticipated IMAX blockbuster — Jordan Peele's "Nope." Keeping away from the cloud and/or alien-infested fright-fest is a pretty good idea, given all the excitement surrounding Peele's third time in the director's seat. More significantly, this puts "Bullet Train" at a distance from most of the major summer blockbusters and guarantees the film a few more of those premium screens, all the way through Labor Day. Unless you count Jo Koy's "Easter Sunday" or the mysterious Owen Wilson comedy "Secret Headquarters," as far as major blockbusters are concerned, Pitt's turn as an assassin will close out the summer movie season.
One ticket for Bullet Train, please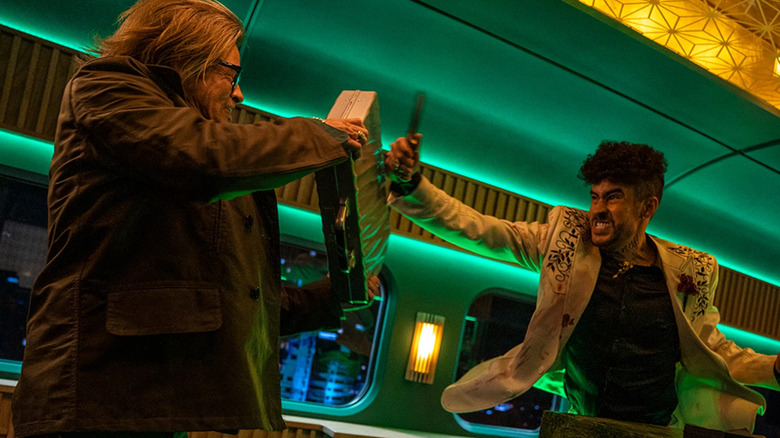 Columbia Pictures
In case you missed the hype train on this one, there's still time to hop aboard! "Bullet Train" aka what if John Wick but funny and on a train takes its story from the Kôtarô Isaka novel "Maria Beetle," and follows "trained assassin Ladybug (Pitt) who wants to give up his career, but is pulled back in by his handler Maria Beetle in order to collect a briefcase on a bullet train heading from Tokyo to Kyoto. Once on board, he and other rival assassins learn that their objectives are connected." 
The film hails from "Atomic Blonde," "Deadpool 2," and "John Wick" director David Leitch, something you could probably guess from glancing at the action-packed trailer that has Leitch's stylish fingerprints all over it. It also features one hell of an ensemble cast, including Aaron Taylor-Johnson, Sandra Bullock, Hiroyuki Sanada, Zazie Beetz, Logan Lerman, Joey King, Andrew Koji, Karen Fukuhara, and singer Bad Bunny.
Based on the trailer, more than a few of these stars play the dangerous killers that Pitt's poor unsuspecting assassin will have to face off against, all for the sake of walking away with a mysterious briefcase. Slick action, neon lights, and impossible choreography were all on display when the opening few minutes were screened at last month's CinemaCon, which involved plenty of stabbing, kicking, and muffled screams of pain. Leitch even offered a hint at the larger plot, explaining that "[the characters] all have conflicting and connected objectives, but they're ultimately going to find out that fate is something you can't control." 
Prepare for violence — and a slightly longer wait to get there: "Bullet Train" is now set to hit theaters on August 5, 2022. Here's the official synopsis:
An original movie event, Bullet Train is a fun, delirious action-thriller from the director of Deadpool 2, David Leitch. Brad Pitt headlines an ensemble cast of eclectic, diverse assassins – all with connected yet conflicting objectives – set against the backdrop of a non-stop ride through modern-day Japan.