Patrick Schwarzenegger, Sean Patrick Thomas, And Marco Pigossi Board The Boys College-Set Spin-Off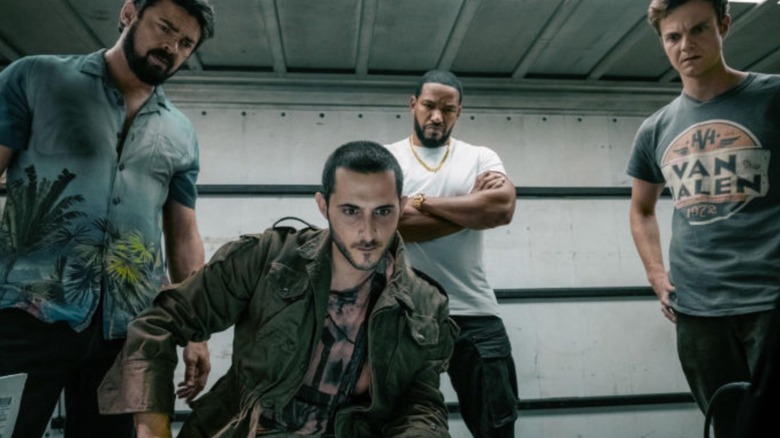 Amazon Studios
An "irreverent" spin-off for "The Boys" has been in the works since 2020, prompted by the popularity of season 2 of the parent series on Prime Video. Production for the college-set spin-off had unfortunately been delayed due to leads Aimee Carrero and Shane Paul McGhie dropping out, which led to a recasting process and the transformation of key characters in the show.
However, good news for those who wish to consume more content on all things Supes: the untitled "The Boys" spin-off has found three new cast members for "high-profile recurring roles" in the series (via Deadline). Patrick Schwarzenegger ("Moxie," "The Staircase"), Sean Patrick Thomas ("The Tragedy of Macbeth," "Barbershop"), and Marco Pigossi ("Tidelands," "Invisible City") will be playing the respective roles of Golden Boy, Polarity, and Dr. Cardosa. While character details are scant at the moment, these roles will most likely function within the ambit of the all-Supe school owned by Vought.
What could go wrong in an all-Supe college?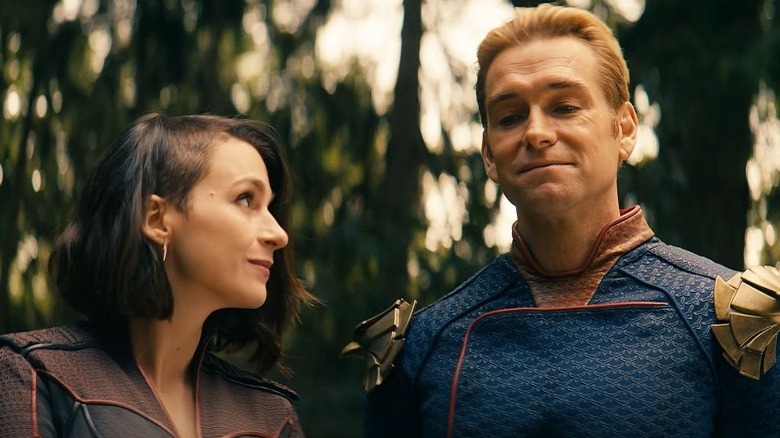 Amazon Studios
"The Boys," although based on Garth Ennis' comic book series, took significant liberty with its subject material, and introduced its own audacious twists, which is part of the reasons why the show has garnered massive popularity. This success ushered in the need to produce new material set in "The Boys" universe, namely the spin-off, which focuses on a Vought-owned college exclusively created for educating and training budding Supes. Given how puberty itself is an intense transformational process, this, combined with uncontrolled superpowers can easily become a recipe for disaster real quick.
While much about the series is not known at the moment, the upcoming series will be R-rated (I would be surprised if it wasn't) and follow students engaged in a competitive setup, with the heightened emotions of adolescence in the mix. This is giving the Dauntless in "Divergent" vibes, minus the superpowers, allowing for fresh characters to make their mark within the franchise and potentially carry a narrative arc that bleeds into the primary narrative of "The Boys."
As announced sometime last year, Michele Fazekas and Tara Butters will be acting as showrunners, while executive producers include Eric Kripke, Seth Rogen, Evan Goldberg, James Weaver, Neal H. Moritz, Ori Marmur, Pavun Shetty, Ken Levin, Jason Netter, and Garth Ennis himself, among others.
Other series regulars include Jaz Sinclair, Chance Perdomo, Lizze Broadway, Maddie Phillips, London Thor, Derek Luh, Asa Germann, and Shelley Conn.
As it is too early for the spin-off to have a release date, it is difficult to gauge when we can expect it to premiere.