The Boys Scene That Made Chace Crawford Very Uncomfortable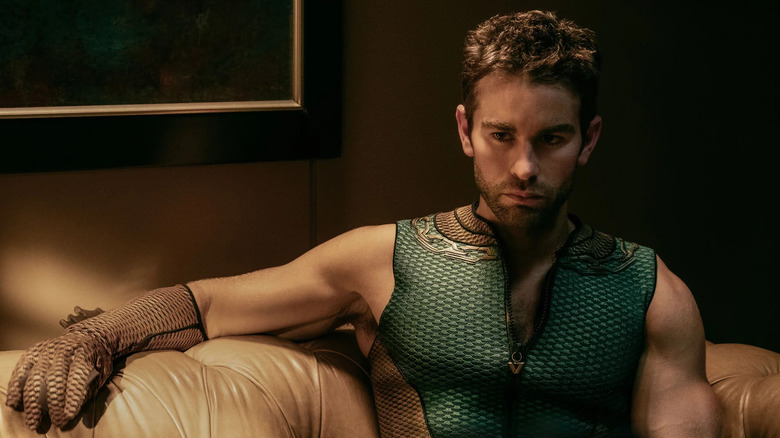 Prime Video
The following article includes reference to sexual assault.
Watching "The Boys" means stumbling down a deep, dark rabbit hole of debauchery and despair. At this point, even those who haven't turned their souls over to Amazon's popular superhero series are well-attuned to its unapologetically nihilistic ways, and this only seems to make the troubling saga even more alluring. Based on Garth Ennis and Darick Robertson's original comic book, "The Boys" presents a world where superheroes are beloved celebrities plagued by greed and corruption. Sure, they swoop in to save the day every now and again, but they like to do so when the cameras are rolling and the fans are cheering. And when no one's looking? They're off getting their hands dirty, harming innocents, snorting drugs, or doing business for the shady corporation that keeps them paid, Vought International. 
With those sickos running around, it's hard to get through a single episode of the series without wincing, shielding your eyes, or filing away the latest plotline for a discussion with your therapist. "The Boys" is in fact so disturbing that occasionally, it even becomes too much for the actors themselves.
'It was the most uncomfortable scene ever.'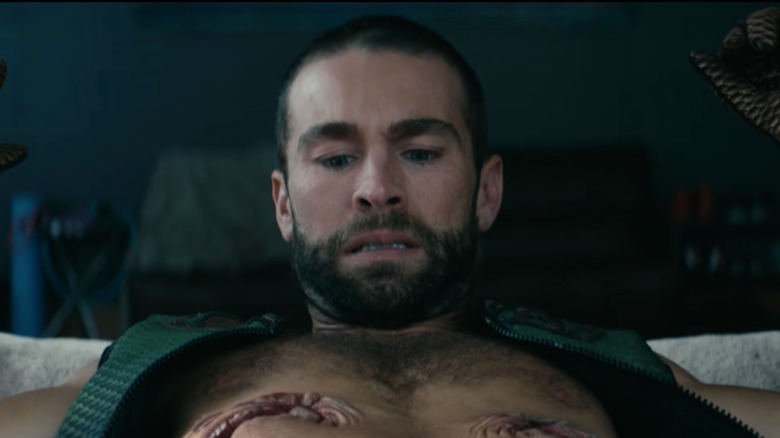 Prime Video
"The Boys" star Chace Crawford has admitted to needing a breather after filming a particularly disturbing moment in the series. This tracks — absolutely no one on this show is exempt from its many upsetting moments, but as The Deep, Crawford often has a front-row seat. The smarmy Aquaman stand-in starts out the series as a member of The Seven, an elite group of heroes. Though he isn't the least bit self-aware about it, The Deep quickly reveals himself to be cruel, narcissistic and petulant. In the very first episode of the series, The Deep plays a key role in crushing Starlight's (Erin Moriarty) spirit after she is welcomed into the ranks of The Seven — a dream come true that slowly becomes a nightmare. 
Although there are hints here and there that the idealized heroes in The Seven are actually monsters and everything about this world is the worst, it's The Deep who makes the horrors undeniably clear when he drops his pants in front of Starlight and forces her into oral sex. Eventually, he gets his comeuppance and is kicked out of the group, leading to him offering some shallow apologies in hopes of regaining his fame. While the series goes on to explore some of his traumas more in depth — including self-worth and body issues — this show is way too hopeless for an actual redemption arc. 
Nauseating as his scene with Starlight may be, this isn't even the scene that Crawford found the most difficult to film. After Starlight reveals the assault to the public, The Deep is banished to Sandusky, Ohio where a fan sexually assaults him using ... his gills. As the resident aquatic hero, The Deep is able to breathe underwater, thanks to the gills on his torso. In season 1, episode 7, "Self Preservation Society," he invites a woman home for sex, only for her to force her fingers into his gills. Crawford told MTV (via CheatSheet):
"It was the most uncomfortable scene ever. It literally made me feel kind of nauseous, I'm not going to lie. It was just so weird and uncomfortable. I could not have gotten out of there faster that day. So, yeah. It was pretty wild."
The scene is also uncomfortable to watch — although it does offer a poignant reversal of his earlier assault on Starlight.
How the gills were made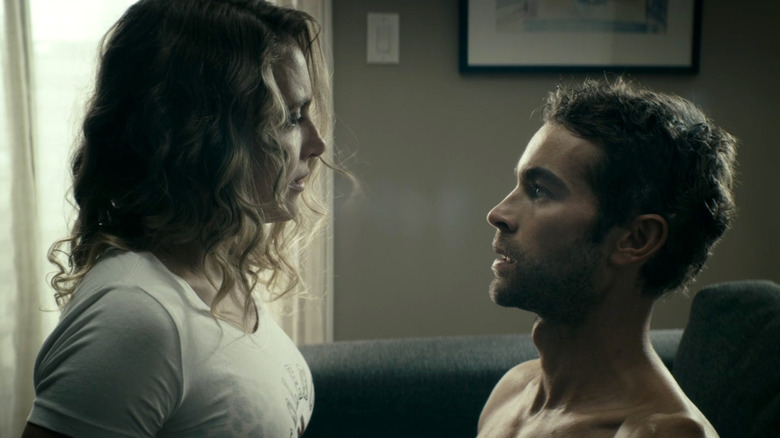 Prime Video
Sure, most scenes in "The Boys" are disturbing by design, but in this case, it wasn't just the content that caused Crawford's discomfort — it was also production logistics. Giving a man gills is no easy task; the scene used a combination of CGI and prosthetics, which apparently meant replicating Crawford's entire torso with some fishy additions. During Variety's 2020 edition of Actors on Actors, Crawford explained:
"They did the actual prosthetics on my skin for the first part of the scene. They had a great special effects guy replicate my entire torso down to the little chest hair. I'm laying there, and I have my own fake torso on me with the gills that have a little bit more room, and he's behind me pumping them with these air pumps so they move, and the director is right over me. I'm like, 'Guys, I'm nauseous. Can I just get out of here?"'
Just in case you needed another reason to shudder whenever The Deep is onscreen, just remember that somewhere out in the world is a gilled-up recreation of Crawford's torso, just waiting for someone to pump it full of air.
"The Boys" is set to return for a third season June 3, 2022.
If you or anyone you know has been a victim of sexual assault, help is available. Visit the Rape, Abuse & Incest National Network website or contact RAINN's National Helpline at 1-800-656-HOPE (4673).