The Yorgos Lanthimos Role Elizabeth Olsen Missed Out On Because Of Marvel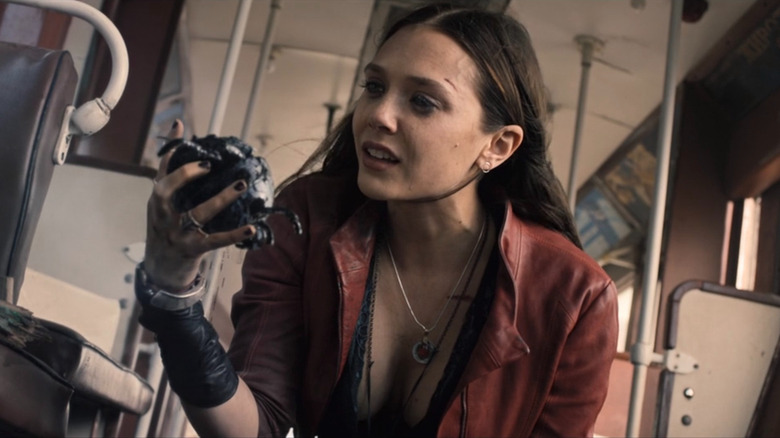 Marvel
When you sign on to be a part of the Marvel Cinematic Universe, you can best believe a lot of your time will be spent on the various projects within the MCU. You may be the star of a movie or a television show, a supporting player, or they will just bring you in for a cameo appearance in something unexpected. You sign multi-year, multi-picture deals with Marvel, and they will more than likely have the upper hand on your career until that contract runs out. How else do you think they managed to keep getting William Hurt to show up in movies as Thunderbolt Ross? I can tell you it was not because the fans were clamoring for it. He had a contract.
Elizabeth Olsen made her MCU debut in the post-credits scene in 2014's "Captain America: The Winter Soldier," but she truly had her proper introduction as a significant player a year later in "Avengers: Age of Ultron." Since the release of that film, she has appeared in eight feature films. Half of them have been Marvel projects, including the most recent film in the series, "Doctor Strange in the Multiverse of Madness." In fact, Olsen has not appeared in a movie that was not made by Marvel since 2018. She's also been the lead of two television shows since then, and one of them was a Marvel show.
When your time has been so consumed with one thing, you have to end up turning down a lot of projects you simply cannot squeeze into the schedule. It's the double-edged sword of being an in-demand actor. Sometimes, that means you have to turn down being in one of the greatest films of the last decade by one of our finest working filmmakers, Yorgos Lanthimos. Such was the case with Elizabeth Olsen.
I coulda been a lobster, I coulda been somebody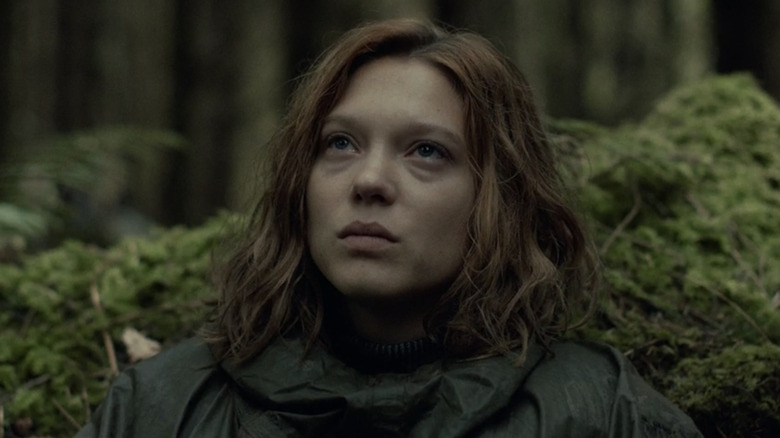 A24
Right at the beginning of her Marvel journey, Elizabeth Olsen was offered the opportunity to join the cast of Yorgos Lanthimos' deconstruction of love and romance "The Lobster." His first English language film broke the Greek filmmaker through to such a degree that this weird, deadpan comedy even got nominated for an Academy Award for Best Original Screenplay. Unfortunately for Olsen, she had to back out of the film because Marvel was just taking up too much time, and I'm sure "The Lobster" was not the only casualty of her schedule. In a recent profile for the New York Times, Olsen expressed her frustrations at the time of having to turn away these projects she really wanted to be in:
"I started to feel frustrated ... I had this job security but I was losing these pieces that I felt were more part of my being. And the further I got away from that, the less I became considered for it."
While it is unclear what role Olsen would have played, I would imagine it was the part eventually played by Léa Seydoux in the film, purely based on typecasting. With Lanthimos, you can never be too sure. If that was indeed the part, I am sure glad Seydoux ended up doing it, as she and Lanthimos feel like a natural fit with one another, but it would have been something to see Olsen stretch herself with someone that reserved and removed.
Olsen's contract with Marvel was, at first, a three-picture deal, which in the franchise landscape is fairly reasonable. You'll notice, though, that she has appeared in more than just three of these movies. After some consideration, she decided to re-up her contract with the studio, saying in the profile, "The power to choose to continue was important to me." Now that she knew what she was in for when it came to mammoth studio filmmaking, she could figure out how to navigate it better, as well as finding more interesting things for the character of Wanda to do. Let's be frank, her initial appearances were not the most memorable. But with "WandaVision" and now "Multiverse of Madness," that character is not just important to the MCU, but essential.
Plus, she has found time to shoot some non-Marvel stuff, leading the upcoming HBO Max true-crime miniseries "Love and Death," alongside Jesse Plemons.