Crimes Of The Future Trailer: Body Horror Maestro David Cronenberg Is Back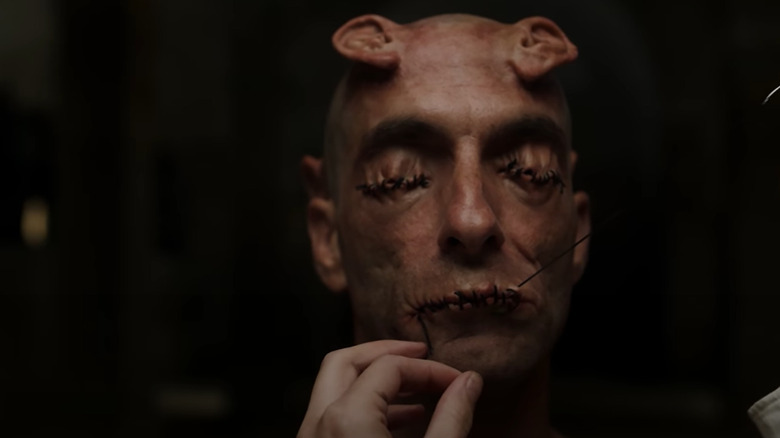 Neon
Director David Cronenberg is back in a very big way with his return to body horror, "Crimes of the Future." Cronenberg cut his teeth in genre films and became a master of horror for films like "The Fly," "Videodrome," "Scanners," and "Crash," but "Crimes of the Future" is the first horror feature since 1999's "eXistenZ" to be both written and directed by the Canadian maestro. Just a few weeks ago, Cronenberg took center stage at Caesar's Palace in Las Vegas during CinemaCon to introduce the first look at new footage from "Crimes of the Future." A representative from Neon, the studio distributing the film, called it Cronenberg's "highly anticipated return to the horror genre" and an evolution of the director's work that includes "key references" to his previous films. As we also learned during CinemaCon, "Crimes of the Future" is a script Cronenberg wrote over two decades ago, so he's had plenty of time to marinate on how to make it as Cronenberg as humanly possible.
According to the official description from Neon, "Crimes of the Future" is set in, well, the future, where humans have adapted to a synthetic environment through bodily transformations and mutations. A celebrity performance artist named Saul Tenser (Viggo Mortensen) and his partner Caprice (Léa Seydoux) incorporate the metamorphosis of Saul's organs as part of avant-garde performance art pieces. A member from the National Organ Registry named Timlin (Kristen Stewart) is tasked with investigating the duo, but her work is interrupted when a mysterious group shows up, intending on using Saul's infamy as a way to spotlight what they believe is the next phase in human evolution.
Crimes of the Future trailer
Filmed in Athens, Greece, "Crimes of the Future" boasts a dynamite cast featuring the talents of Viggo Mortensen ("A History of Violence," "The Lord of the Rings" trilogy), Léa Seydoux ("No Time To Die," "The French Dispatch"), Kristen Stewart ("Spencer," "Personal Shopper"), Scott Speedman ("Animal Kingdom," the "Underworld" franchise), Welket Bungué ("Berlin Alexanderplatz," "The Night's Substance"), Don McKellar ("Roadkill," "Exotica"), and Lihi Kornowski ("Ballistic," "The Burglar").
When asked about the film, producer Robert Lantos said: "To work with David Cronenberg is to embark on a journey exploring terrain where no one has gone before. Each of our collaborations has been an exhilarating adventure and David's unwavering vision is what real cinema is all about." After catching a glimpse of this new trailer, we wholeheartedly agree. It's incredible what can be crafted when directors are given the freedom to pursue their creative vision exactly as intended, and a hell of a lot freakier.
"Crimes of the Future" arrives in theaters on June 3, 2022.