Elizabeth Olsen And Sam Raimi Need To Make More Movies Together, Immediately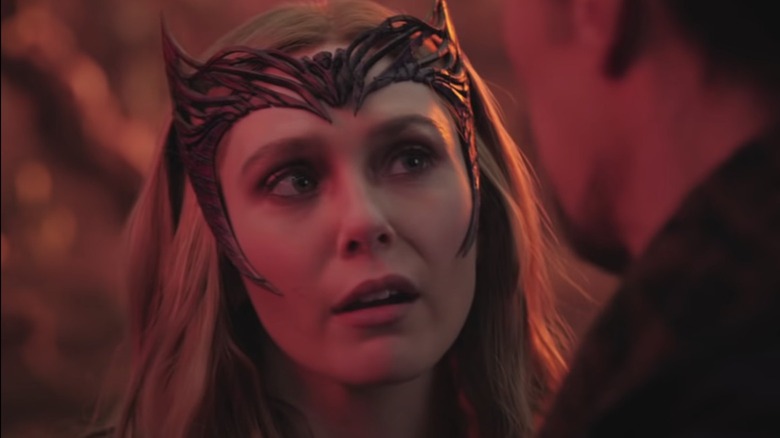 Marvel
Note: this article includes detailed discussion of SPOILERS from "Doctor Strange in the Multiverse of Madness."
Elizabeth Olsen is the best bloody thing about "Doctor Strange in the Multiverse of Madness," with emphasis on the bloody. The actress, whose turn as grief-stricken Wanda Maximoff in "WandaVision" wowed audiences last year, here transforms into a scalding, single-minded source of torrential violence. Hell hath no fury like a woman broken, and the Scarlet Witch we see here — robbed of her children and manipulated by the evil influence of The Darkhold — is clearly broken. She's also a perfect, elegantly terrifying match for Raimi's stunning and pulpy horror sensibilities.
Olsen is the best part of the movie, even if Scarlet Witch isn't. The latest Marvel project hinges on a bait-and-switch that's utterly nonsense within the larger MCU canon, quickly inflating her to Big Bad status after we just started to finally understand her heart in "WandaVision." When the Wanda reveal first happened, I thought making her a full-blown villain right after humanizing her might just be an unforgivably bad twist. But then Olsen reminded us that she doesn't come to play, and she and Sam Raimi turned the movie's strange and paradoxical weakness into its greatest strength.
Olsen goes all in as a newly scary Scarlet Witch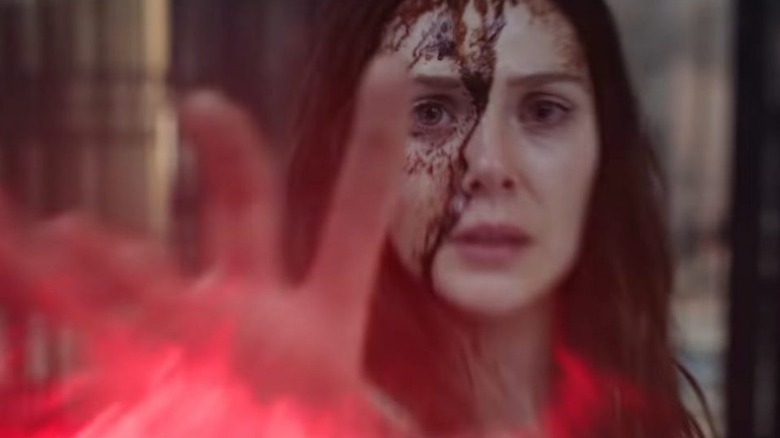 Marvel
Raimi's camera clearly loves Olsen. It loves hair covered in blood and gore. It loves her face stained with tears, which it is for much of the movie. It even loves to catch her quirking her mouth in quiet confidence before exploding the head of a superhero whose entrance audiences were cheering for seconds ago. Raimi's filmmaking very occasionally falls into the house style of Marvel here, but it's the most confident and bold when he's shooting his villain. His signature flourishes make her come to freaky, engrossing life, and neither aspect would be nearly as good without the other. While the quality of the plot of "Doctor Strange and the Multiverse of Madness" will likely be debated for years to come, no one can argue against the deliciously wicked beauty of Olsen's most outright villainous sequences.
As this version of Scarlet Witch, the actress is cold and commanding, but can slip easily back into Wanda's humanity when needed. The character has long since been a lesser-appreciated Marvel utility player, but Raimi seems to see her as a star. Doctor Strange's name is in the title, but it's Scarlet Witch whose rituals the camera centers, and whose mayhem is the source of the film's best and freakiest moments. At points, Raimi lets what we're seeing veer full-tilt into horror, and whenever he does, Scarlet Witch's clawing, black-smudged clutches aren't far behind.
As a horror fan, it's hard not to look at a movie this robust and chaotic and imagine what it might look like if it were stripped down to its most interesting, cohesive, and yes, terrifying parts. I think it would look a lot like an Elizabeth Olsen led Raimi horror picture. And that thought, of course, is immediately followed by another: why doesn't that exist? Can this please exist?! Olsen has plenty of experience with the genre, as her acting career kicked off with the one-two punch of cult thriller "Martha Marcy May Marlene" and real time horror flick "Silent House." Raimi, of course, has brought us the endless blood-soaked delights of the Evil Dead franchise and "Drag Me To Hell." These are two great cinematic tastes that we now know taste great together. I for one would like to see them do this again sometime, without the clutter of any IP-driven bullet points that need to be crossed off.
Raimi frames Olsen like a horror lead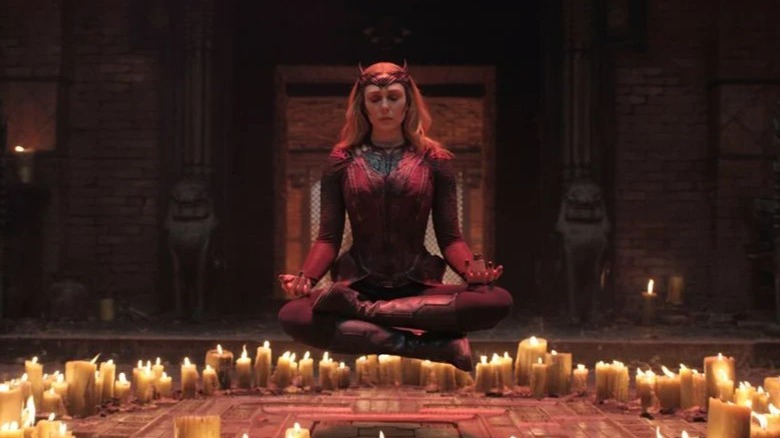 Marvel
It would be inaccurate to call Olsen a scream queen, since she's clearly the one making everyone else scream this time around — but Raimi frames her like one nonetheless. He steeps the visual language of Scarlet Witch in decades of horror tradition. When an alternate universe version of Wanda is possessed by a dreamwalking Scarlet Witch, her safe suburban home suddenly becomes unnerving and strange, like so many horror movie houses before it. When the spell later breaks and Scarlet Witch is pulled back to her world, the camera flickers achingly between the two realities, and she joins a long line of women in horror left stricken by the massive emotional toll of motherhood. And when she stands on her throne at Mount Wundagore, she's yet another witchy woman whose sheer power makes her more thrilling to root for than the heroes who are meant to stop her.
"Doctor Strange in the Multiverse of Madness" is a big, bold mess of a movie, but when scraped together, its strongest parts look like a wild highlight reel for Olsen and Raimi's ability to collaborate. For her part, Olsen has expressed adoration for the filmmaker, telling Collider:
"I love Sam Raimi. He's a lovely person and I really enjoy our playfulness together of just kind of allowing ourselves to discover new things. He's a great energy and is a very specific filmmaker and loves playing with his camera. It's been fun."
There's no telling whether the beloved filmmaker will make another feature film soon: after all, it took him nine years to get back in the director's chair for this one. But if he has re-acquired a taste for the big screen, well, there's an actress we think might be perfect for his next big role.