It Took A While For Christopher Lloyd To Realize The Impact Of Back To The Future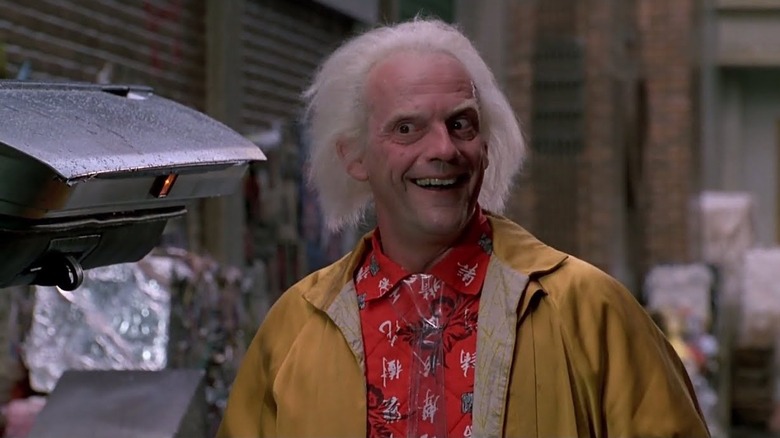 Universal Pictures
in Hollywood, there exists a somewhat self-fulfilling prophecy that creeps up on a handful of actors over the decades, especially those that step into the shoes of an instantly iconic character that is commercially successful and capable of launching franchises and spin-offs. The prophecy? They better get used to playing said character often. It feels inherently cynical to assume an actor is trapped in a role by studio executives carrying moneybags with dollar signs on them. But there's no shortage of examples of adaptations and original films that dried up after once being evergreen staples. The elephant I almost always particularly encounter in any room is usually Indiana Jones, which may be controversial in some circles.
All this is to say that a little too much enthusiasm and no small amount of tempting profit can ruin a good thing quickly. Which brings me to Christopher Lloyd, aka Dr. Emmett Brown in the "Back to the Future" trilogy. Not only did Lloyd appear in all three of the time traveling adventures, but he's also reprised the inimitable and beloved "Doc" numerous times in the decades since, and always with such sincere glee. Whether it's the 2010 video game, segments of "Robot Chicken," or a hilarious cameo in Seth MacFarlane's "A Million Ways to Die in the West," Christopher Lloyd is always having a blast as Doc Brown. One of the reasons the actor loves putting the lab coat back, no matter the occasion, is owed to his realization of how beloved the character has become over the years. Although it took quite a bit of time for Lloyd to understand just how timeless Doc would prove to be.
Passing down Doc Brown to future generations
Universal Pictures
Lloyd is no stranger to playing memorable characters. Two standouts include Uncle Fester in "The Addams Family" and his nightmare-inspiring Judge Doom from "Who Framed Roger Rabbit?" But in a recent interview with GQ, Lloyd revealed that there has always been something particularly affecting about his portrayal of Doc. The actor also explained that years went by before he started to notice that excitement or appreciation for the character wasn't going away:
"You know, three or four or five years, it sank in that this just doesn't stop [laughs]. I mean, kids who saw it when the film first came out grew up and had kids who they began their lives with. And so many people have come up to me and say how I made their childhood or the film made their childhood, or they became engineers or scientists or surgeons or whatever, from the effect of the film on them. And nothing else I've done has had that kind of impact."
There's something singularly meaningful in the act of sharing a favorite film with a loved one. In this way, "Back to the Future" and Doc Brown have remained in the collective memory of countless people and passed on to every subsequent generation, which has created the effect of undiminished love for the films and their characters. At 83 years old, Lloyd's long career has allowed him to witness some of the fruits of his inspiration. I can't be the only one getting misty-eyed when the actor mentions the people over the years who've said the role inspired them in various ways.
There's a good chance that another appearance by Doc is just around the corner (even if it won't be in a "Back to the Future" remake), which itself feels like a reminder that maybe we don't need endless trilogies or franchises to continuously enjoy a favorite character. Sometimes the odd cameo is enough. Either way, Lloyd is far from retiring: it was recently was announced the actor would be making an appearance in the next season of "The Mandalorian" on Disney+. And I'm willing to bet there's a fifty-fifty chance some part of his role will reference "Back to the Future," even if it's just an Easter egg hidden somewhere in a galaxy far, far away.