A 'Back To The Future' Remake Will Happen Over Robert Zemeckis' Dead Body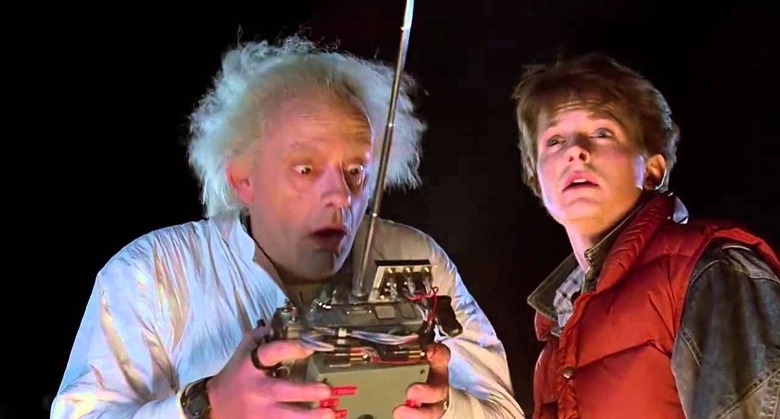 Don't expect to go back to Back to the Future anytime soon. Despite the current craze for rebooting '80s and '90s hits, Robert Zemeckis has unequivocally shot down any talk of a Back to the Future remake. Read the Back to the Future remake comments after the jump. 
Zemeckis did not mince words when The Telegraph asked him whether he would ever consider agreeing to a remake:
Oh, God no. That can't happen until both Bob and I are dead. And then I'm sure they'll do it, unless there's a way our estates can stop it.
I mean, to me, that's outrageous. Especially since it's a good movie. It's like saying 'Let's remake Citizen Kane. Who are we going to get to play Kane?' What folly, what insanity is that? Why would anyone do that?
Zemeckis conceded that a Back to the Future remake would probably make money thanks to its "pre-sold title." But, he added, "can you imagine them getting skewered?"
According to the original contract that Zemeckis and Bob Gale signed with Universal and Amblin in 1984, the two men have control over any Back to the Future movies until their deaths. So unless someone can go back in time and stop them from making that pact, their word is final.
While Zemeckis did not specifically address the possibility of Back to the Future sequels in this interview, it's unlikely we'll ever get one of those, either. In 2008, Gale rejected the notion of a Back to the Future Part IV. "We've all seen sometimes where they make one too many sequels and you say, 'Maybe they shouldn't have done that,'" he said.
It's not just Back to the Future that Zemeckis doesn't want to see remade. He expressed his unhappiness over the upcoming Romancing the Stone remake, but said that as a director-for-hire on that project, he had no control.
Are you more relieved or disappointed that we'll never get more Back to the Future?