David Cronenberg Already Planning Next Movie The Shrouds, Starring Vincent Cassel As A Man Trying To Contact The Dead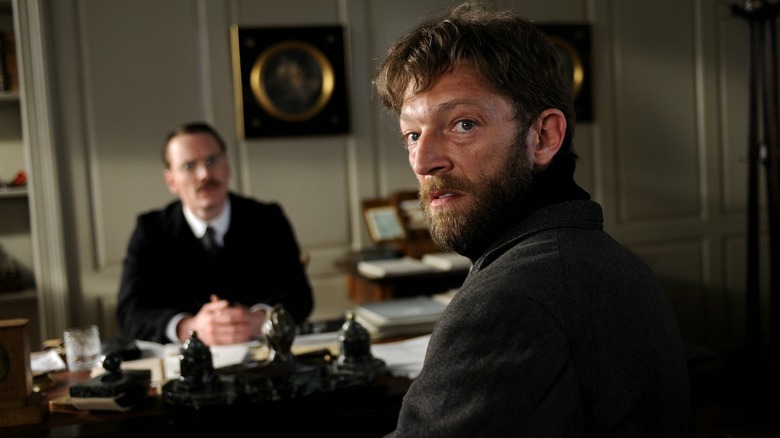 Sony Pictures Classics
New David Cronenberg movies don't come around very often, making each one into a kind of event for those on his particular wavelength. Rising from the ether every so often like some kind of profoundly disturbed Godzilla, the filmmaker seems to take a unique pleasure out of alternately delighting and repulsing the exact kind of viewer whose movie tastes are best summed up by that Sicko meme. Having movies like "Scanners," "The Fly," and the upcoming "Crimes of the Future" under his belt — the last of which the director has already warned may lead to quite a few disgusted walkouts — will probably have that effect! But just when fans may have worried that Cronenberg would take another lengthy hiatus after his next feature debuts, the film gods have seen fit to bless us with good news today.
It's certainly shaping up to be a very busy Cannes Film Festival for David Cronenberg. While he gears up to debut "Crimes of the Future" at the prestigious festival later this month, Variety reports that he'll also be making a major sales pitch for his next effort. Titled "The Shrouds," the production will see Cronenberg reuniting with a very familiar face. Actor Vincent Cassel has starred in previous Cronenberg movies, such as 2007's "Eastern Promises" and 2011's "A Dangerous Method," and he'll once again reteam with the horror filmmaker as the lead in "The Shrouds." Playing a character named Karsh, Cassel's role is described to be that of "an innovative businessman and grieving widower, who builds a device to connect with the dead inside a burial shroud."
Cronenberg will write and direct the film, with filming set to begin in March of 2023.
The Shrouds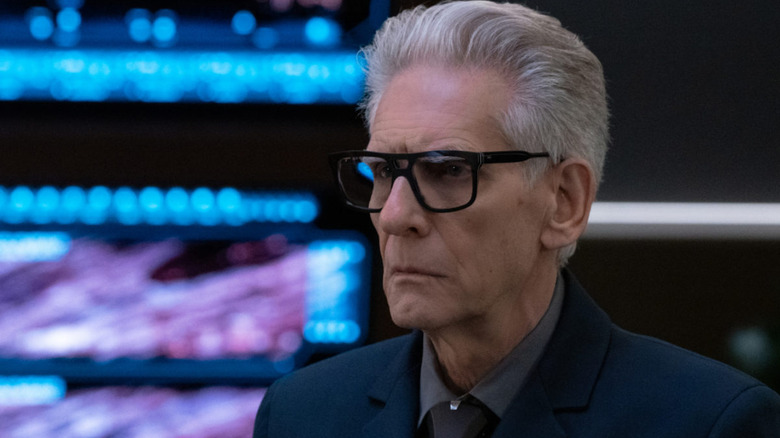 CBS
Based on early reactions to the gnarly-sounding "Crimes of the Future," it would definitely appear as if David Cronenberg hasn't lost a single step. His peculiar focus on dark, adult-skewing dramas with a penchant for body horror and existential thoughts about our own mortality seems to continue with "The Shrouds." With the rest of the cast aside from Vincent Cassel as Karsh still to be announced, the little we do know of Cronenberg's new movie so far sounds absolutely intriguing. According to Variety, the logline is as follows:
Karsh's revolutionary business is on the verge of breaking into the international mainstream when several graves within his cemetery are vandalized and nearly destroyed, including that of his wife. While he struggles to uncover a clear motive for the attack, the mystery of who wrought this havoc, and why, will drive Karsh to reevaluate his business, marriage and fidelity to his late wife's memory, as well as push him to new beginnings.
Yeah, say no more. I can't imagine any Cronenberg fan reading that description and not coming away with all sorts of exciting questions about how this movie will ultimately unfold under the director's steady hand.
Producer Saïd Ben Saïd of SBS Productions released a statement alongside the news of Cronenberg's new production:
"We are thrilled to be going on a journey into the newest world from the distinctive imagination of David Cronenberg. His ability to write smart and unconventional screenplays and then translate them into unique experiences on screen makes him a unique voice in film."
We'll be sure to follow his next project closely, but in the meantime we have "Crimes of the Future" to look forward to, which will hit theaters on June 3, 2022.