David Cronenberg Reveals Why He Re-Used The Title Crimes Of The Future For His New Film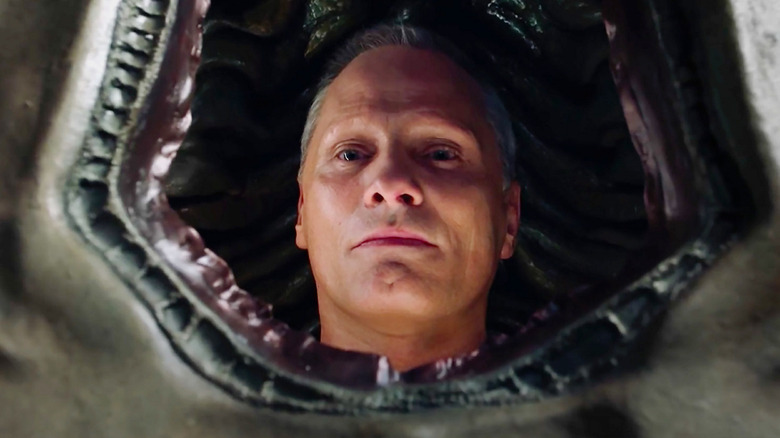 Neon
There's no need to turn in your cinephile card if you haven't seen David Cronenberg's 1970 sci-fi horror film "Crimes of the Future." Most people haven't (myself included), much less even heard of it before they found out the director's next movie has the same title. The former is as bizarre and perturbing as you would expect a 52-year-old Cronenberg joint to be, too, taking place in a version of 1997 where a plague caused by cosmetic products has wiped out every sexually mature cis woman on the planet. Also, there are characters with foot fetishes and pedophiles. Yup, that seems like a thing the maestro of body horror would cook up.
Its genre aside, Cronenberg's "Crimes of the Future" (2022) sounds very different from his 1970 film. The former stars the director's "A History of Violence," "Eastern Promises," and "A Dangerous Method" lead Viggo Mortensen as Saul Tenser, a "celebrity performance artist [who] publicly showcases the metamorphosis of his organs in avant-garde performances." Léa Seydoux and Kristen Stewart also co-star in the film, itself based on a script Cronenberg wrote 20 years ago. As Cronenberg explained to Deadline, that necessitated changing the project's original title, "Painkillers:"
"Well, it came about in a very organic way. It doesn't have a lot of significance, actually — the original title was 'Painkillers,' and it was over 20 years ago that I wrote the script. So, when I was discussing reviving the project with the producer Robert Lantos, he suggested that we co-opt the old title because it was more interesting. A lot of movies and books and TV series called 'Painkillers' had come out in the 20 years since I wrote that script."
Not a sequel or remake, but the title still works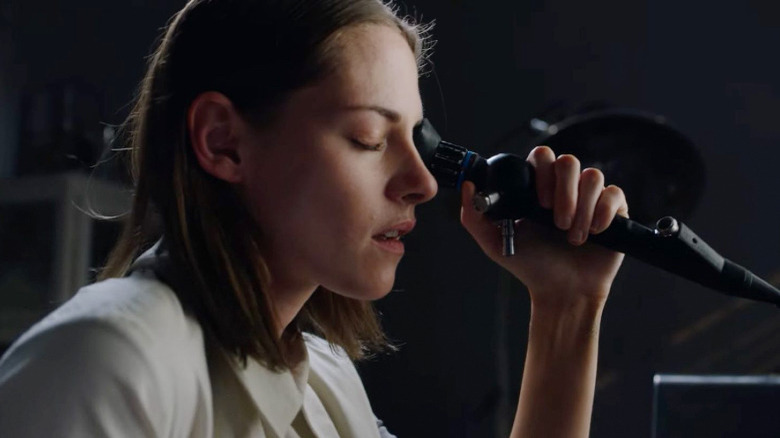 Neon
"Crimes of the Future" (2022) is not just the first sci-fi horror film Cronenberg has directed since 1999's "Existenz," it's also the first movie he's made at all in eight years since his 2014 satire of the film and TV industry, "Map to the Stars." During the film's panel at the 2022 CinemaCon in Las Vegas, a representative for its distributor, Neon, said it would build upon the themes of his older horror movies and include "key references" to his earlier work. So far as its title goes, however, Cronenberg assured Deadline it fits the story, but holds no deeper significance beyond that:
"So, we thought we needed a new title, and we just thought 'Crimes of the Future,' although it is not a sequel or a remake of my old 1970 underground film. They both are accurately called 'Crimes of the Future' — so why not do it? It was really no more significant than that. Only a few people will know about the existence of that old film. That's the way we thought about it. We just liked the title, and we thought it would be nice to have it on a movie that will probably gather a larger audience than the original."
Keep in mind, just because Cronenberg doesn't see any ties between "Crimes of the Future" (1970) and his new film beyond their shared title and genres, that's no reason for everyone else to avoid looking for them. For sure, there's a whole discussion to be had about the risks of over-analyzing a work of art and trying to suss out its creator's intent, only to learn what you thought was a deliberate creative choice was really a happy accident. That said, I find it best to focus primarily on my own personal interpretation of what a movie is about and how it connects to its director's greater body of work. This being a Cronenberg project, there will no doubt be many different ways to read its subtext, too.
"Crimes of the Future" (2022) opens in theaters on June 3, 2022. If you want to check it out, "Crimes of the Future" (1970) is actually available on YouTube.