The Daily Stream: A New Movie Star Meets An Old School Musical In Funny Face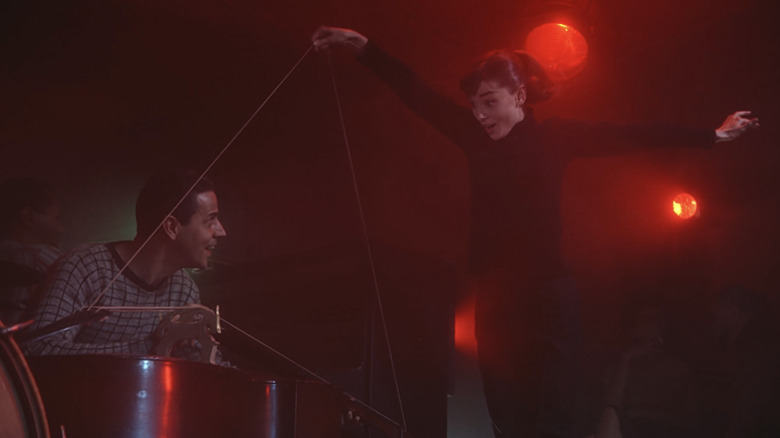 Paramount
(Welcome to The Daily Stream, an ongoing series in which the /Film team shares what they've been watching, why it's worth checking out, and where you can stream it.)
The Movie: "Funny Face"
Where You Can Stream It: Prime Video, Hoopla, Pluto TV
The Pitch: Photographer Dick Avery (Fred Astaire) looks to shake up a session he is shooting for a fashion magazine run by Maggie Prescott (Kay Thompson), wanting to find a way to make his model look like she has more than a thought in her head. They decide to ambush a Greenwich Village bookstore. In that store works Jo Stockton (Audrey Hepburn), a young clerk who dreams of schmoozing with the world's greatest philosophers and detests the very notion of this magazine. Dick ends up being quite taken with Jo, not just in that he finds that she photographs exceptionally well, but romantically as well. He convinces her to join the magazine as a model on their annual trip to Paris, which she agrees to as she sees the city as the epicenter of Bohemia. Shot in beautiful VistaVision and featuring the tunes of George and Ira Gershwin, "Funny Face" is a grand musical comedy directed by arguably the greatest to ever take on the form, Stanley Donen, in his first of three collaborations with Hepburn. It's pure, glamorous Hollywood filmmaking of the highest order.
Why it's essential viewing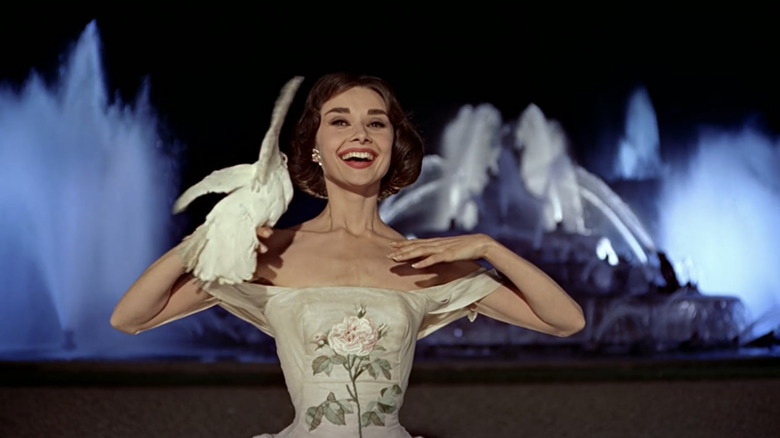 Paramount
Being released in 1957, "Funny Face" came out at the tail end of the classic Hollywood movie musical era. Two years earlier, "Oklahoma!" was released in cinemas, and the rise of the roadshow mega-musicals that would go on to dominate (and subsequently kill) the form throughout the 1960s was just beginning. The story of "Funny Face" would have felt just as much at home in the 1930s or 1940s as it does when it was made, and regardless of the decade, it still probably would have starred Fred Astaire. This is a frothy light film, where the scenes act more like excuses to get to the songs than the songs doing any sort of legwork in helping to tell the story. Luckily, Stanley Donen is the one at the helm, and nobody knows how to move their camera to showcase heart-racing, exciting choreography like him. The way he has bodies effortlessly move through beautifully lit spaces, which you also see in films like "Singin' in the Rain" and "On the Town," is simply marvelous.
While he is a staple of the Hollywood studio system, Donen was never one to rest on his laurels and always found new ways to push himself as a visual stylist. "Funny Face" serves as a pivot point for the director, meshing together the more traditional work of those earlier musicals and his more experimental side, seen in pictures like "Charade" and "Two for the Road" (both starring Audrey Hepburn). We have the scenes of Fred Astaire singing and dancing to old school Gershwin songs, having fun with different props and all. However, we also have scenes like Audrey Hepburn performing a modern jazz dance in a Parisian nightclub, adorned in a black turtleneck and slacks and bathed in red and green lights. The push and pull of the old and new school is invigorating, and Donen executes both of them to perfection.
As Hollywood was abandoning the classic Academy ratio (1.375:1) in favor of the wider images that CinemaScope (2.55:1) provided, VistaVision was Paramount's middle ground between the two formats, offering a fine grain film that looked beautiful in 1.85:1. Crucially for "Funny Face," it provided an exceptional frame in which to capture dance. CinemaScope, while giving the audience a grand frame, can cause a lot of trouble if you are focusing on only a couple of dancers. If you are framing them correctly, where their whole bodies are in the frame, they can look awfully small on screen and are surrounded by a ton of negative space. The way Donen uses VistaVision sees a brilliant compromise of a widescreen format with dance. No set piece, whether that be Astaire dancing alone in a little Parisian square or using split screens to see Astaire, Hepburn, and Kay Thompson traversing the most famous sights of the city, looks equally excellent in the film. No number gets lost in the shuffle, each one popping off the screen.
Age gaps are nothing new in Hollywood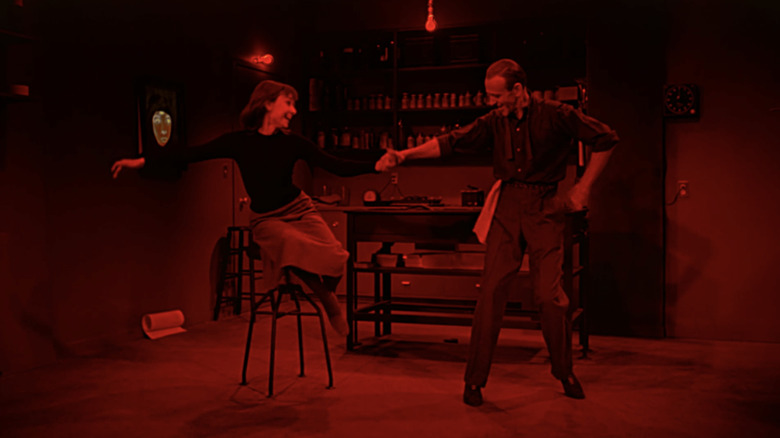 Paramount
Audrey Hepburn had her fair share of much older love interests in her films. Hollywood always likes to look for the next bright, young female movie star while relying on the men who have made them money for years to continue to do so. Audrey Hepburn and Fred Astaire's birthdays may only be six days apart on the calendar, but the actual days of their births were 30 years apart. Astaire's birth year was not even in the 20th Century! While Astaire may still be a spry man in "Funny Face" who can still dance up a storm, it can be a little tough sometimes to take that three-decade age gap between them, even with them having sparkling chemistry with one another.
While the age gap is not actively spoken about in the film, it does serve as a kind of undercurrent for the picture. Like with the filmmaking style and when it was made, there is a push and pull between the old and new school here, and that comes right down to the film's central couple. No one embodies old-school Hollywood like Fred Astaire. He has his finely tuned movie star persona and has appeared in countless Hollywood musical classics. Audrey Hepburn was only three years removed from bursting onto the scene in "Roman Holiday," where she won her first and only Academy Award. This was a newly minted movie star, and she even receives top billing over Fred Astaire. Their characters' ideologies are totally opposed to one another, but each one gets taken to through the other's world and is able to find a connection together. I understand completely if the gap is just too much for you. It was the first time I saw the film, but seeing how that gap is subconsciously a part of every element of the movie helped me enjoy it more and more every time I put it on.
"Funny Face" is not the peak of the classic Hollywood musical. It might not even crack my top five of Stanley Donen's filmography, though that has more to do with how great a filmmaker is than how I feel about this film. What "Funny Face" aims to be is glorious Hollywood entertainment of song, dance, fashion, color, and life, and by that metric, it succeeds wildly. This film will work as a salve for any bad day you have. To use the title of one of the film's songs: 'S wonderful.