Why Daniel Day-Lewis Hasn't Returned To The Stage Since Playing Hamlet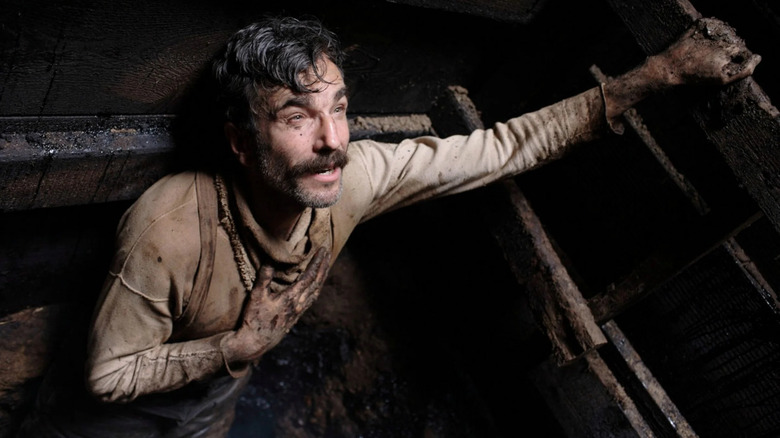 Paramount Vantage/Miramax Films
Daniel Day-Lewis may be one of the most gifted actors of his generation, yet he remains an enigma for most of us — and that's just the way he likes it. Unlike his fellow "Brit Pack" contemporaries like Colin Firth, Tim Roth, and Gary Oldman, all regular faces on talk shows, the three-time Oscar winner rarely gives interviews. When he does, he doesn't give much away, as he told The Guardian:
"Actors should never give interviews. Once you know what color socks they wear, you'll remember it next time you see them performing, and it will get in the way. It is not in anyone's interest."
We may be familiar with his great roles, from Bill the Butcher in "Gangs of New York" to Reynolds Woodcock in "Phantom Thread," but his personal life largely remains a mystery, with little tidbits that emerge only adding to his mythos. How does the son of a poet laureate and classically trained actor become a fan of Millwall, the London football club best known for its association with hooliganism? What compelled him to take a break from acting to becoming a shoe-maker's apprentice in Florence? It paints a picture of a private man driven by his own passions rather than a desire for fame and fortune, and this was reflected in his choosiness with film roles.
When it came to preparing for his onscreen characters, his devotion to method acting is legendary. For "The Unbearable Lightness of Being," he learned Czech so he could speak his lines in English, with a Czech accent. That's impressive; I've lived in the Czech Republic for 13 years and I can only just manage a few Czech sentences in an English accent. Perhaps the most extreme example came during the filming of "My Left Foot" where he played the severely disabled artist Christy Brown. Day-Lewis refused to break character. He insisted on the crew pushing him around in a wheelchair and spoon-feeding him at lunch.
It's easy to poke fun at method actors (as Robert Downey Jr. did so controversially in "Tropic Thunder"), but when it comes to Day-Lewis, you can't argue with the results. However, there was one time in his career when his intense approach to a role ended in professional disaster.
From stage to screen... to stage again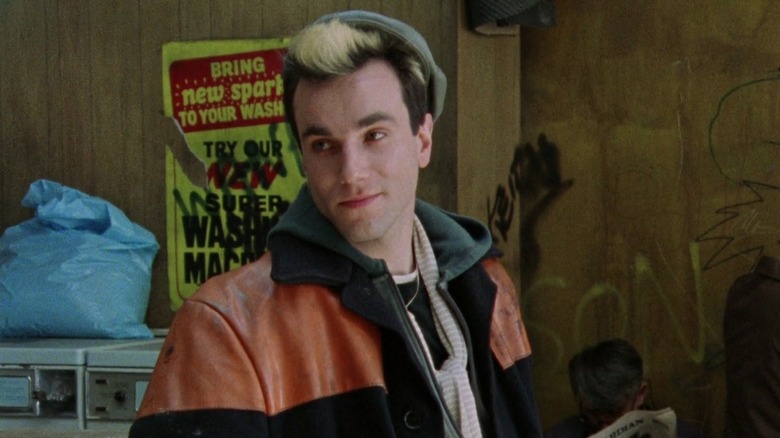 Working Title Films/Channel Four Films
When it came to choosing a career, Daniel Day-Lewis was torn between two passions: woodwork and acting. I'm sure he could knock you up a lovely tea cabinet but I'm glad he took the second option, studying at the Bristol Old Vic Theatre School alongside Miranda Richardson. He later moved on to performing at the Bristol Old Vic where he understudied Pete Postlethwaite, with whom he would form a brilliant father-son relationship in Jim Sheridan's powerful courtroom drama, "In the Name of the Father."
In the early '80s, he graduated to the West End in London for his big stage breakthrough in "Another Country" and joined the Royal Shakespeare Company, performing as Romeo in the Bard's famous tragic romance. He soon quit the illustrious company when he became exasperated by kids giggling at him during school matinees (via Contact Music):
"We'd do school matinees as a part of the fun (of touring) and they were pretty tough towns, some of these places – like the industrial Midlands in England. If they're not throwing stones at other people's windows, they're going to see Romeo And Juliet. You walk on stage and you had to wait for 10 minutes for them to stop laughing before you could even get a word out."
While he was making his transition to film with eye-catching performances in "A Room With a View" and "My Beautiful Laundrette," he still kept up stage work until 1986. Then, after a three-year hiatus and his first Oscar triumph for "My Left Foot," he returned to the stage to play "Hamlet" at the National Theatre in London. Stepping into the plum role played on British stage over the years by actors as varied as Sir John Gielgud, Richard Burton, Michael Sheen, Ben Whishaw, Jude Law, and Maxine Peake, it should have been something of a coronation for the quickly rising star. In the end, it turned into a nightmare.
Though this be madness, yet there is method in't...
Tristram Kenton/The Guardian
Daniel Day-Lewis took to the stage to play the Dane in March 1989. Critics generally liked the new production (via New York Times), but their reviews of Day-Lewis's performance in the enormously taxing role were only mixed. The Sunday Telegraph felt that his portrayal was weak, and lacked "the deep reserves of bitterness and bitter intelligence that make Hamlet a hero as well as a victim." Another said his halting delivery of the Bard's famous lines meant, "We lost the poetry," while another saw potential with "a performance of much promise, still in awe of the play and the role."
Six months later, Day-Lewis was out, replaced by Ian Charleson for the rest of the run. He reportedly walked off in the middle of a performance and was found sobbing backstage. Later diagnosed with stress (according to the LA Times) the rumor went that, like Hamlet himself, Day-Lewis had seen the ghost of his deceased father. He later clarified (via Time):
"I may have said a lot of things in the immediate aftermath, and to some extent I probably saw my father's ghost every night, because of course if you're working in a play like "Hamlet," you explore everything through your own experience. You think you're traveling a vast distance to understand another life, but it may be that you're bringing that life toward you at the same time. What allows that work to live is the common experience, the bond between the two of you. It's utterly delusional to say you become some other person—you don't. But you do get to know yourself in a different way, through the prism of that other life. That correspondence between father and son, or the son and the father who is no longer alive, played a huge part in that experience. So yes, of course, it was communication with my own dead father... but I don't remember seeing any ghosts of my father on that dreadful night!"
He left the stage that night never to return. Thankfully he recovered from the breakdown and returned to the screen instead. A few years later, he delivered a gravely dashing performance in "The Last of the Mohicans." In typical Day-Lewis fashion, he prepared for the role by living in the wilderness and hunting his own food.