Why Filming Phantom Thread Was A Nightmare For Daniel Day-Lewis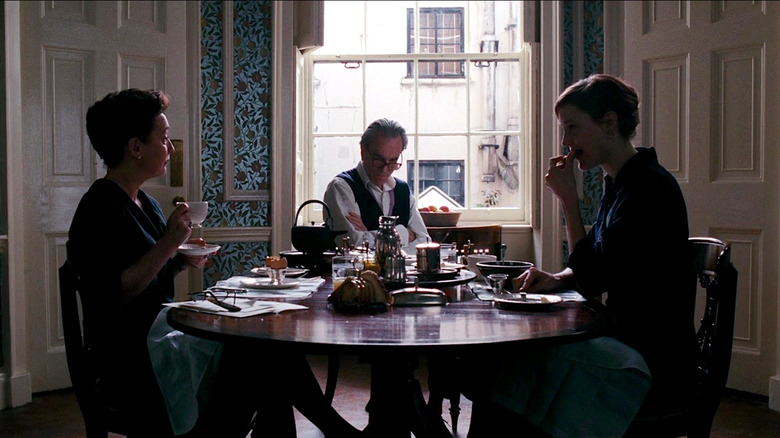 Focus Features
I recently noticed Paul Thomas Anderson's "Phantom Thread" listed under the romance category on Netflix, and I mean, okay, I guess! But really, when I reflect on this fashionably exquisite film, I'm not really thinking about the apparent love story, so much as I'm thinking about the poisonous mushroom hellscape that is the lives of the two main characters. I don't care if the New Year's balloon scene was beautiful, these two people should not be together and have completely lost their damn minds. Their relationship is, quite literally, toxic, and to think that they're just out there munching on fake morels like it's NBD is absolutely insane. 
Still, I really love this movie. It's unhinged, and for that I am grateful. But apparently, just like the movie depicts two people — Daniel Day Lewis as Reynolds Woodcock and Vicky Krieps as Alma Elson — caught in the ups and downs of a nightmarishly codependent relationship, the filming of said movie was purportedly just as nightmarish, especially for Day-Lewis. He may have never had to actually eat any of Alma's dishes on set, but from the sounds of things, making the movie was just as bad as consuming a bowl of death caps with his morning breakfast.
Filming in a 'termite nest'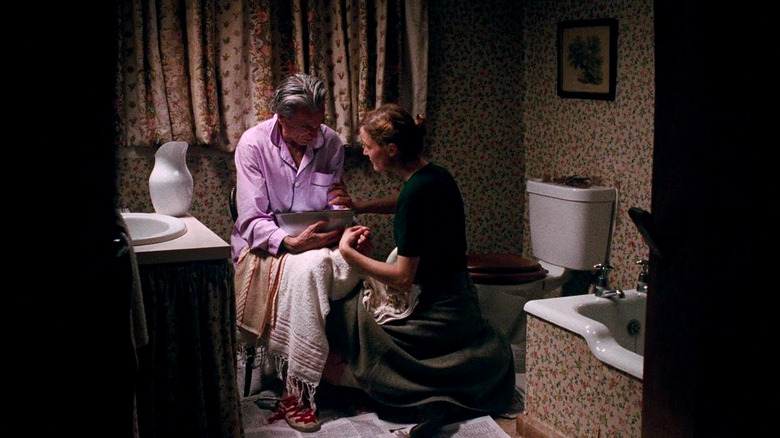 Focus Features
"Phantom Thread" tells the story of renowned 1950's clothing designer, Reynolds Woodcock. He's an extremely particular man (watch how you butter that toast!), and spends most of his time holed up in his narrow house which also doubles as his studio. On screen, his home is claustrophobic — at times the walls seem to be closing in on you — and one that is meant to convey the overwhelming sense of suffocation that both Reynolds' work and personal relationships have on him. This is a brilliant visual concept for the film — it immerses the actors into the world of the House of Woodcock, director Paul Thomas Anderson insisted the cast and crew inhabit said house for the duration of filming.
This proved to be a Very Bad Idea. An article for IndieWire delves into the misery that was living on set, quoting Day-Lewis very bluntly saying, "It was awful." He goes on to elaborate by explaining: 
"We built a world we could create and just stay in and no one could get into it. But in this townhouse, which was very beautiful, it was a nightmare." 
Just what was so nightmarish about it, you ask? To put it simply and perhaps obviously, the answer is a lack of space. "We were living on top of each other. It was an enormous unit. There was no space," said Day-Lewis. "You['d] work in a room then you['d] have to move all that s[***] into another room, and that space becomes a storage space. That entire house was like a termite nest." Gross.
Considering how much physical torment Day-Lewis has put himself through for other roles, this is say a lot.
The film's set conditions were horrible with the cast and crew having to continuously carry heavy equipment up and down staircases, and Day-Lewis's co-star Vicky Krieps even suffered a panic attack when the claustrophobia of the set began to overwhelm her. Thankfully though, for all their suffering, "Phantom Thread" went on to be a major success, proving that sometimes suffering for your art is really what it's all about. At least, that's would Reynolds Woodcock would say.