The 15 Best End Credit Songs, Ranked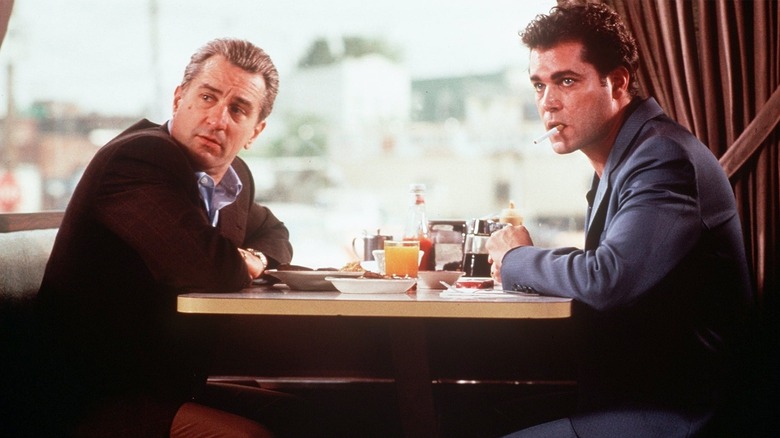 Warner Bros.
The end credits are a powerful part of the cinematic viewing experience. As the final images and sounds of a film, the credits serve as an epilogue of sorts that allows the audience to reflect on what they have just seen. The use of a great song can leave a lasting impression on the viewer. Directors often use popular music in this space to extend their vision and comment on the narrative. They select a piece of pre-existing music to capture their film's feeling, emphasize its themes, voice the inner thoughts of a character, or even juxtapose the narrative's tone in an expressive way. This list looks at the best uses of a popular song specifically chosen to end a movie, not one originally written for it. These end credit songs have a life outside of the film, but when they are brought into the film's world, they complement it perfectly. 
15. 'Love Really Hurts Without You' in 'Filth'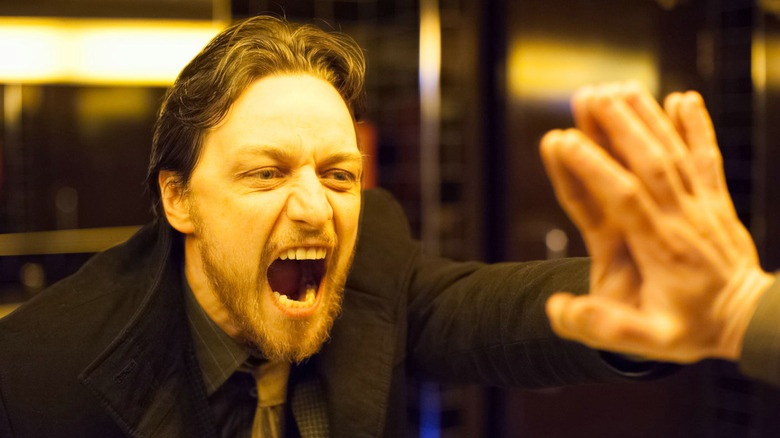 Magnolia Pictures
Jon S. Barid's film adaptation of "Filth," based on "Trainspotting" writer Irvine Welsh's book, is a nasty piece of work about a drug-addled misanthropic detective named Bruce Robertson (James McAvoy) investigating the murder of a Japanese student while experiencing hallucinations. "Filth" often uses vintage, upbeat songs to humorously underpin the nastiness of Bruce's lewd escapades, such as David Soul's "Silver Lady" and Shakin' Stevens' "Merry Christmas Everyone." But the best use of this kind of music is in the end credits song: Billy Ocean's soulful "Love Really Hurts Without You." 
Ocean's rich voice and passionate lyrics about someone with a broken heart are especially cutting after the chilly ending where, just as Bruce is about to hang himself, he sees Mary and her son — the only people he cares for — knock on the door. Bruce notices, but turns to the camera with a mischievous grin and says, "Same rules apply," then explodes into laughter as his chair falls underneath him. In a flash, Baird cuts to Bruce's neck snapping back and a shot of a closed red curtain to indicate that Bruce has left the stage and the show has ended. 
"Love Really Hurts Without You" plays against a cutesy animation of a pig that summarizes the plot of the film: sleeping with other men's wives, snorting cocaine, and donning a policeman outfit. This sequence furthers the idea that humans are animalistic in their capacity for violence and sexuality. Billy Ocean's bouncy tune is a darkly funny choice after such a bitter ending to this hyperkinetic, sex-fueled film. 
14. 'Vacation' in 'Spider-Man: Far From Home'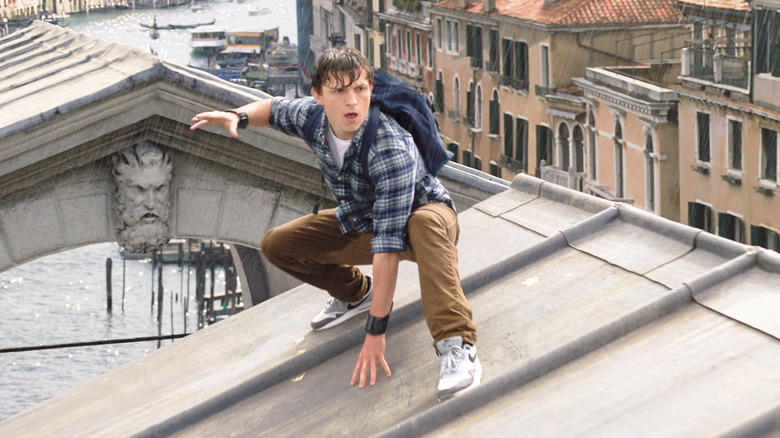 Disney
Nothing captures the breezy, transatlantic excitement of "Spider-Man: Far From Home" better than The Go-Go's bubblegum pop hit "Vacation." Its vivacious beat and cheerful lyrics make the perfect backdrop for the lively animated end title sequence. Hand-drawn on notebook paper, it features all sorts of items from the high schoolers' European trip such as brochures, luggage tags, and goofy passport photos. 
The relevance of the song to the film is glaringly obvious: Peter was also dying to get away on a vacation, but it ends up being less than ideal because he must deal with his responsibilities as Spider-Man. There's a perky innocence in the sugary vocals and sunny melody that adds to the film's youthful sensibilities, bolstered by Tom Holland's bright performance as the titular web-slinger and the film's overall John Hughes-esque spirit. It's a fun and uplifting way to end the film that leaves the audience grinning ear to ear.
13. 'Street Fighting Man' in 'V for Vendetta'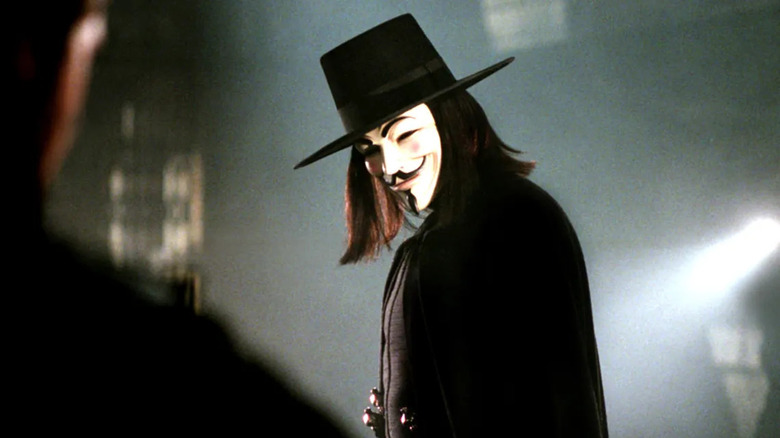 Warner Bros.
"V for Vendetta" is a sprawling dystopian action film about a masked vigilante named V on a crusade to topple the tyrannical London government. In the rousing ending, V's final coup d'état is successful and a mass of supporters wearing Guy Fawkes masks watch the sparkling fireworks and anarchic explosions in awe. The film then launches into an animated end credits sequence that features the red of spilled blood and black of V's costume set to The Rolling Stones' rocking "Street Fighting Man." 
The anti-war protest song is an excellent fit for V who — much like the anti-Vietnam protestors Mick Jagger observed in Paris — literally took to the streets to "kill the king." The "marching, charging feet" Jagger sings of are seen in the thousands of supporters that join V in his crusade. V was the "disturbance" that the Londoners needed to fight back against bureaucratic oppression, and "Street Fighting Man" harnesses that idea in its rallying sound. 
12. 'Road to Nowhere' in 'Transit'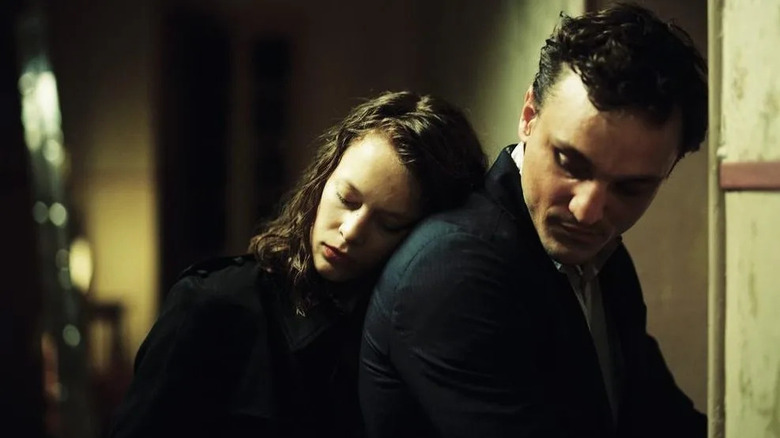 Music Box Films
It's a shock to the system when David Byrne's 1985 hit "Road to Nowhere" closes Christian Petzold's existentialist noir "Transit." The surprising inclusion of the synthesizer-laden, danceable song adds to the strange temporality of the film which is a World War II allegory set in modern times. The lyrics evoke the feelings of displacement and exile in the story of a man trying to escape occupied France who falls in love with the wife of the man whose identity he has assumed. 
An amped-up David Byrne sings of a directionless road that leads to nowhere, mirroring the tragic fates of the two aimless lovers. Marie escapes on a ship while Georg secretly stays behind to sell his ticket. After he learns that the ship hit a mine and sank with no survivors, he fruitlessly waits for Marie to return while the French police invade and seize the refugees, likely taking them to concentration camps. "Road to Nowhere" has a bubbly tone that juxtaposes the patient narrative, but its melancholy lyrics aptly fit the indeterminate emotional life of the characters and their distressing wartime circumstances.
11. 'Heroes' in 'Perks of Being a Wallflower'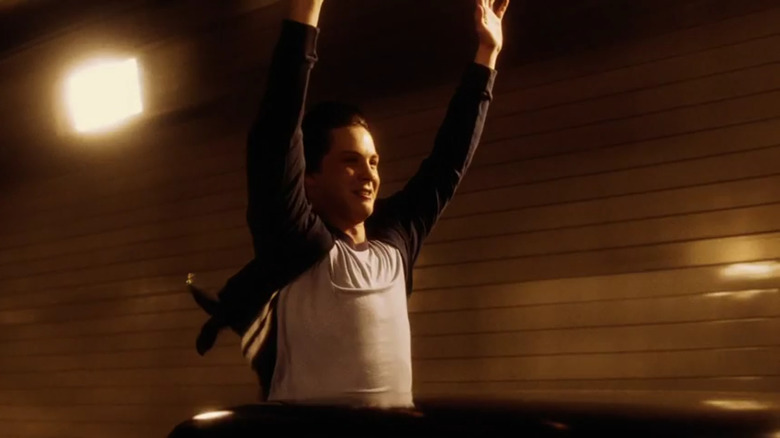 Summit Entertainment
"Perks of Being a Wallflower," the heartfelt coming of age story based on Stephen Chbosky's book of the same name, features a transcendent use of David Bowie's "Heroes" in the final scene and end credits. It takes a long time for high school introvert Charlie to come out of his shell and confront his personal demons. While traveling down a tunnel with his friends, he sits up through the open roof with outstretched arms, the lights streaming around him, wind rushing through his hair, and Bowie's mystical notes swirling around him. 
In the book, the song was originally "Landslide" by Fleetwood Mac, which would have been a more melancholy choice. Chbosky told Vanity Fair: 
"'Landslide' is a beautiful song, and I would have loved to include it, but it's a very soft ballad. The problem was when we got to the tunnel scene I just thought, We need something that's not soft. We need something that's driving, that's epic in nature, and 'Heroes' was a perfect fit." 
"And in this moment, I swear, we are infinite," Charlie says in his voiceover as Bowie's ambient sounds and passionate performance rings out. It may be a bit corny, but its sincere and works so well in context of the film, especially because Charlie has fought so hard for some emotional stability. David Bowie's cosmic composition brings to life the electric sensation of being completely alive and happy in this very moment. The stirring melody encapsulates Charlie's newfound joy; existence no longer feels like a weighty chore. "We can be heroes, just for one day," Bowie sings, leaving the audience with the idea that we must live every single day to the fullest. 
10. 'Young Americans' in 'Dogville'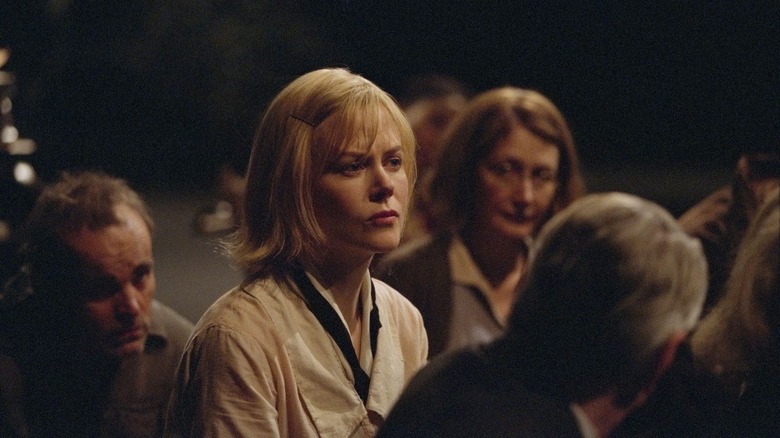 Lions Gate Films
Like most Lars Von Trier films, "Dogville" is a nihilistic punch to the gut. Nicole Kidman stars as a young woman who hides from a gang in a small Colorado community in exchange for labor, which the townsfolk cruelly take advantage of. This harrowing tale of a woman's abuse and enslavement argues that "America's spirit of democratic self-government can be and often is perverted into a form of vicious oppression" (via Vox). 
Von Trier selects David Bowie's bop "Young Americans" for the final credits that feature a montage of grim photographs, many from fellow Dane Jacob Holdt's "American Pictures." These dreary snapshots expose the underbelly of America rotted by economic depression. There's a cruel irony in the dismal images of starving children and dirt-covered people without homes against such a merry rhythm. "Its blunt naturalism and dynamic speed a great contrast to the stylized, measured flow of the film itself," Béri Balázs writes.
Bowie sings of America's shiny, suburban veneer that "Dogville" harshly critiques. Both non-Americans Von Trier and Bowie observe that there is an insidious poison at the heart of the American Dream and express that through their disillusioned protagonists.
9. 'You'll Never Walk Alone' in 'Heavenly Creatures'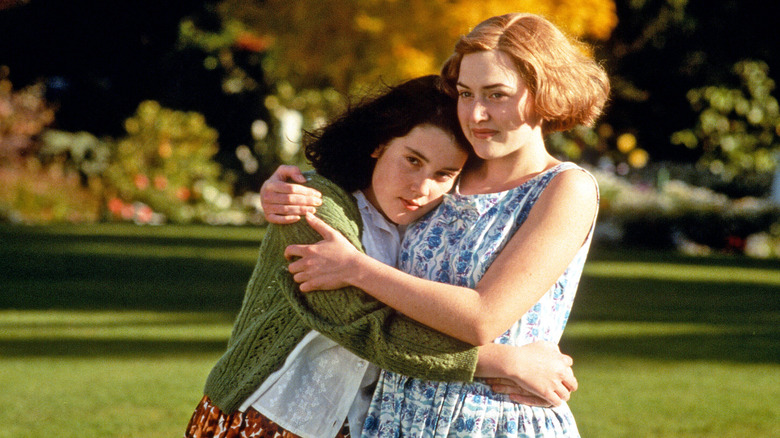 Miramax
"Heavenly Creatures" examines the overwhelming intensity of female friendship. Based on a true story, Kate Winslet and Melanie Lynskey star as two New Zealand teenagers — Pauline and Juliet — with fiery imaginations who share a growing obsession with one another. They murder Pauline's mother after their families threaten to seperate them. Peter Jackson's imaginative film ends with a dream sequence of their heart-wrenching goodbye, filtered in sepia like an old-fashioned romance movie. Pauline reaches out on a dock to Juliet, who holds her arm out while sobbing on the ship. Pauline then lets out a blood-curdling scream as the screen fades to black.
"You'll Never Walk Alone" by Mario Lanza, an Italian singer the girls lust after throughout the film, accompanies the end credits. This melodramatic declaration of love from the musical "Carousel," covered by Lanza's operatic voice, overlays the title cards detailing the girls fates. They were charged for murder and sent to separate prisons, where "It was a condition of their release that they never meet again." Though Pauline and Juliet never saw each other again, they will never walk alone because they share a deep bond. The sweeping music and overwrought lyrics matches the girls' flair for theatrics, adding to the girlish, histrionic tragedy of the proceedings.
8. 'Bring on the Lucie' in 'Children of Men'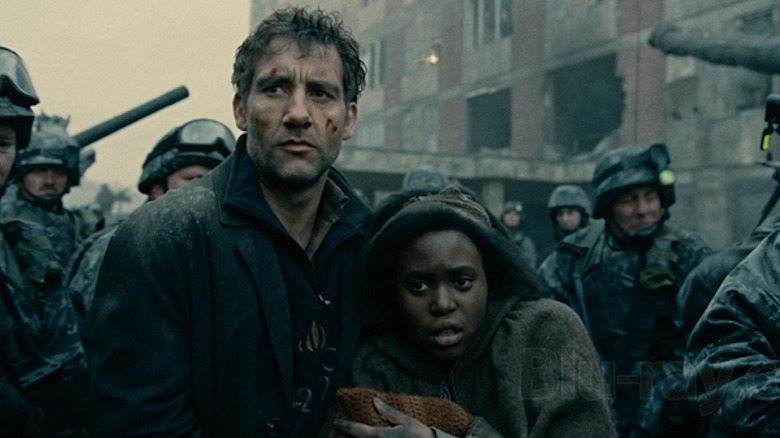 Universal Pictures
John Lennon's lively political protest song "Bring on the Lucie (Freda Peeple)" closes out Alfonso Cuaron's masterwork "Children of Men." Written amongst the Cold War and Vietnam War, Lennon's counterculture anthem is a rallying cry for peace backed by sliding guitars and an encouraging choir. The urgent lyrics critique governmental suppression and urges world leaders to unite and put an end to brutality and warfare. It's exactly the kind of song the dystopian world of "Children of Men" needs to hear, where after 18 years of human infertility, war and global depression has collapsed society. The United Kingdom is one of the few nations that still has an operational government, but one that imprisons and executes the hordes of refugees fleeing their fallen countries.
But there is a glimmer of hope in a young woman named Kee who is pregnant. As the literal key to humanity's repopulation, she must find safe passage alongside an ex-activist named Theo (Clive Owen) to a secret scientific group so that her child does not fall into the wrong hands. Lennon's spirited clarion call resonates with the film's anti-nationalistic themes and leaves the viewer with the hope that Theo's final sacrifice has not been in vain and humanity will prevail. Cuaron's selection of the song also nods to the jolly, pot-smoking hippie character Jasper played by Michael Caine, who looks a bit like John Lennon with his coke-bottle glasses and loves 1960s and 1970s music. Although Lennon's song was released in 1973, it was terrifyingly prescient during the release of "Children of Men" in 2008, and even still today.
7. 'Blue Moon' in 'An American Werewolf in London'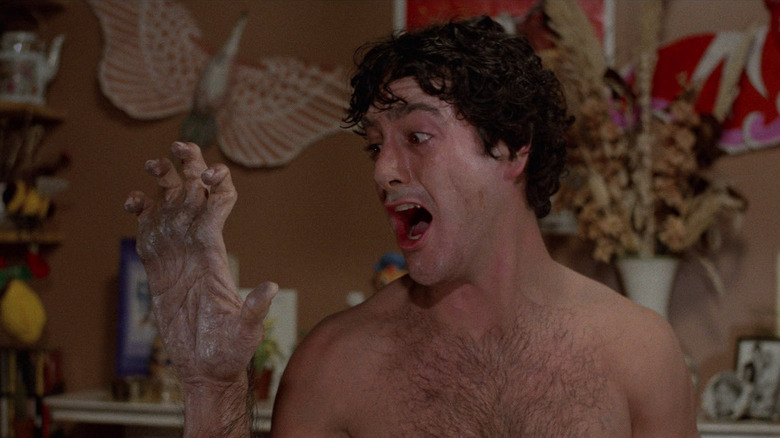 Universal Pictures
John Landis threads black comedy with abject terror in "An American Werewolf in London," a spin on the classic werewolf tale about two American college students who are bitten by a werewolf during a walking tour of Britain. The entire soundtrack features songs that reference the moon, the harbinger of the werewolf, opening with the slow-paced, crooning version of "Blue Moon" by Bobby Vinton. Other songs featured are Van Morrison's "Moondance" and Creedence Clearwater Revival "Bad Moon Rising." "Blue Moon" also appears again as a soft, bittersweet ballad by Sam Cooke as a spooky underscore to David's terrifying initial transformation featuring the spectacular makeup of Rick Baker. 
David contemplates suicide to relieve the world of his ravenous terror. Once he transforms again, the David-werewolf terrorizes the streets of London, where his lover Alex chases him down an alley and attempts to calm him down. David's human cognizance flickers in the monster's eyes for a brief moment, until he lunges forward and is shot by the police. As Alex weeps over David's bloody, naked human body lying dead in the trash, The Marcel's quick-paced version of "Blue Moon" kicks in. Against this depressing scene, there's an irony to "Blue Moon." It's a song about David finding love with Alex, only to have it cruelly taken away by the beast inside him. It's a bold and comically absurd choice that aligns with the film's offbeat tone.
6. 'God Moving Over the Face of the Waters' in 'Heat'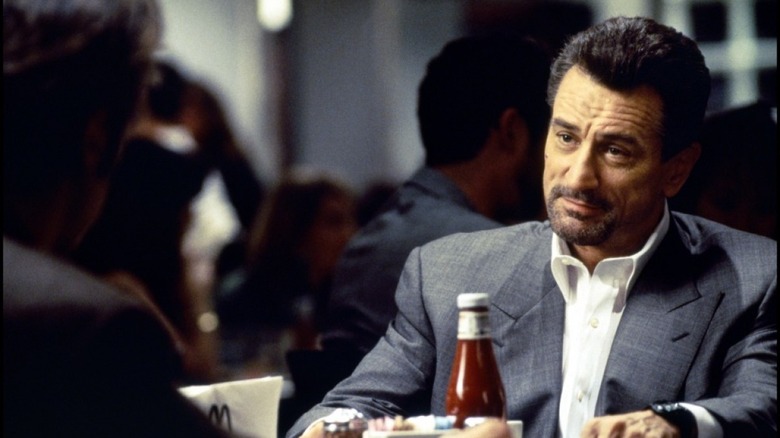 Warner Bros.
The ending of "Heat" was supposed to include an original orchestration by composer Elliot Goldenthal entitled "Hand in Hand," but it was replaced with Moby's neo-classical song "God Moving Over the Face of the Waters." The song's title evokes the grandeur of Moby's twinkling piano and rousing synthesizer that sounds as massive and turbulent as the ocean waves. This grandiosity exceptionally accompanies the tragic ending of Michael Mann's "Heat," a cat-and-mouse crime drama that unites Al Pacino and Robert De Niro — two of the most accomplished stars of the silver screen — for the first time (they did not share any scenes together in "The Godfather: Part II"). 
The song's winding, repetitive nature underlines the circular journey the pair have been on that finally ends in an intense, bloody showdown. Moby's soaring composition rises and falls with an operatic grace as Lt. Hanna takes the hand of the dying McCauley, his greatest foe, and stands before the sparkling night sky and expanse of the city they've chased each other across. Moby's grandiloquent sounds reinforce how the entire film has been leading up to this legendary face-off.
5. 'The Fuse' in '25th Hour'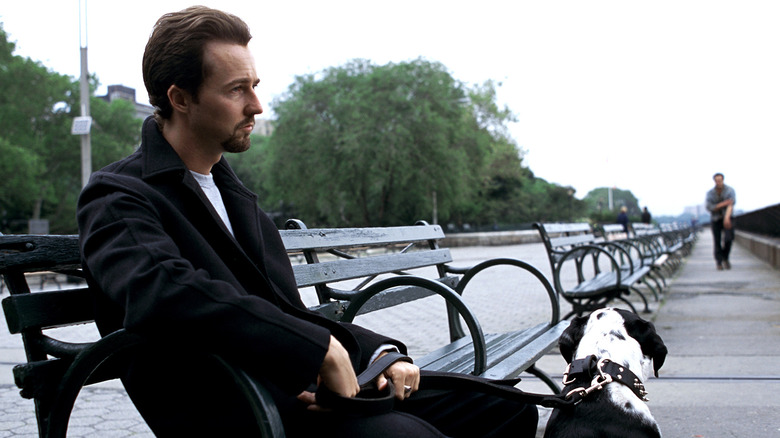 Buena Vista Pictures
"25th Hour" is Spike Lee's grand dedication to New York City in the aftermath of September 11th. In this film, IndieWire writes, "Spike Lee uncovers the pain of America's past and contemplates its uncertain future in his poetic meditation on redemption, revenge, friendship, and honor." Bruce Springsteen's mesmeric "The Fuse" from his own September 11th masterpiece album "The Rising," with some added orchestrations from composer Terence Blanchard, closes out the end credits. Both Spike Lee and Bruce Springsteen attempt to make sense of the world in the wake of a terrible tragedy, making the marriage of their song and film ideal. 
On the surface, "The Fuse" is "about our primal instinct to self-medicate trauma and tragedy — in this case, with physical connection," E Street Shuffle observes. The simmering song depicts the last moments of normalcy before an enormous change occurs and completely capsizes what's known. It's the perfect fit for Lee's narrative about Montgomery, who spends an anxious 24 hours before he is sent to jail for seven years. Much like the narrator of "The Fuse," Monty is aware that something bad is coming, and is determined to make the most out of his last fleeting moments. Springsteen's song has a sensual, foreboding quality that, along with Lee's film, elegantly captures the post-9/11 zeitgeist.
4. 'Paint it Black' in 'Full Metal Jacket'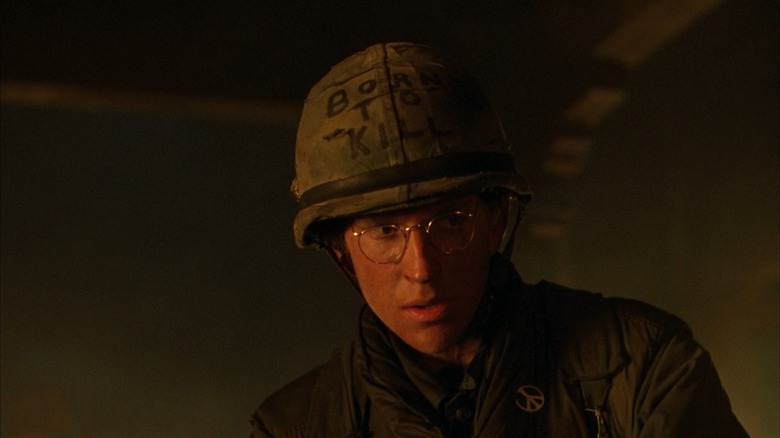 Warner Bros.
Stanley Kubrick frequently uses the soundtrack in parodic ways throughout "Full Metal Jacket" to amplify his critique of chauvinism, from the light-hearted opening "Hello, Vietnam" to the Mickey Mouse Club theme song at the end, where young men sing the ironic sound of childhood innocence as they march through a barren wasteland of death and destruction. The use of "Paint It Black" by The Rolling Stones during the end credits puts a more direct punctuation on Kubrick's cynical view of America's participation in the war.
The morose lyrics depict a world stripped of its color and turned black from the narrator's misanthropic perspective on life. Mick Jagger makes several allusions to death and funeral processions, the result of a pointless war that took the lives of countless young boys. In the song, everything around the narrator has turned black — even his heart, just like the soldiers who transform from regular young men into merciless killers. There is no limit to their savagery, which we see in the final scene where they kill a teenage girl. 
"Paint It Black" ends the film on a bleak note. The forceful drums and impelling melody amplifies the rage courses through "Full Metal Jacket." From the harrowing opening sequence with the domineering drill sergeant that leads to a soldier's psychotic break to the nightmare of the unruly battlefield, these soldiers are trained to surrender their selfhood for hatred and violence. The sardonic Rolling Stones tune exemplifies the dark "world of shit" that the soldiers find themselves in. 
3. 'Baby You're a Rich Man' in 'The Social Network'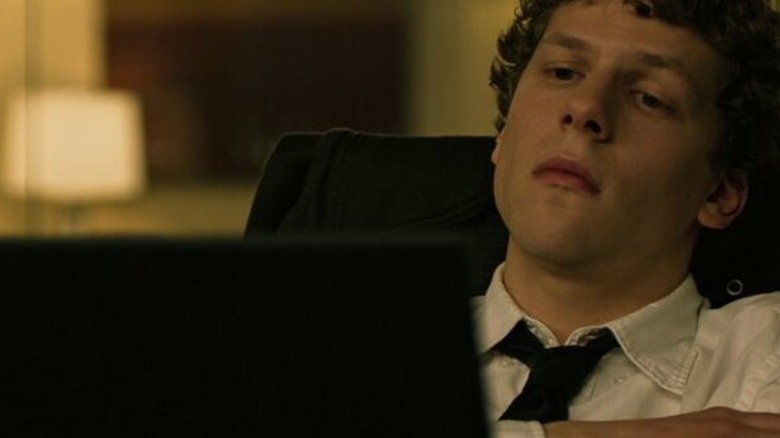 Columbia Pictures
Trent Reznor's mechanical score is a striking component of David Fincher's "The Social Network," a chilling study of the internet phenomenon that completely transformed the world as we knew it. Jesse Eisenberg is fierce as the hoodie-clad, ruthless leader who usurps everyone to stake his claim in the social media revolution. But the end credits take a different direction with The Beatles' toe-tapping "Baby You're a Rich Man." The song begins when Mark leans back in his chair with a smug expression as he continually refreshes his friend request to the elusive Erica, the girl who called out his misogynistic behavior in the beginning of the film. 
Fincher pulls in closer and closer to Zuckerberg's longing expression and Erica's profile picture while captions on the screen reveal the results of the lawsuits against him. We learn Mark Zuckerberg is the youngest billionaire in the world as The Beatles' chorus emphatically cheers, "Baby, you're a rich man!" against the triumphant sounds of the clavioline that sounds like an Indian shehnai. 
The Beatles' jaunty tune sounds like a celebration, but there's a touch of irony in the repetitive chorus. "Baby You're a Rich Man" becomes a biting reminder that money can't buy happiness. It's a fitting underscore for Mark who has all the money in the world but can't buy Erica's love. He has finally risen to the upper echelon of society he longed to be a part of; he is now one of the "beautiful people." But even though he is a man with enormous wealth and power, on the inside he's just an arrogant nerd struggling for acceptance.
2. 'My Way' in 'Goodfellas'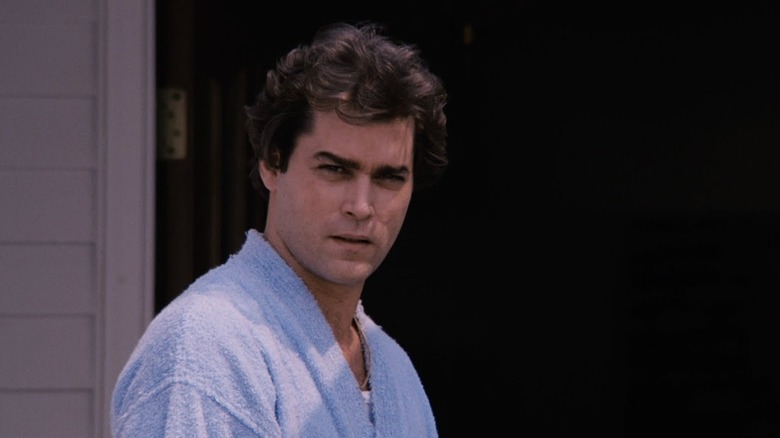 Warner Bros.
Martin Scorsese is a master of using music in his movies, but perhaps one of his most memorable needle drops is Sid Vicious' snarling cover of Frank Sinatra's "My Way" in the final scene and end credits of "Goodfellas." With its raw, sneering vocals and grinding guitars, the Sid Vicious version completely upends Frank Sinatra's mythological image of a classy mobster. This idea aligns with the main theme of "Goodfellas," which is the "demythification of the mob, obliterating the notion that these street thugs who amassed so much power were anything other than brute hooligans" (via WhatCulture). 
This version "My Way" is not a triumphant anthem but more a bitter admission of reckless behavior. It has a chaotic and angry feeling that corresponds with Henry Hill's cocaine-fueled undoing and banishment to a tedious life in the suburbs. Henry Hill certainly had a full life, just as the narrator sings, and his only regret is that he is no longer in that world. It's a fantastic song choice that epitomizes a character in love with the high-powered image he presents to the world and forging his own dangerous path.
1. 'Where Is My Mind?' in 'Fight Club'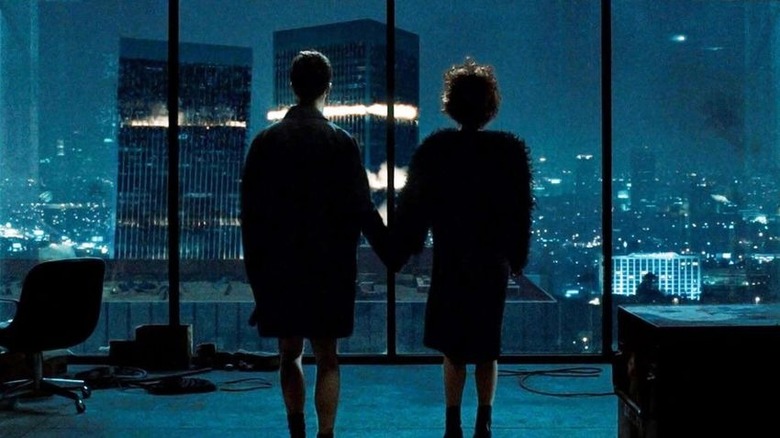 Twentieth Century Fox
The crunching guitars, sharp drums, and Kim Deal's warbling gives the Pixies' "Where Is My Mind?" a psychedelic sound that compliments David Fincher's mind-bending satire of commercialism and masculinity. Just before the end credits, the drums kick in to match the detonation of the buildings while the Narrator and Marla calmly hold hands and watch the destruction of American capitalism. In the song, "the Pixies warn the listener, 'Your head will collapse if there is nothing in it,' and you will unravel if you have no sense of true purpose outside of materialistic gains" (via SlashFilm). 
"Where Is My Mind?" has a discordant quality that mirrors the film's anarchic spirit. "Where Is My Mind?" is the ultimate question that looms over the disturbed Narrator. The singer repeats the title phrase over and over again, suggesting that the Narrator is haunted by his confused identity, which builds to the iconic twist. The eerie whining sounds evoke the dueling perspectives inside the Narrator's head that (unknowingly) cause him to engage in criminal chaos with a terrorist group. "Where Is My Mind?" is just as strange as David Fincher's incisive film.