The Best Scene In 'Heat' Wasn't Even Rehearsed By Al Pacino And Robert De Niro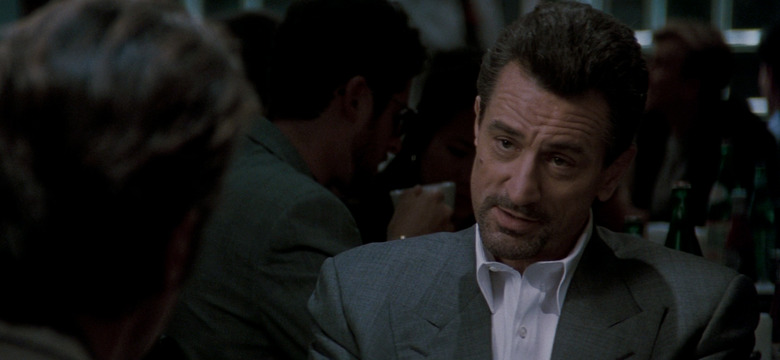 One of the most iconic scenes in Heat is where Robert De Niro and Al Pacino calmly sit down for a man-to-man chat in an effort to understand each other a little better, both affirming that neither is going to stop what they're doing, and they're not going to let each other get in their way. Bringing these two together for a confrontation for the first time was a big deal, and there were even rumors that Pacino and De Niro never shot the scene together, opting to do each part independently of each other.
During a panel we attended after an Academy screening of a 4K remaster of Heat (which should be coming to Blu-ray sometime later this year or early next year), moderator Christopher Nolan confirmed that evidence of the actors working together in the same place at the same time lies in a picture that you can see at the real location the scene was shot in, Kate Matalini's diner in Beverly Hills. However, it was revealed that Pacino and De Niro never rehearsed the scene before shooting it. Find out more about how the Heat diner scene was put together after the jump.
Al Pacino said the idea not to rehearse the scene came from De Niro. To him, it seemed bit pointless since there wasn't much movement that needed to be planned ahead of time, and everyone wanted the scene to happen as organically as possible. Director Michael Mann went on to explain even more:
"We decided that we just wanted to talk it through and just save it for the event of shooting it. That's the only thing we probably did that with. But I tend to not want to rehearse things to the point where I wish I had shot it. That's a disaster. I always want to stop well short, because I think things work perfect once, and they'll never be 100% twice. And you want that happening in front of the camera."
As far as how it was shot, Mann went into more detail, even revealing that most of the footage came from one specific take:
"We talked about the scene, we analyzed the scene and we kind of read it off the page a bit, but we didn't want to do the scene until we were at Kate Mantilini's. It was so ingrained that I knew if we lost all the tiny, little organic details, it would be different from take to take. So what I wanted to do was shoot with two cameras, two over the shoulders. And then I also had a third camera shooting profiles that we never cut into the film. So I knew there'd be an organic unity to one take, and then there'd be a slightly  different organic unity to another. If you look at it very carefully, if Bob [De Niro] shifts his hand like this a little bit, right in the middle of the dialogue, Al is doing something to counter it, because maybe he's shifting his position to get closer to a weapon. So most of the scene is all Take 11."
Wrapping up the discussion about the iconic diner scene, Christopher Nolan asked Pacino and De Niro after the late night of shooting that scene, which didn't begin until about 1 am, if they knew they "had it." Of course, both of the actors modestly said they had no idea, and they never knew that. But Michael Mann confidently said, "I knew we had it."
Check out our other story from the Heat panel where Al Pacino confirmed an interesting detail about his character. And if you want to watch the full segment where they discuss the diner scene, here's video from the event:
You can watch a little over 30 minutes of the panel from this event at the Oscars YouTube page right here.