Michael Mann Would Only Change One Thing About Al Pacino's Performance In Heat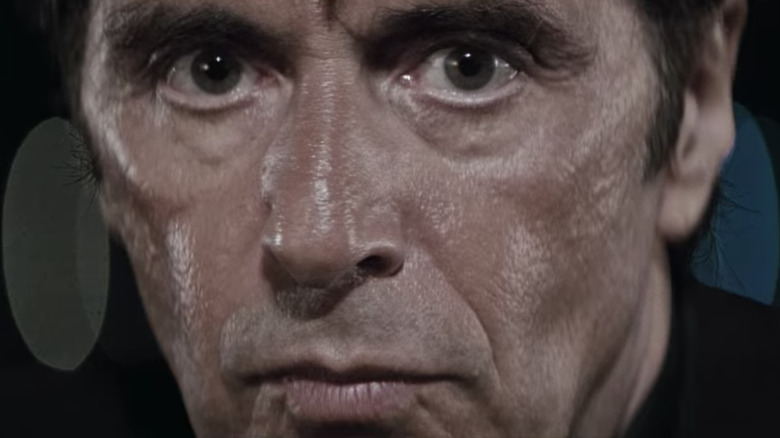 Warner Bros.
It's easy to forget this now, given their subsequent collaborations on films like "Righteous Kill" and "The Irishman," but when Al Pacino and Robert De Niro first sat down across from each other in "Heat" in 1995, it was a monumental movie moment. The two veteran actors, often cited as the greatest of their generation, had previously appeared in "The Godfather Part II" in 1974. However, De Niro was playing the father of Pacino's character in flashbacks and they never shared any scenes together. In "Heat," writer-director Michael Mann also kept them apart for most of the movie, but he understood the power of putting them together.
Pacino and De Niro are both method actors who studied under their "Godfather Part II" co-star, Lee Strasberg, but they each cultivated a different screen presence, something they brought with them to the diner table in "Heat." Pacino, in particular, had a tendency to go big in some of his '90s roles, perhaps best typified by his "Scent of a Woman" exclamation, "Hoo-ah!" This trait was arguably well-suited, though, to his "Heat" character, Hanna, since Hanna was a hotshot police lieutenant who was hopped up on cocaine.
Mann saw Hanna's larger-than-life personality as something endemic to his working technique. In Cinephilia & Beyond, he said:
"Every big city police department's major crime unit has that kind of guy there, who does that kind of work. That's a highly accurate, highly authentic character that Al's doing, and I think Al's performance was exactly where I asked him to go."
'Let's rattle his cage'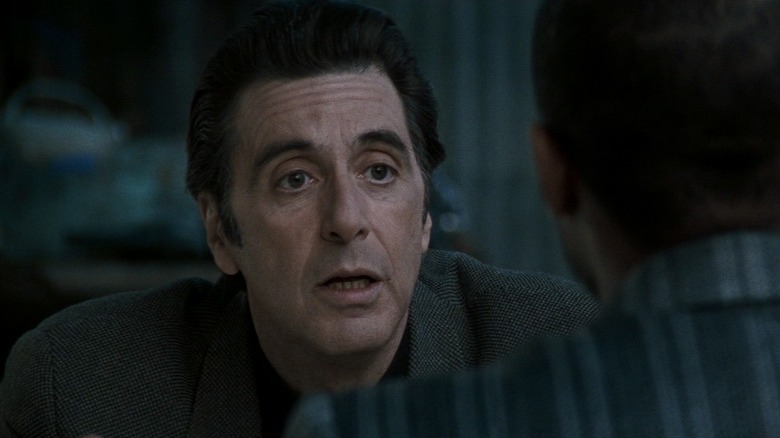 Warner Bros.
Hanna has multiple outbursts in "Heat," with a couple of them being directed at his informant, Albert, played by the late comedian, Ricky Harris. It's the kind of thing where he's liable to yell "Gimme all ya got!" or even break out into song. Yet Mann has no regrets about that aspect of his character, and in fact, there's only one thing he would change about Pacino's "Heat" performance.
If anything, Mann wishes he had dialed it up with more Pacino during the scene where Hanna is in the chop shop with Albert. He explained:
"If I had one thing I would do over differently, I would probably hang on Al more in the chop-shop scene. That scene comes from some place—it's about the relationship between a really high-line pro like Hanna and the informant. You've got to motivate him and shake him. It's not that he will tell you the truth all the time. That only happens in movies. In real-life it doesn't. If you need to know something, your management of him is highly manipulative, and that is what's being characterized here, particularly that Hanna has one modality and one objective: make my informant be ill-at-ease, let's rattle his cage. That's why that scene is that way. It's not laughing at Al being large."
Mann knew exactly what he was doing when he made "Heat." He went to exhaustive lengths while researching the film, and its memorable bank-robbery set piece was inspired by a real-life incident. He also based Hanna on "at least three different policemen," and he cast Pacino as the character for a reason. If the viewer ever finds Hanna's outbursts in "Heat" jarring, it may just be because they're experiencing the same sensation as his criminal informants as he tries to keep them off-balance.