Nicole Kidman Returned To Her Pre-Hollywood Roots For Her Role In Roar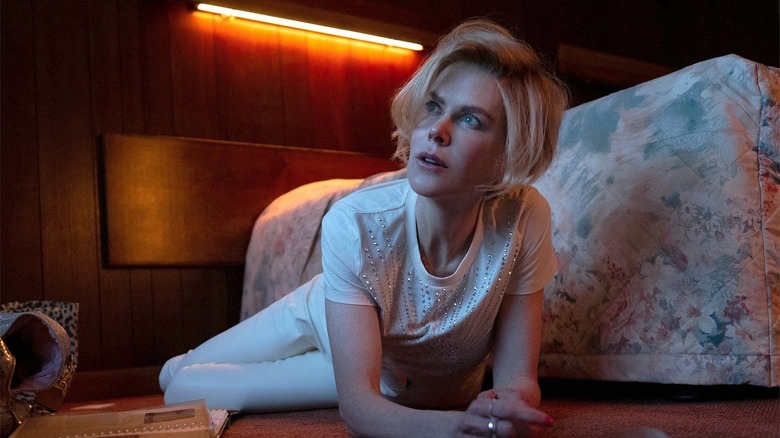 Apple TV+
Liz Flahive's and Carly Mensch's anthology series "Roar" debuted on Apple TV+ on April 15, 2022. Based on a collection of short stories by Cecelia Ahern ("PS, I Love You"), each episode features a different cast and director telling a story of a woman's experiences. In an early press release, "Roar" was said to tell "darkly comic feminist fables."
The second episode, titled "The Woman Who Ate Photographs," stars Nicole Kidman as a woman named Robin who literally consumes pictures. Directed by Australian commercial and music video director Kim Gehrig, the plot concerns Robin's struggles as she moves her mother, suffering from dementia, into her home with her disapproving husband and son. Robin's mother is unfriendly and cantankerous, and the two argue a lot. While at her mother's place, Robin finds a box of old photographs and is eerily driven to eat a picture of herself as a young girl eating ice cream. The consumption causes Robin to briefly relive the memory. Over the course of the episode, Robin lets her mother wander off in the woods while she seeks to eat more photographs. 
It's about nostalgia vs. the need to focus on the present, but it also appears to be about a woman's pressure to keep the memories of a family alive, and the isolating nature of photography (at least as the technology was used by a previous generation). The one person who cannot be in your childhood pictures is the one taking them, likely your mother. The memories, then, must exclude someone by design. 
Flahive, in a recent interview with Cinemablend, pointed out that "The Woman Who Ate Photographs" was a return to form for Kidman, and compared the experience to an episode of "What If...?"
Nicole Kidman's career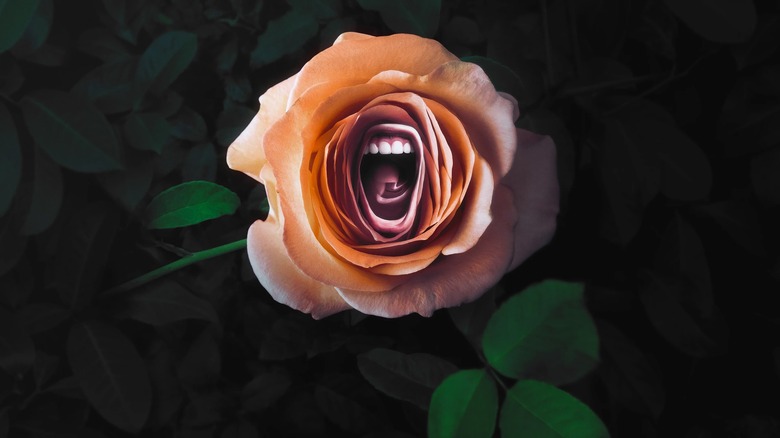 Apple TV+
Liz Flahive pointed out that Nicole Kidman was playing an Australian character, a rarity for the Australian actress. That she was playing a middle-class Aussie also brought to mind a tantalizing parallel universe of where Kidman might be had she not gone into acting and become a huge movie star:
"The challenge for us was [Kidman] didn't want to repeat herself. She has done a lot of amazing things. Something that was really appealing to all of us, was her filming something in Australia, her playing a native middle-class Australian, which had her really return to her roots in a way and telling a story about a woman who was her age. I think a lot of how we talked about it was what if Nicole Kidman hadn't grown up to become Nicole Kidman? What if she had stayed in Australia and had a happy life there but hadn't done all the extraordinary things she has done?"
Kidman started her acting career in Australia as a teenager, starring in the remake "Bush Christmas" and the notably fun Brian Trenchard-Smith teen actioner "BMX Bandits." Her breakout role in the United States was in Phillip Noyce's 1989 film "Dead Calm," an intense thriller where she and her husband (played by Sam Neill) are beset by a mysterious and hunky Billy Zane while all three are lost at sea in a small boat. 1990 was an enormously significant year, as Kidman starred in Tony Scott's big-budget American car race film "Days of Thunder," and she also married Tom Cruise. She was in a Batman film within five years. 
Kidman rarely returned to Australia to film, however. In 1996, she worked with Kiwi director Jane Campion on "The Portrait of a Lady" and "In the Cut," and with George Miller on "Happy Feet." She also appeared in the Australian production "Lion," the 2015 film "Stangerland," and, of course, made "Australia" with Baz Luhrmann. 
Roar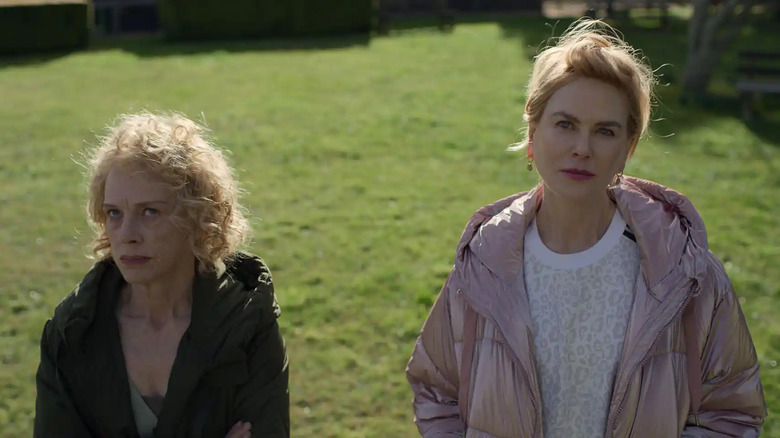 Apple TV+
For "Roar," Nicole Kidman plays a decidedly unglamorous character, and the showrunners were aware that they needed balance to make one of the world's biggest movie stars look as ordinary as they could — and as specific to Australia as they could. Liz Flahive told Cinemablend: 
"There were a ton of real conversations about that and it was very cool to be able to make that with Kim Gehrig, who was the director on that episode, a really Australian experience for all of them. I think that was really exciting and it's about a woman at a time of her life that I think Nicole could relate to in terms of mothers and children and that's where she sort of found herself emotionally."
Kidman served as executive producer on "Roar," and she has been producing a lot more of her own work these days. As such, Kidman was more closely involved with the development of the series than she would be had she merely acted. According to Flahive, Kidman was interested in how subversive the series was:
"We had a lot of talks with Nicole about the series as a whole and I think the thing she always championed, even when it wasn't about her episode, were things that were bold, subversive and we hadn't seen before. When we were pitched everyone the duck episode [episode 5: 'The Woman Who Was Fed By a Duck'] and people got a little anxious, she was the first one to say, 'No, that's why we're doing this show. You've never seen it before. That's absolutely what we should do. We should stand behind things that are strange and different.'"
The entire first season of "Roar" is now available on Apple TV+.