Mr. Saturday Night Review: Billy Crystal Dances And Sings Within His Comfort Zone On Broadway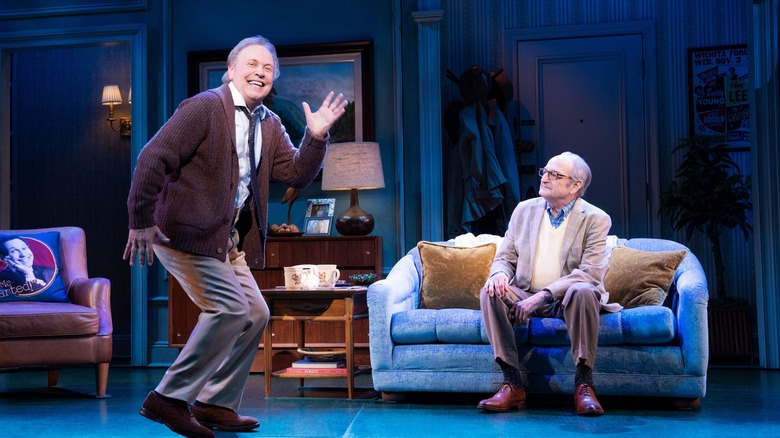 Matthew Murphy/Polk&Co.
Should Murphy's Law send a meteor shower upon Billy Crystal, the show can't go on. When I peered through the playbill at the Nederlander Theatre, it lists no stand-ins for Crystal. Lose Crystal and the show loses its heart.
Enter Billy Crystal as Buddy Young, Jr. in "Mr. Saturday Night," the 1992 Castle Rock Entertainment box office flop that starred him and served as his directorial debut. Come 2022, he and his team give the movie the stage musical treatment on Broadway. As in the film, the musical charts the attempted resurgence of the Borscht Belt television comedian Buddy Young, Jr., who evolved from a 1984 character Crystal created for "A Comic's Line" special.
Old material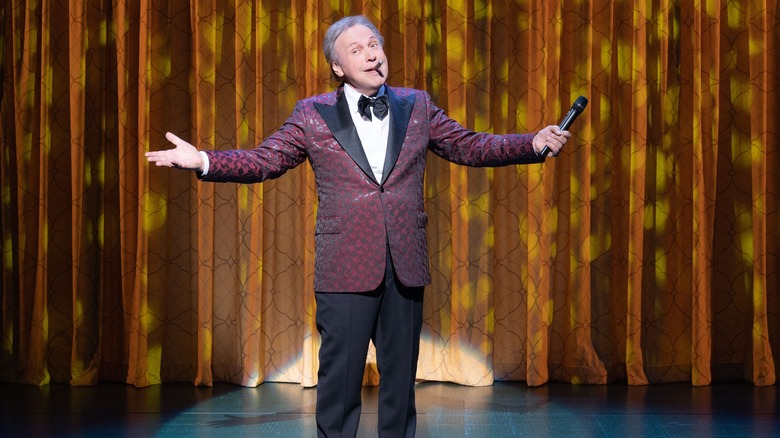 Matthew Murphy/Polk&Co.
Beginning with an old washed-up Buddy performing stand-up at retirement homes, the show is set in a 1994 New York City and has flashbacks from the late 1940s to early 1950s. In the adapted book of Crystal's screenplay with his original co-screenwriters Lowell Ganz and Babaloo Mandel, new and old materials settle in. The funniest new material is the hilarity of an Emmy "In Memoriam" montage that erroneously honors Buddy as among the dead. The error leads to shenanigans of neighbor condolences, but it most importantly reconnects two estranged brothers and launches Buddy's possible resurgence. Some old material from the movie brings in some laughs: the movie's Beatles sequence is compacted into a funny anecdote.
As someone who didn't connect to the average-but-competent-enough watchable film, I wondered about the commercial and artistic motivation to stage musicalize this three-decades-old film. But once I saw Crystal, no need for the old age film makeup, his hair whitened, smiles and grimaces weathered with age, and a mouth that has not lost its acuity for quips, "Mr. Saturday Night" is now more poignantly about growing old with yourself, your faults, your loved ones, your audience, and your work. You can tell that Buddy's physical and verbal quips about the aging body resonate with Crystal himself and his older audience. This is supported by David Paymer's reprisal as Billy's onscreen brother and agent of five decades, Stan Yankleman. Though Paymer may be adjusting to theatrical movement and has to act through his singing, he's at comfy ease with the role that got him an Academy Award nomination. His rapport with Crystal has only matured, not melted, through the years.
John Rando directs the show with little obstructions. Ellenore Scott supplies Crystal and Paymer lite kicks choreography that stays within their threshold. An economical collective of screen projections sweeps in photographic and archival visuals (video & projection design by Jeff Sugg) among Scott Pask's classy scenic design.
Flanked by a three-person ensemble (Jordan Gelber, Mylinda Hull, and Brian Gonzales), Crystal and Paymer are surrounded by a heartfelt main cast. Randy Graff is also a delight as Buddy's wife who carries her own sense of humor. The great Shoshana Bean recognizes the confinement of her role as Buddy's quasi-estranged daughter Susan but she still knocks it out of the park. The agent Annie Wells (played by Helen Hunt in the film) is played by Chasten Harmon in her Broadway debut. She exudes a bubbly charm but she gets the short end of the stick. Her purpose is also quite suspect that Crystal and the writers should have rethought. They have written Harmon a role in which she, a Black agent, is un-versed in comic history so he, an older white man, can school her. As a result, I'm questioning why she sees their partnership as worth compromising her mental health for.
For a great cast, it is unfortunate that Jason Robert Brown's serviceable music and Amanda Green's lyricism do little to elevate. Buddy's motive song "A Little Joy" is bland. There are songs where the simplicity is the sincerity: Crystal's "Any Man But Me" where Buddy humbles himself into an epiphany and Crystal and Graff's marital duet "My Wonderful Pain." 
The musical bears a little less of the structural issues of the movie, which veered into extended flashbacks less on dramatic or reflective instinct but more on convenience. Crystal, Paymer, and Graff don't overstrain by not bothering with evincing a youthful effect in scenes where they're decades younger. There is one Act 2 opener that pairs Crystal and Bean for a flashback that requires the latter to dissolve into a 5-year-old self, and Bean navigates it marvelously with the dimensions of fond nostalgia, mixed emotions, pent-up reminiscing where any actress could overplay it as a gimmick. Had she not stuck the landing, the rest of the father-daughter conflict would not have hit.
Self-reflection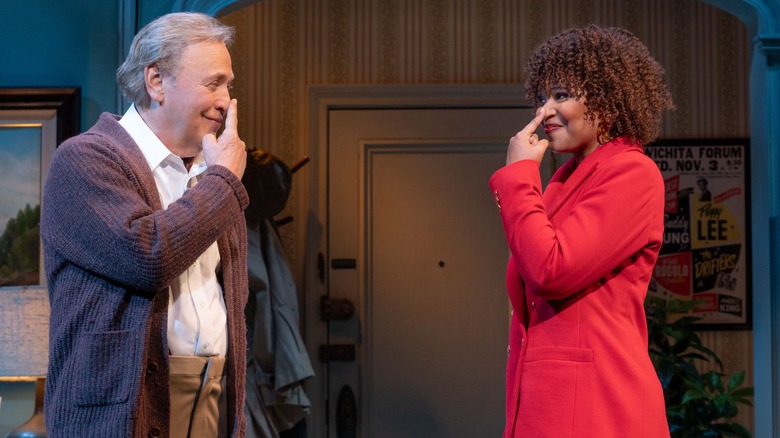 Matthew Murphy/Polk&Co.
If you consciously covet the theatre ticket, you likely already have a relationship with Billy Crystal. Many in the room (an audience decades my senior) probably are chummier with Crystal as their long-time stand-up comedian, Oscar-Grammy host, and the lead of the autobiographical Tony-winning one-man "700 Sundays." My Crystal has always been the quotable movie wisecrackers like Miracle Max or Mike Wazowski.
And this brings me to the shortcoming: For newbies (twentysomethings like me), I didn't feel transported into Buddy's heydays. And I admit I'm not Crystal's target audience. When Crystal sings about the comic greats in "Timing," I didn't feel the specifics, nor do the lyrics illuminate. It leans on the audience's assumed prior knowledge to get Billy's, ahem, Buddy's drift—cue projected photographs of classic comic figures. I do highly suspect more era-specific humor would not be inviting to me, a Vietnamese woman, and the team would rather it fly its problematics over the head than let us sit on its implications. "I'm here to make you feel at ease, what am I, speaking in Chinese?," a 1955 Buddy sings casually in "A Little Joy." It's the last lyric that should thoughtlessly slip through during a time of anti-Asian sentiment.
Though it doesn't cover for the show's flaws, Crystal does carry that special gift of playing a jerk who is open to learning and absorbing. As he does in "When Harry Met Sally," he can bottle his un-nicety into proportion and playfully straddle the line between likable and despicable territory and yet not tip over into the other side. This is a story where the comedian realizes after all that he should validate criticism from his loved ones. Believe it or not, I argue it's a hindrance to oversoften Buddy in Act 1 compared to the movie. For a story that is about a comedian's coming-of-age and self-reflection, it comes off like a missed opportunity that the material doesn't double down on examining the bawdy comic medium itself, considering how comedy itself has been undergoing a reckoning over punch-downs. Other than Buddy's daughter addressing her father's ridiculing of people with certain appearances (that seems to meta-acknowledge how Buddy Young targets people's weight in the film), the writing team appears to be aware they are not equipped for deeper soul-searching within Buddy's profession.
A few pedestrian songs too long for its concept, "Mr. Saturday Night" has more potential in a tighter show. Act 1 grows sleepy before Act 2 lets Buddy reflect on his behavior. Both movie and show end with the comedian eating a humble pie and settling for his lot in life. So it seems indulgent to reverse the movie's ending to reward a lash-out that was illustrated as overstepping—especially since Paymer's callout, "You could have been nicer," still hits and sparks that epiphany as effectively as it does in the film. I can't completely fault Crystal and his writing team for giving an aging man his fantasy but the easy journey there is as critique-able as the comedy.
"Mr. Saturday Night" is playing on Broadway at the Nederlander Theatre.