Moon Knight Almost Had A 'Massively Expensive' Eternals Crossover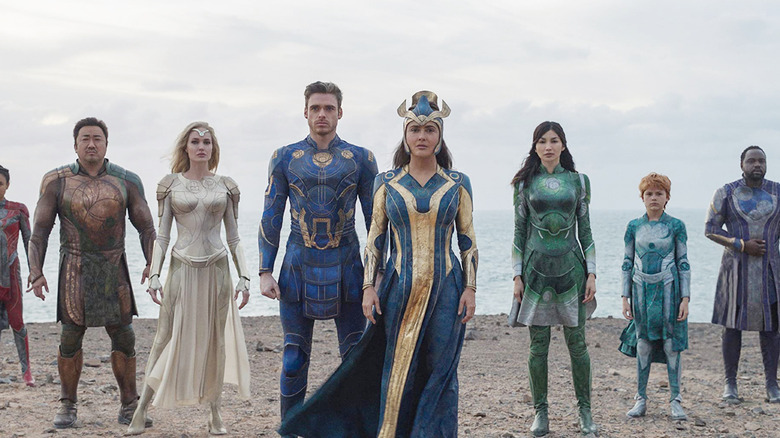 Marvel Studios
One of my favorite aspects of "Moon Knight" season 1 was the lack of ties to other Marvel Cinematic Universe projects. It's not that I'm against crossing over MCU properties on principle, but there needs to be a deeper reason for doing it beyond fan service. In the case of "Moon Knight," the absence of other superheroes also benefits the series and the way it toys with the notion that so much of what we're seeing is taking place solely inside the mind of Marc Spector/Steven Grant. (And if you think that's a wild idea, just wait until you learn about the twist ending that was originally pitched for the show.)
Of course, just because "Moon Knight" doesn't feature any Avengers or cameos from other high-profile superheroes in the MCU, that doesn't mean head writer Jeremy Slater didn't consider them early on in the show's development. In fact, as he told The Direct, Slater "tried very hard" to get the Eternals to show up in one of the episode's cold openings. But in the end, the crossover was just too costly to make a reality:
"I tried very hard to get the Eternals into the show, just because I'm buddies with [Kingo actor] Kumail Nanjiani... I want[ed] some Kingo. At one point, there was a flashback on the page that sort of showed one of Khonshu's Avatars back in ancient Egypt, sort of dealing with Ammit being locked away, and Alexander the Great, and all of that stuff. You sort of saw this Avatar team-up with the Eternals. It was a really fun scene, but again, it was so massively expensive to recreate Ancient Egypt, to sort of bring in 3 or 4 of the Eternals to have this big action sequence."
What lies ahead for Moon Knight?
Disney+/Marvel Studios
As much as Slater feels the nixed Eternals' cameo on "Moon Knight" would have made for "a very fun scene," he doesn't regret cutting it. Had it stayed, the budget to film it would have come at least partially out of the show's season 1 finale (an episode that wasn't exactly lacking for huge action scenes and spectacle):
"It was one of those things where it was a very fun scene, and it would have been a great cold open to one of the episodes, but it also would have had to come out of our budget somewhere else, and probably would have hurt our finale along the way. So, that was the cameo I had to cut. It hurt, but it was also the right thing to do for the show, and I think everyone sort of collectively agreed. There's plenty of time in the future to team this guy up with other characters in the MCU and start building these connections; let's not force something just because the other shows have all had it."
Slater's comments also raise a big question: Where could Marc Spector/Steven Grant (not to mention, that other personality) show up in the Marvel Cinematic Universe next? Mohamed Diab, who directed all but two episodes in "Moon Knight" season 1, has made it clear he wants the character(s) get the movie treatment down the line, as opposed to being limited to the small screen only. There's already a precedent for that, too, with Wanda Maximoff having gone from a side player in the MCU's films to leading her own show with "WandaVision," and now returning to the big screen again for "Doctor Strange in the Multiverse of Madness." So who knows: Moon Knight and the Eternals may yet cross paths down the line. I just hope Marc/Steven get to star in one of Kingo's Bollywood musicals if they do.
All six episodes of "Moon Knight" season 1 are now streaming on Disney+.