Why Ana De Armas Originally Declined To Audition For Knives Out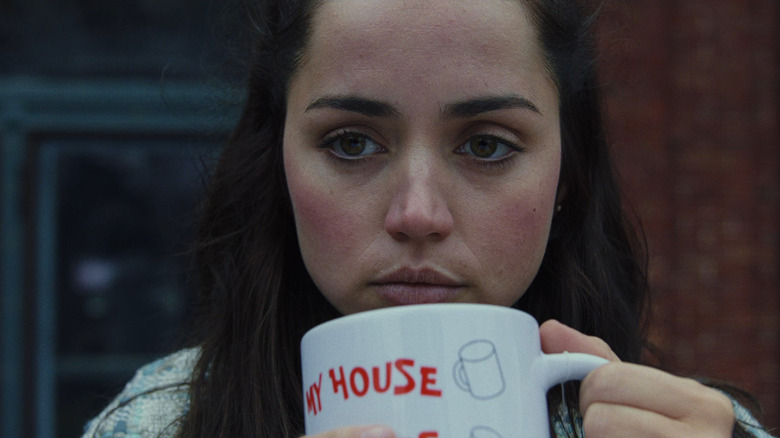 Lionsgate
When we all went to go see "Knives Out," we had a certain preconceived notion as to what the movie was going to be. After all, it was a classic murder mystery setup. You have the gentleman sleuth, here played by a Southern fried Daniel Craig, who comes in to investigate the murder of an individual among a group of people who all had motive to kill him. The cast was star-studded, including Chris Evans, Jamie Lee Curtis, Toni Collette, and Christopher Plummer as the dead man at the center of the investigation. As the movie unfolded, however, something strange happened. Yes, the elements were all there, but they were running parallel to another story. As it turned out, Daniel Craig was not the sole lead of "Knives Out." Ana de Armas, playing Plummer's nurse and friend, emerged as the lead of the movie, even more so than her future "No Time to Die" costar.
While she had splashy supporting parts in American movies like "Blade Runner 2049," she had not been asked to carry one up until this point, and the results were spectacular. Her performance as Marta is funny, emotional, honest, and, above all else, human in a film that isn't not afraid to stretch into the silly at some points. I mean, her character literally vomits if she tells a lie. That's some wacky stuff, but she makes it feel completely real. "Knives Out" does not work if there is no balance between her humanity and Craig's absurdity, and thanks to their performances and Rian Johnson's subversive screenplay, it works perfectly.
Amazingly, there is a universe in which de Armas does not play the role of Marta, which is a universe I am glad I do not live in. This was not a case of someone else being almost cast instead of her. No, she initially turned down the opportunity to even audition for the part. Having seen the movie, that seems wild. However, her reasoning for the original pushback makes a lot of sense.
Needed more than just being a 'pretty Latina caretaker'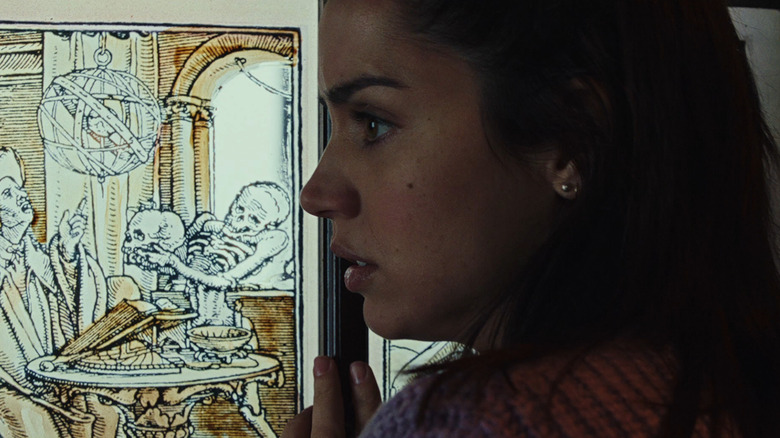 Lionsgate
When Ana de Armas first got word about "Knives Out," the character description she was given for Marta was a "pretty Latina caretaker." I would not blame a single Latina actor for passing that up. Not in the slightest. Not only is the description enormously vague, it's potentially problematic. In an interview with The Hollywood Reporter, de Armas said she turned down the audition upon seeing the description, explaining:
"Getting an email that described the character like that — without any more information or a script attached because it was high-profile and secret — just really didn't speak to me ... So, because of the character description, my imagination immediately went to a portrayal that was not necessarily very positive or exciting in relation to Latin culture."
If Latina actors have been inundated with roles like this for so long, I see no fault in her initial decision. I mean, how many dimensionless, cherubic Latina caretakers have we seen in American movies? Too many to count. Whoever decided that should have been the character description to entice an actor to read the script was exceptionally bad at their job.
Thankfully, the project did not fall away from de Armas completely. She reconsidered it after actually being able to read the script to see who Marta actually was as a full human being. She "realized that the description didn't fit at all because Marta is so much more than that." Obviously, she earned the role, and it rightly has propelled her to the next level to the point where she will be playing Marilyn Monroe in the forthcoming Andrew Dominik film "Blonde." That's the kind of challenging role an actor of her caliber should be doing.
So if you are looking to cast Ana de Armas, or any other actor in your film, make sure your initial pitch on the character contains depth, humanity, and specificity. If you just want a stereotype, rethink your movie entirely.