Macbeth Review: Daniel Craig And Ruth Negga Paired In A Hazy Sam Gold's Sound And Fury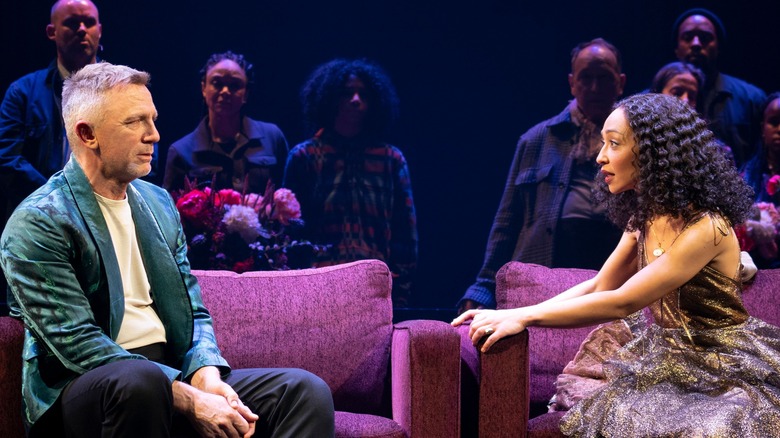 Joan Marcus/Polk&Co.
"Isn't it great to be back in the theatre?" When Sam Gold's "Macbeth" opens, an actor begins a pre-speech. The sentiment is inviting thanks to the amiable charisma of its messenger, Michael Patrick Thornton (who also plays Lennox). I feel his words, but its placement is bait-y, an "it's nice to have theatre" ubiquitous platitude while pandemic protections on Broadway are fraying (the show itself was among many recently delayed by Covid-infections to the point of Gold temporarily assuming Thornton's role). "Lap it up, pandemic," Thornton ridicules, smirking, our applause signifying that we have taken the bait. He also dispenses historical context that could squeeze into the program's notes: William Shakespeare conceivably wrote "Macbeth" and more of his repertoire during a pandemic, the bubonic plague ripping through England. This is not a trivia that director Gold wants his audience to be already equipped with (the info played its part in a "get things done" quarantining motivational) or learn from incidental Googling. He wants our intimacy with that fact to inform our observation of the tale of sound and fury.
Thornton also coaxes the audience to utter the Scottish Play's title — "underneath our masks" — since it is an accursed title that storms Murphy's Law upon the theatre ("The Scottish Play!" hollered two audience members over whispered Macbeths). The thespian instructs you to feel the communion of theatre and the ensuing spell of the work. It is not an ineffective method to connect with theatergoers. But, in jest, perhaps the utterances cursed the play when the following performance dissolved into a haze.
Set in 11th-century Scotland (or rather a nondescript contemporary location in this case), "Macbeth" is the Bard's bloodlust tale of avarice, corruption, and guilt since 1606. It observes the eponymous man (Daniel Craig), heeding the prophecy of Witches (Philip James Brannon, Maria Dizzia, Bobbi MacKenzie) and his Lady Macbeth's (Ruth Negga of "Passing" fame) urgings, to seize the crown. His assassination of King Duncan, framing of his heir Malcolm (Asia Kate Dillion), and expedient ascension to the throne escalate into a larger bloodbath.
Let's talk about Sam Gold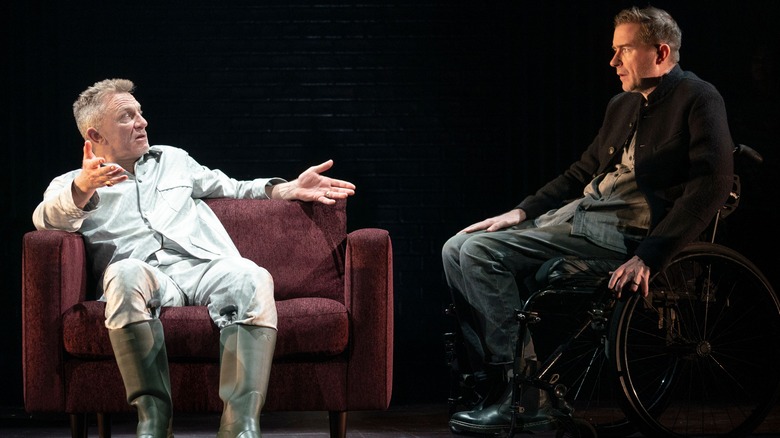 Joan Marcus/Polk&Co.
When it comes to the Bard's texts, Sam Gold has constructed a theatrical reputation for consummate contemporization (a commonality among Shakespeare directors) often studded with movie-television and theatre stars, many of theatre-screen hybrid backgrounds, who drive its ticket sales.
I've experienced his wild smatterings in a "King Lear" that starred the towering Glenda Jackson as the King: Pedro Pascal grunting and orgasming into one of the Queens onstage (comical in a forced sense), Jackson and entourage thrashing against walls of metal sheets to simulate a storm (an ear-grating dissonance) and Ruth Wilson doubling as the exiled princess-daughter and a Charlie Chaplinesque Fool (an inspired choice). What I have not witnessed of Gold's work was his immersive "Othello" (which featured Daniel Craig) and a "Hamlet" in which Oscar Isaac wears a paper toilet-seat cover around his neck — and purportedly "attacks lasagna in his underwear" an acquaintance dreamily recounted to me.
In Gold's "King Lear," the acting may have been watchable — scrambling to guffawing lengths — as the visual and performative choices struggle to snug into a larger picture. Similar issues in his "Macbeth" are less entertaining and meaningful.
The suggestion of a spell dances around a nearly threadbare stage of blackness (scene design by Christine Jones), decorated sparsely with tables and chairs. Its depth is deepened by an uncurtained black stage wall (I can't spoil its transformation for one of its stronger moments). Actors roam with pneumatic fog machines, spraying it — too liberally — to elicit an eerie atmosphere beneath Jane Cox's minimal lighting. Suttirat Larlarb's contemporary costume design — kitchen garb, a party dress, and bulletproof vests — don't assign place or meaning. Its minimalistic labor lacks a tug of imagination on its audience—in contrast to the program notes that the simplicity "enable[s] a high level of imaginative participation." The presentation is a vacant map that leaves the audience to scribble the squiggles with no idea of an X.
The players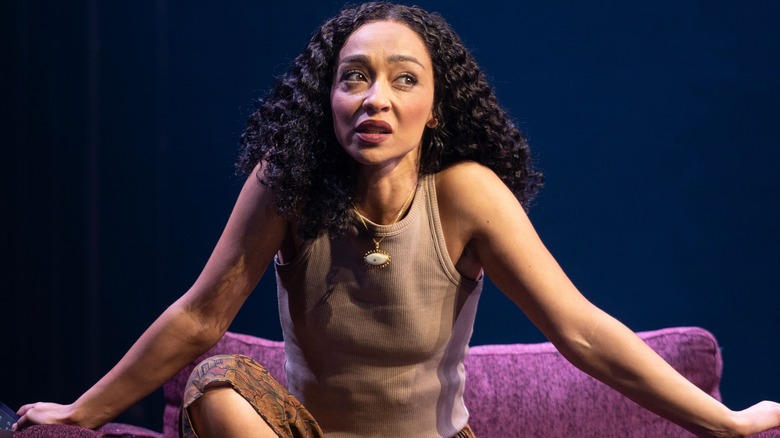 Joan Marcus/Polk&Co.
Though by no means exceptional or elevated, Craig acts out his destination. But grit, grunt, and whimper into staggering compunction, nihilistic despair, feral desperation as he might, the 007 star is acting Macbeth's downward spiral for himself more than the play. As for Lady Macbeth, Negga is a mild approximation to Gollum conversing with her Sméagol, her Macbeth in this case. She oozes but doesn't control her choices. It comes off as erroneous to unhinge her exterior from the start and she overexerts her "we fail...", dampening her development toward the Lady's delirious sleepwalk (in itself her most glorious scene).
Other thespians perform their duties blamelessly. A standout, Dizzia doubles well as one of the weird sisters and Macduff's wife. Fresh out of her "Hadestown" departure, the songstress Amber Gray as Banquo slides into mellow ease with the material (though Banquo's murder is cheap and quick without consequences). Dillion delivers confidence as Malcolm. It's Grantham Coleman as the misfortunate Macduff who connects emotionally to his material, his howling bereavement gnawing him to the core.
It should be noted that it feels purposeful that Gold casts a mid-50s cisgender man as raging against his first rivals, Banquo and Malcolm, both recontextualized away from cis-manhood and their identities explicitly aligning with their performers in the spoken text. Ciswoman Gray plays Banquo as the "[prophesied] mother of many kings" and non-binary performer Dillioni inhabits Malcolm, the rightful inheritor of the kingdom. Though the play only flirts with the notion of white male rage.
Sound and Fury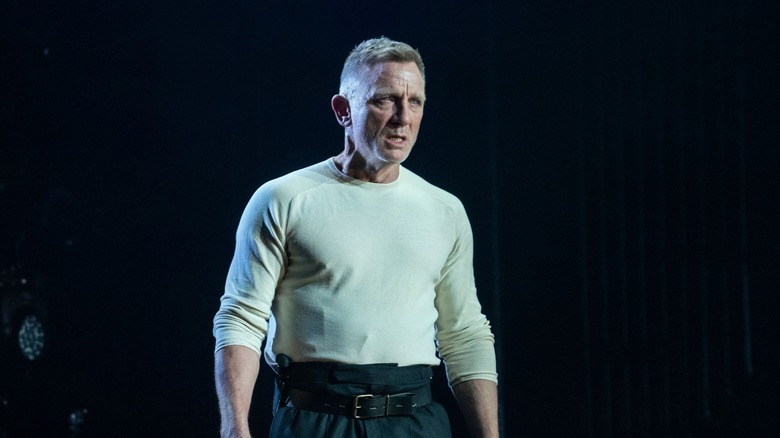 Joan Marcus/Polk&Co.
Gold also ends "Macbeth" with a curious choice: He presents climatic grit, blood-spurting, head-and-body thrashing in all its edge-of-downstage luridness (effective violence direction by David S. Leong) but then denies us the catharsis of a killing blow. 
It sounds fine on paper but un-balletically clumsy in its exercise as it rushes to a restored order: an image of resting soldiers passing bowls of soups among themselves in communion. If the unifying point is as plain as "just enjoy the ride during this pandemic where theatre is precious and we are together," this isn't that Gold production where there is a ride.
"Macbeth" is playing at the Longacre Theatre on Broadway until July 10, 2022.