Does Doctor Strange In The Multiverse Of Madness Have An End Credits Scene? A Spoiler-Free Guide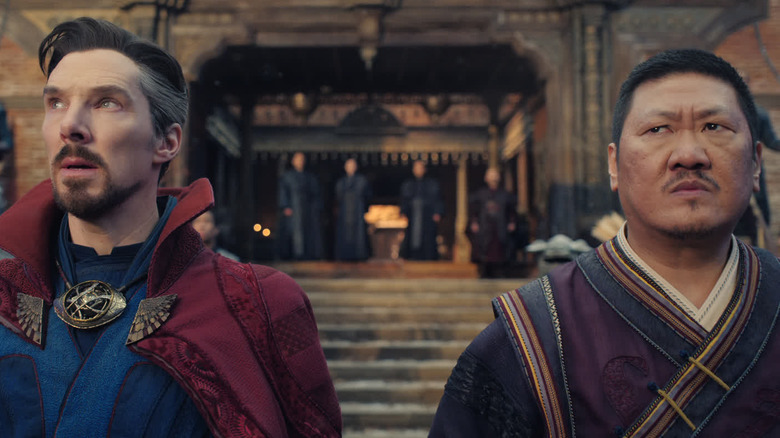 Marvel Studios
The eve of a new Marvel Cinematic Universe movie is upon us as "Doctor Strange in the Multiverse of Madness" is finally arriving in theaters. The movie was originally announced way back in 2019 during Marvel Studios' presentation at San Diego Comic-Con, which feels like eons ago at this point. Much has changed between then and now, with original director Scott Derrickson stepping aside (while remaining on board as a producer) with Sam Raimi, of "Spider-Man" fame, taking over. Not to mention the whole pandemic of it all. But the time has arrived and Benedict Cumberbatch's Stephen Strange is returning for a solo movie nearly six years after he first graced our screens.
Those who are gearing up to see the movie may be wondering if they have need to stay during/after the credits, as MCU films typically have little teases of what's to come. We're here to, in a spoiler-free fashion, let you know if there are any post-credits/end-credits scenes in vague terms without giving you any specifics. Let's get into it.
Does the movie have anything during or after the credits?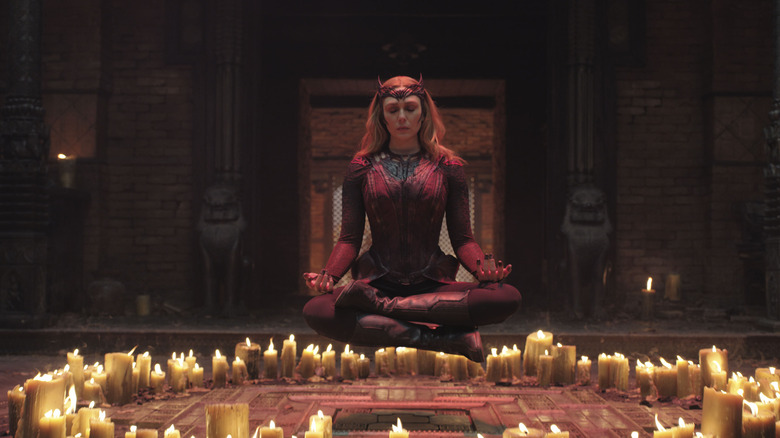 Marvel Studios
"Doctor Strange in the Multiverse of Madness" does indeed keep up the MCU tradition of sneaking in some goods during the credits. Those who are seeing the movie can expect a midi-credits tease of sorts as well as a little something after the credits. So, the short answer is yes, those who feel the need to catch these little credits scenes will need to hold off on using the bathroom just a little bit longer. Plan accordingly. Now, for those who would like just a little bit more context (still without spoilers) we are going to go over, vaguely speaking, what these scenes are to help further inform your decision regarding when to leave your seat and make for the lobby.
How important are these scenes?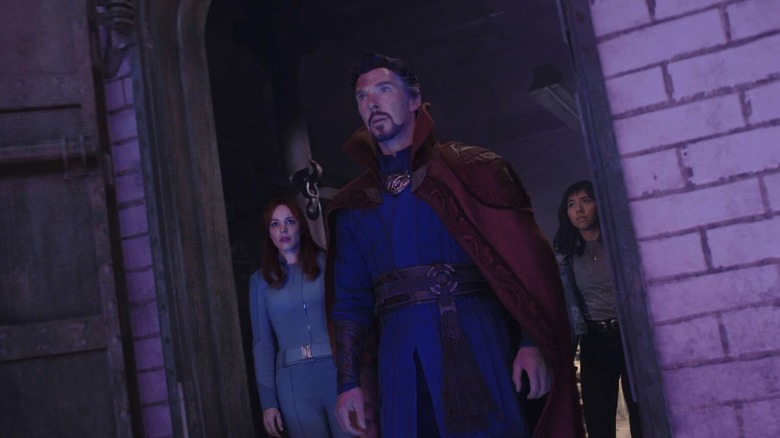 Marvel Studios
Getting into the specifics (but not too specific!) of it all, the mid-credits scene is very much the more consequential of the two. It is a tease of something to come in the future of the MCU. If we were to rate it on a scale from 1 to 10 in terms of overall importance to the franchise, we'd give it in the ballpark of an 8. So this is probably the one that fans would be most upset they missed out on. As for the second scene after the credits? This is more of a Raimi-esque bit of fun that those who love the filmmaker's work will likely appreciate. But it's not what one might call important, so you can make your own call on whether or not that one is worth hanging around for.
The cast also includes Elizabeth Olsen, Benedict Wong, Rachel McAdams, Chiwetel Ejiofor, and Xochitl Gomez. Michael Waldron ("Rick and Morty") penned the screenplay. 
"Doctor Strange in the Multiverse of Madness" hits theaters on May 6, 2022.
In Doctor Strange in the Multiverse of Madness, the MCU unlocks the Multiverse and pushes its boundaries further than ever before. Journey into the unknown with Doctor Strange, who, with the help of mystical allies both old and new, traverses the mind-bending and dangerous alternate realities of the Multiverse to confront a mysterious new adversary.