Here's When You Can Watch Morbius At Home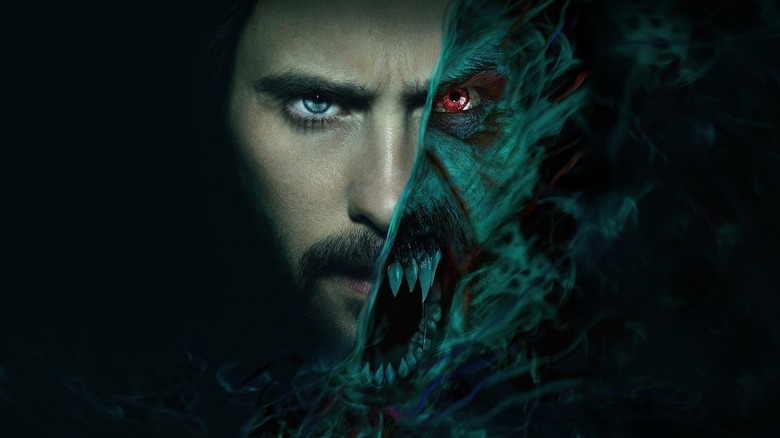 Sony Pictures
"Morbius," the newest Venom-verse outing, came to theaters and departed with a bit of a whimper, suffering a steep box office drop from first to second week. The long-delayed newest entry in the Sony Pictures Universe of Marvel Characters sees the bloodthirsty Dr. Michael Morbius (Jared Leto) splice his DNA with a vampire bat to cure a rare blood disorder, only to discover it gives him barely controllable bloodlust and a host of powers that oddly neither humans nor bats have. Maybe this is what they mean by 'movie magic?'
Since not seeing Morbius in theaters is apparently the cool thing to do, those waiting for other avenues to see Leto's vampiric turn have some great news: you won't have to wait much longer. Today it was announced that Venom Dr. Michael Morbius is available on Digital this May, with a 4K UHD, Blu-ray, and DVD home releases following soon.
Blood, blood, everywhere, nor any drop to drink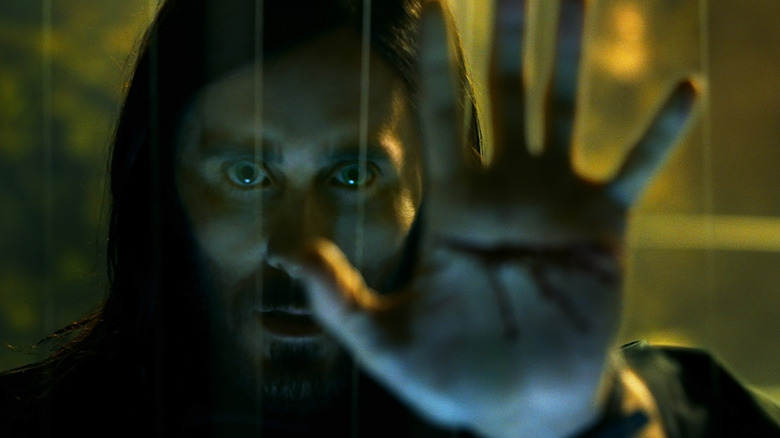 Sony Pictures
For "Morbius" fans itching to watch the film again (or who waited for home release altogether), they'll be able to invite the vampire into their very own home as early as May 17th on digital. Physical media releases follow nearly a month later, with 4K UHD, Blu-ray, and DVD releases to follow on June 14. 
The releases will arrive with a host of featurettes, giving a look at the character and the process of bringing him to life. The 4K UHD, Blu-ray, and digital releases will have the following:
Outtakes & Bloopers
Featurettes:

Defining The Antihero
From Human to Vampire – Visual Effects
Lights, Camera, Action
The Good, Bad & Ugly – Supporting Cast Doing the Stunt Work
Living Vampire from Comics to Screen

Nocturnal Easter Eggs
The DVD home release will have a more limited array of featurettes: 
Defining the Antihero
The Good, Bad & Ugly – Supporting Cast Doing the Stunt Work
With "Morbius" clearly designed to set up a larger world for Sony's Marvel monsters to play in, the featurettes will allow them to dig deeper into the character as the Sony properties like Kraven the Hunter pick up speed.