Where And When Will Morbius Be Streaming?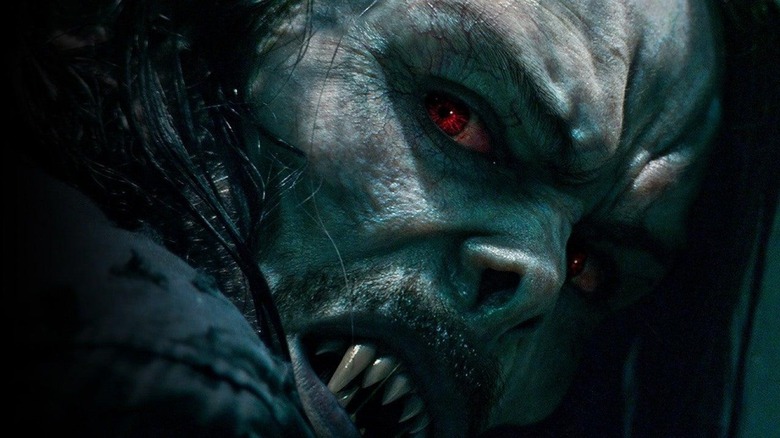 Sony Pictures
Sony is continuing to expand its "Spider-Man" movie universe with "Morbius" in 2022. With a new trailer, Marvel fans are surely more eager than ever (or at the very least curious) to see what Jared Leto can bring to this universe alongside Tom Hardy's Venom. 
But the real question for many people is when and where will "Morbius" be available to stream? We're here to provide the best available answer to that question for those who would prefer to watch the Marvel Comics adaptation from the comfort of home next year.
When Will Morbius Be Streaming on VOD?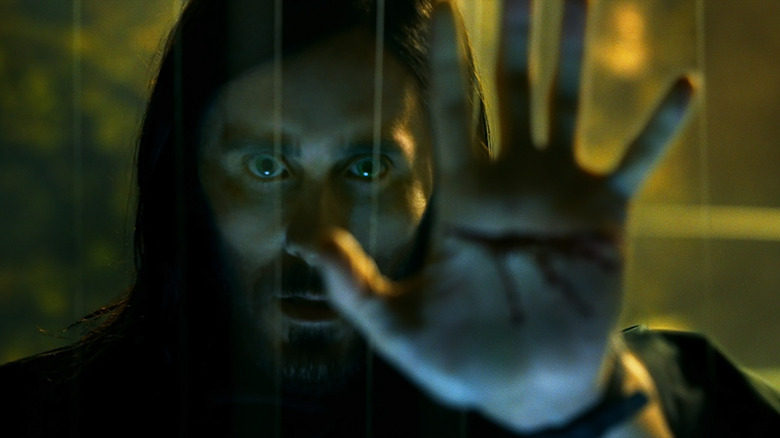 Sony Pictures
Upon its initial release, "Morbius" will be playing exclusively in theaters. But gone are the days of having to wait nearly three months for a blockbuster movie to be made available at home. Rather, most movies become available on premium VOD mere weeks after they first hit theaters, meaning that studios charge a premium to rent the new movie at home through a digital retailer, such as Fandango, Amazon Prime Video, or Vudu. In this case, Sony has committed to a theatrical release, likely of at least 45 days. That means the movie will likely be available to rent some time in mid-March.
This, however, is all subject to change as things continue to evolve and studios adapt to the post-Covid landscape. But Sony has made it clear they are committed to releasing movies in theaters, meaning viewers will have to wait at least a little bit for this one. If Sony shortens the window to around 30 days, for whatever reason, it might — and we stress might — make its way to VOD in early March, though mid-to-late March seems far more likely.
Morbius Will Be Streaming On Netflix In 2022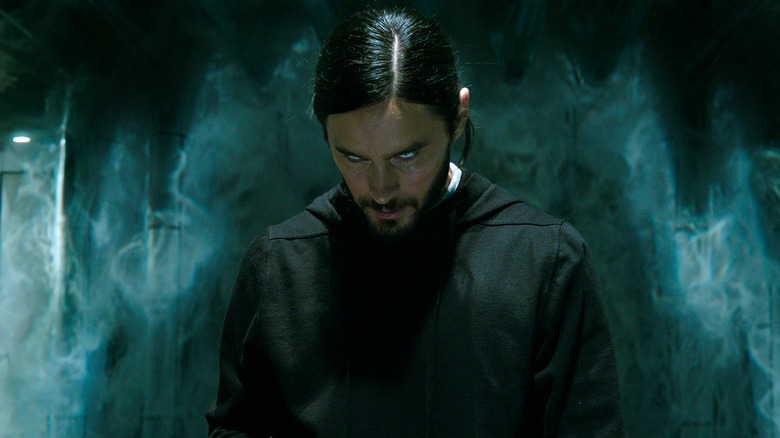 Sony Pictures
For those looking to watch "Morbius" in a less expensive way, the good news is the film will be making its way to Netflix at some point next year. This has to do with the fact that Sony and Netflix struck a deal in 2021 that makes the streaming service the exclusive home for Sony's theatrical releases, beginning in 2022. It should be noted that this only extends to the U.S. though. Apologies to those who live outside of North America.
The question is, how long will it take for the movie to arrive on Netflix after it hits theaters? No firm date has been set as of this writing but we can provide a rough estimate. When Sony had its deal with stars, recent theatrical releases were making their way to the service anywhere between six and eight months after they were first released. That means "Morbius" could be streaming on Netflix as early as July, but perhaps as late as September 2022.
We'll be sure to keep you posted as further updates are provided and as specific streaming dates are revealed.
"Morbius" is set to arrive in theaters on January 28, 2022.
One of Marvel's most compelling and conflicted characters comes to the big screen as Oscar® winner Jared Leto transforms into the enigmatic antihero Michael Morbius. Dangerously ill with a rare blood disorder and determined to save others suffering his same fate, Dr. Morbius attempts a desperate gamble. While at first it seems to be a radical success, a darkness inside him is unleashed. Will good override evil – or will Morbius succumb to his mysterious new urges?