The Morning Watch: The Evolution Of Disney's Animated Hair, Lord Of The Rings Fanmade Anime & More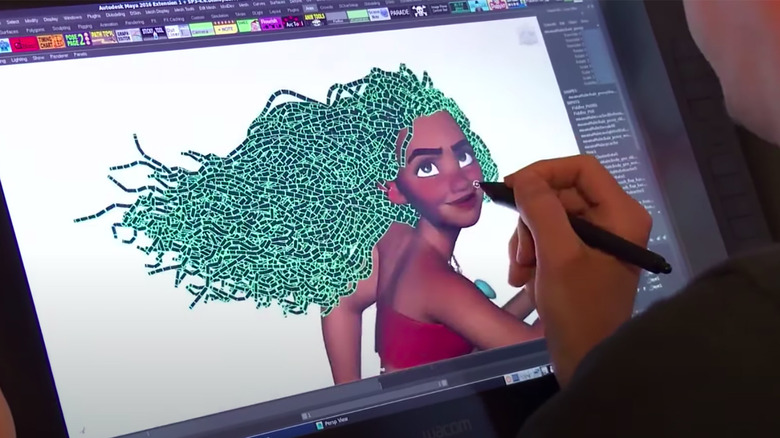 Walt Disney Studios Motion Pictures
(The Morning Watch is a recurring feature that highlights a handful of noteworthy videos from around the web. They could be video essays, fanmade productions, featurettes, short films, hilarious sketches, or just anything that has to do with our favorite movies and TV shows.)
In this edition, get a behind-the-scenes look at how hair has been computer animated over the years in Disney's movies. Plus, animator and filmmaker Eddie Sharam retells "The Lord of the Rings: The Fellowship of The Ring" in an abridged, anime-style short. And finally, veteran animator Alexander Snow, of both Disney and DreamWorks Animation, joins the Corridor Crew to dissect some of the best and worst animation in Netflix's "Arcane."
'I'm just very interested in your hair and the magical qualities that it possesses' - Flynn Rider
Animation is an incredible medium for storytelling, and Disney has continually paved the way with groundbreaking techniques that help expand the possibilities of what animation can create. As their animation style pivoted away from hand-drawn cells, Disney has predominantly featured characters with straight hair, using digital animation to build upon its 2D animation roots. Now, in 2022, Disney has officially presented characters across the entire spectrum of hair textures. 
In this video from Insider, we hear from Edna Liliana Valencia Murillo, who served as a consultant for Afro Colombian representation on "Encanto," as she explains how animators were trained to imitate the movement, or lack of movement, that changes from texture to texture. They take us from "Tangled" to "Encanto" to show the decade plus of innovative techniques that allowed them to grow from the straight, blonde tresses of Rapunzel and the sisters in "Frozen," to the rich, textured looks of characters in "Moana" and the family Madrigal of "Encanto."
The ultimate animated Lord of the Rings fan film
Shout out to the folks over at FirstShowing for putting this video on our radar, because animator Eddie Sharam's short version of "The Lord of the Rings: The Fellowship of the Ring" is absolutely phenomenal. Sharam looks to have blended styles like anime, Ralph Bakshi's 1978 film, "Castlevania," and a bit of exaggerated features as seen in "World of Warcraft" to create a wholly unique retelling of Peter Jackson's adaptation of J.R.R. Tolkein's novel. As of publication, the video has just north of 5,000 views, which is an absolute crime considering how ridiculously impressive this short film is. I know we're about to get a new "Lord of the Rings" show from Amazon, but Sharam makes one hell of an argument for an animated series.
'It's a really cool blend'
Creating an animated series based on a popular video game is no easy task, but the Netflix series "Arcane" has been cited as one of the most visually interesting new series in recent years. The popular Corridor Crew channel brought in a seasoned animation pro to break down the animation styles of "Arcane" to figure out just why we love it so much. "It's doing a lot that's never happened before," said Snow. "The motion is very CG but the look is very hand painted. It's just a really cool blend." Snow breaks down that the texturing of the CG art mimics the appearance of being hand drawn, but that the animation team also included a crew specifically to add 2D effects for all of the major effects execution. This combination of styles is what gives "Arcane" its look and sets it apart from contemporaries.