Liam Neeson Is A Big Fan Of Denzel Washington, Loves Those Equalizer Movies [Exclusive]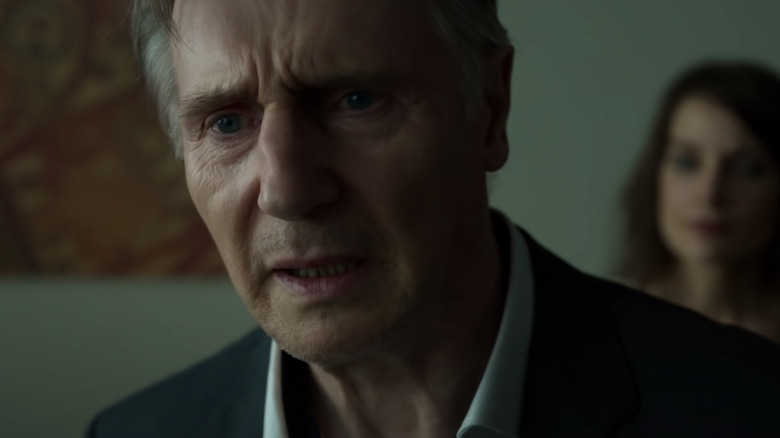 Open Road Films
With his starring role in "Taken" in 2008, Liam Neeson pioneered what now practically constitutes a whole sub-genre of action-dad films. The movie saw Neeson moving out of the mentor phase in his career, seen in films like "Star Wars: The Phantom Menace," "Kingdom of Heaven," and "Batman Begins," and into a fresh phase where he would exercise a new "very particular set of skills" to kick butt and, yes, take names. Since then, Neeson has still turned in some fine dramatic work (see: "The Grey" and "Silence"), but his filmography has leaned more into action thrillers, such as his four collaborations with director Jaume Collet-Serra, "Unknown," "Non-Stop," "Run All Night," and "The Commuter."
In recent years, other dramatic actors like Kevin Costner, Sean Penn, and Bob Odenkirk have gone a similar route as Neeson and tried to reinvent themselves as action movie stars, to varying degrees of success. Neeson has had his eye on at least one such actor, and he's also looked to some other Hollywood legends for inspiration. In Jack Giroux's interview with Neeson for /Film, the actor revealed who among his peers and predecessors has a strength and sensitivity he admires. He said:
"It's interesting. Yeah, Burt Lancaster. Robert Mitchum did too. I know he did have a quality that was bordered on vulnerability, that made him a great actor, I think. Mitchum was fantastic, a big hero of mine from when I was a teenager. There was just something about him I liked. And who else now? Who else has got that? Denzel Washington. I mean, Denzel's a fantastic actor, probably our greatest movie star in this country I think. I've seen him on stage. I've seen a lot of his films. Love those 'Equalizer' films. I mean, Antoine Fuqua, love those movies. Denzel could do that too. He can show a strength and a solidity and touch on the vulnerability, which is incredibly watchful."
How good is your Memory?
This year, Washington earned his 10th Oscar nomination for "The Tragedy of Macbeth," so that he has now been nominated across five decades and is the most nominated Black actor in Academy Award history. Washington has largely eschewed sequels in his career, but "The Equalizer" franchise is an exception, and it now has a third movie on the way. I say: send The Equalizer back to Home Depot, put him on a forklift, and have Nex Coxman, Neeson's character from "Cold Pursuit," come crashing through the wall in a snowplow. But let them both play it strong and sensitive.
While we wait for the "Coxman vs. The Equalizer" crossover to materialize, Neeson's latest action thriller, "Memory" opens today. We missed sharing the trailer for this one, but you can see it above. "Memory" sees Neeson teaming with filmmaker Martin Campbell, who knows a thing or two about action, having helmed two of the best James Bond movies. In "Goldeneye," Campbell introduced the world to Pierce Brosnan as Bond, and in "Casino Royale," he did it all over again with Daniel Craig.
In "Memory," Campbell's got Neeson's character, Alex Lewis, slamming guys' faces into side mirrors and car windows and taking dudes out with a gun with a silencer (not unlike Bond). Lewis is an assassin whose memory is faltering even as he refuses to carry out a contract on a kid. The movie costars Guy Pearce and Monica Belluci and it comes with this synopsis from Open Road Films:
MEMORY follows Alex Lewis (Liam Neeson), an expert assassin with a reputation for discreet precision. Caught in a moral quagmire, Alex refuses to complete a job that violates his code and must quickly hunt down and kill the people who hired him before they and FBI agent Vincent Serra (Guy Pearce) find him first. Alex is built for revenge but, with a memory that is beginning to falter, he is forced to question his every action, blurring the line between right and wrong.
"Memory" is in theaters on April 29, 2022.