Jason Bateman Refused To Use A Body Double For One Of Ozark Season 4's Most Brutal Scenes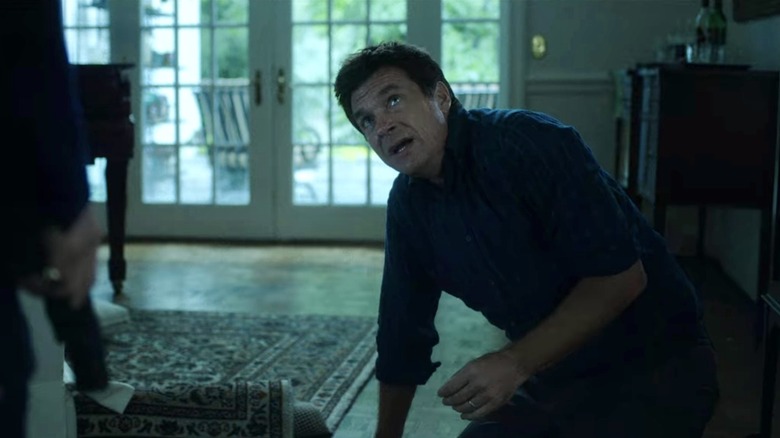 Netflix
"Ozark" Season 4: Part 2 is finally here, and with it comes the end of the Netflix series and the perpetually blue money-laundering adventures of Marty and Wendy Byrde, played by Jason Bateman and Laura Linney, respectively. It was only a few short months ago that the seven-episode first half of season 4 dropped, so longtime "Ozark" binge-watchers will likely have it fresher in mind than they did with season 3 (which came out in 2020, leaving a two-year gap between seasons). One thing sure to stick in the viewer's mind is the intense midseason finale, "Sanctified," which, suffice it to say, did not end well for everyone involved.
Even before its shocking final moments, "Sanctified" saw Javi Elizonndro (Alfonso Herrera), the menacing nephew of drug cartel leader Omar Navarro (Felix Solis), ambush Marty in a violent way. Their confrontation went down in the home of Jim Rattelsdorf, the attorney and political operative played by Damian Young, an actor Netflix viewers might also recognize from "House of Cards." As it happens, "House of Cards" star Robin Wright was also in the director's chair for "Sanctified."
In an interview on the Post-Credit Podcast, Herrera discussed what it was like shooting the scene with Bateman, who also serves as an executive producer on "Ozark" and has directed a number of episodes himself, including the series premiere and series finale. Herrera said:
"What I enjoyed a lot about Jason is that his talent, it's equivalent to his generosity. He's incredibly generous on set, and not just with cast, with every single member from crew. And to have a number one that sets the tone like that, it's very easy to work with someone like that. And specifically that scene, that episode, it was directed by Robin Wright. So, it was amazing to see that collaboration between Jason and with Robin, and us working the scene together."
'He was physically there'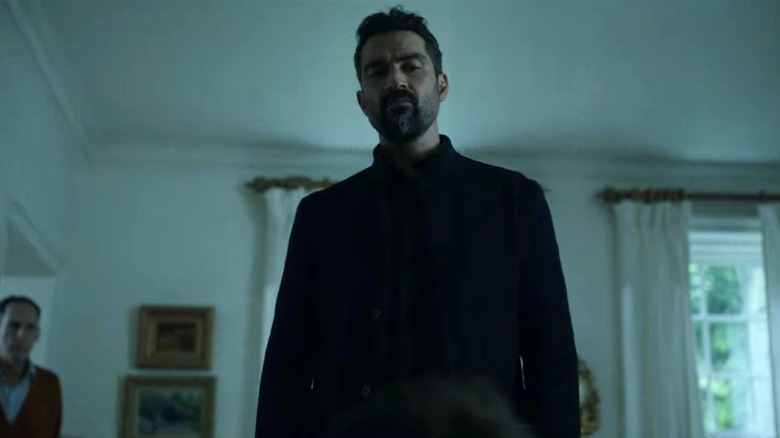 Netflix
Although the confrontation in "Sanctified" involves Javi kicking Marty and pistol-whipping him, Alfonso Herrara revealed that Jason Bateman insisted on being physically present in the scene and not using a stunt double. He continued:
"What I really admired from Jason was, he was there, and he was physically there. And sometimes there was a double, and he said, 'No, no, no, no; I'm going to do it myself. It has to be that way.' And I was trying to be very careful because of the physicality of the scene, but he was like, 'Don't worry man. I have protection, you're good, you're cool. Let's just try to make it the best we can be.' And it was great. Specifically that scene, it was choreographed very well, and Jason, he was — I mean, he's Jason Bateman. He was amazing."
This wasn't the first time "Ozark" viewers saw Marty down on his knees begging for his life while a Mexican drug cartel member loomed over him with a gun. If anything, the scenario seemed like an intentional callback to the very first episode of "Ozark," in which Marty witnessed his partner's shooting and pleaded with another Navarro cartel lieutenant, Camino Del Rio (Esai Morales) in a similar fashion, thereby jump-starting his whole money-laundering scheme and move to the Ozarks. It just goes to show that, after 37 episodes and counting, Marty is still playing the same dangerous game.
You can tune in to see how it ends for him and the Byrde family in the final half-season of "Ozark" on Netflix. "Ozark" Season 4: Part 2 is streaming now.