Elizabeth Olsen Had Some Important Advice For Doctor Strange 2's New MCU Recruit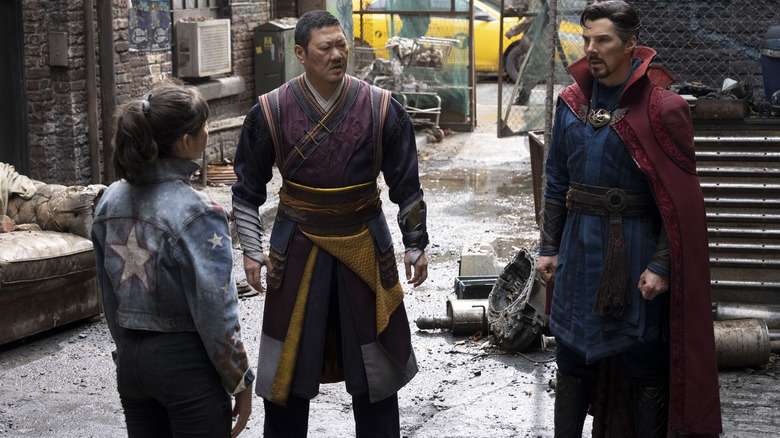 Marvel Studios
There's jumping on board a moving train, and then there's joining the Marvel Cinematic Universe for the first time several years into its booming success. Fans of blockbuster ensembles will always be bombarded by the same ol' talking points about how much the cast was really more like a "family," proving emphatically that everyone will always be chasing after what the "Fast & Furious" fambly already has. After all, who could possibly forget how that became the narrative de jour throughout the entire press tour for the 2016 "Suicide Squad" ... for all the good that did the film?
Nonetheless, the reality remains that it can be incredibly intimidating for new actors to fit into the impossibly smooth-running conveyor belt known as the MCU. With major established cast members having worked together on set for several years, newcomers will inevitably face added pressure to make their voices heard amid such massive productions — especially actors of color. With "Doctor Strange in the Multiverse of Madness," that unenviable task fell to Xochitl Gomez, who portrays fan-favorite comic book character America Chavez in the sequel. In an interview with Marvel.com, the "Baby-Sitters Club" actor opened up about, well, opening up while on set for filming of the multiverse-shaking movie.
According to Gomez, this newfound confidence came as a result of an influential conversation with co-star and Marvel veteran, Elizabeth Olsen.
'I would actually see my feedback make it into a scene'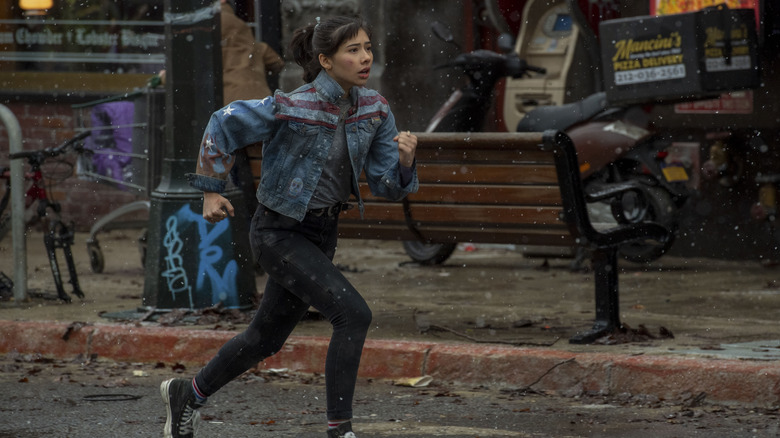 Marvel Studios
For context, consider the long odds Gomez faced in being cast for this role in the first place. As Marvel's President of Physical, Post Production, VFX and Animation Victoria Alonso explained:
"We went through a very extensive search process with the Sarah Finn Company and her team, and after meeting with hundreds and hundreds of young women, we landed on Xochitl — who was the best choice for the character."
Any one of us likely would've been thrilled simply to be there, content to bump shoulders with some of the most famous actors currently working but otherwise not making much of a fuss at all — again, this is a reality most people of color in largely white spaces can relate to. Gomez, however, had other ideas entirely, thanks to a pep talk by the Scarlet Witch herself, Elizabeth Olsen. The main focus, as it turns out, revolved around the need for actors of all experience levels to maintain a collaborative nature in how their character was depicted. As Gomez explained:
"Lizzie told me to never be shy and give my feedback and suggestions, that Marvel really means that when they say they want your input. I definitely took that advice. I'm obsessed with details. I chimed in on my character, and it was really rewarding when I would actually see my feedback make it into a scene."
Olsen may be portraying a wild card character in the "Doctor Strange" sequel, but it's reassuring to know that she went out of her way to welcome Gomez into the fold and encourage her to speak up about her unique perspective on America Chavez. The interview goes on to mention that Gomez's Mexican heritage was incorporated into the character, who plays a significant role in the events of the movie itself. Time will tell how "Doctor Strange in the Multiverse of Madness" ultimately turns out, but at least the production of the picture serves as a perfect example of how lifting one another up improves the final result for everyone.