The Pentaverate Trailer: Mike Myers Is Everywhere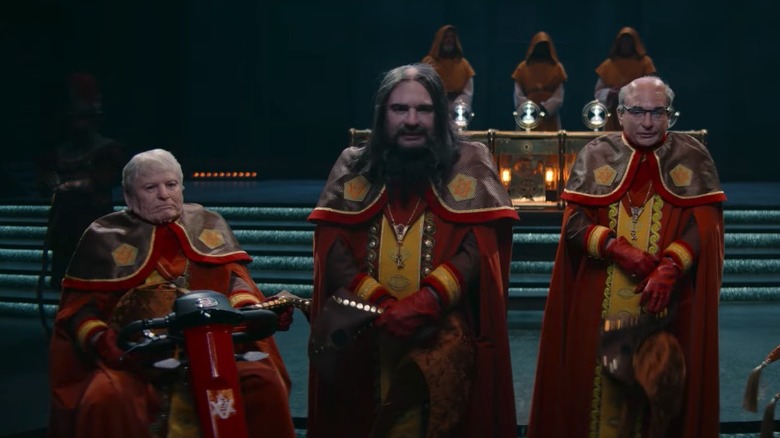 Netflix
One actor playing multiple characters, secret societies ... it sounds like Marvel with Oscar Isaac successfully and beautifully playing two (and probably three) versions of his character in "Moon Knight," or the Illuminati, which was just confirmed by a "Doctor Strange in the Multiverse of Madness" clip. 
Unfortunately, the trailer for the new Netflix series "The Pentaverate" suffers in comparison. I mean, a lot. A whole lot. This isn't a group of superheroes from another branch of the multiverse, or a deep look into what causes dissociative identity disorder. This is Mike Myers wearing a whole lot of prosthetics, and playing far too many characters, even for a comedy. 
Look, he's pulled it off before, playing different roles in a whole bunch of movies, including the "Austin Powers" films, which I love. However, in those films, the entire thing didn't hinge on his other roles. It was really about Austin and his fish out of water/time thing. I've only seen the trailer for the new Mike Myers comedy, but it just feels ... tedious to see him in so many guises on the screen at the same time. That's a schtick thing, and it works in a sketch, but I was tired of it before I was 45 seconds into the trailer. Gimmicks only work for so long. This is just ... I guess the word is silly, but I normally like silly things. I love broad comedy. I love goofiness. I will giggle at the same joke a dozen times. This just feels like what would amount to a terrible "Saturday Night Live" skit that barely makes the final half-hour of the show. Rob Lowe's pretty face lured me in at the start and then, bam. Bad makeup, and oh my god, one of those Mike Myers looks like my grandfather. I don't like this at all. 
So many Mikes, so many prosthetics
It's been a while since I've watched a trailer that made me so uncomfortable. I know a lot of people worked on this, and I hate saying it, but this looks awful. Judge for yourself though. Hey, maybe it will be a heartwarming story. Please let it be a heartwarming story. I want to be wrong.
"The Pentaverate" stars Mike Myers as a lot of old people, Keegan-Michael Key ("Keanu"), Ken Jeong ("Community"), Lydia West ("Years and Years"), Debi Mazar ("Goodfellas"), Richard McCabe ("Wallander"), and Jennifer Saunders ("Absolutely Fabulous"). Myers is serving as executive producer with Tim Kirkby ("Veep") directing.
Here is the official synopsis for "The Pentaverate:"
What if a secret society of five men has been working to influence world events for the greater good since the Black Plague of 1347? As this new series begins, one unlikely Canadian journalist finds himself embroiled in a mission to uncover the truth and just possibly save the world himself. Remember, the Pentaverate must never be exposed!
"The Pentaverate" will premiere on Netflix globally on May 5, 2022. Yes, that's two fives. Pentaverate, get it? Sigh.