Tim Burton Could've Directed 2002's Spider-Man, Although It Doesn't Sound Like He Wanted To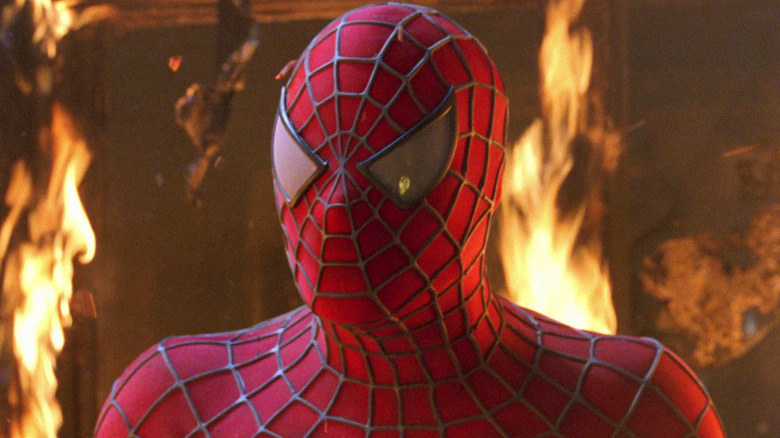 Sony Pictures
It's interesting how much Sam Raimi's "Spider-Man" and Tim Burton's "Batman" parallel one another. Both were among the top three highest-grossing movies in their year of release, with 1989's "Batman" coming in second after "Indiana Jones and the Last Crusade," and "Spider-Man" ranking just behind the second "Lord of the Rings" and "Harry Potter" films in 2002. They're also comic book movies from directors who were known for having an anti-blockbuster mentality up until that stage in their careers. While Burton's first two films, "Pee-Wee's Big Adventure" and "Beetlejuice," were both financial hits, neither of them are what you would call Spielbergian crowd-pleasers. The same could be said for Raimi, director of the comically horrifying "Evil Dead" trilogy and such outré genre movies as "Darkman" and "The Quick and the Dead."
If anything, the success of "Batman" only pushed Burton further in that direction in the 1990s. His 1992 sequel, "Batman Returns," contains some of the grossest scenes ever featured in a movie to receive Happy Meal tie-in toys, and his 1996 alien invasion film "Mars Attacks!" feels like a gleefully nasty rebuttal to the earnest drama and feel-good messaging of "Independence Day" (which had opened in theaters just five months prior). He would then come perilously close to directing "Superman Lives," a movie Warner Bros. infamously gave up on in the late '90s after spending millions of dollars on its development. Yet, oddly enough, Burton's reason for passing on "Spider-Man" (before Raimi signed on) had nothing to do with his unrealized vision for the Man of Steel.
Burton's 'just a DC guy'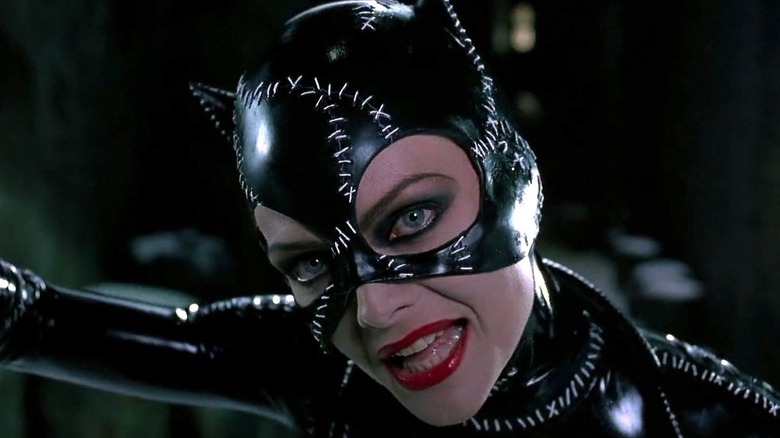 Warner Bros.
2022 marks the 20th anniversary of Raimi's "Spider-Man," which makes it all the more fitting the director is returning to the Marvel superhero arena with this year's "Doctor Strange in the Multiverse of Madness" (his first feature film since 2013's "Oz the Great and Powerful"). To mark the event, Variety interviewed a number of key creatives involved with the making of Raimi's original web-slinging adventure, writer David Koepp among them. As the veteran scribe recalled, Burton had been approached to direct the movie by Sony, but seemed far from enthused during his meeting with the studio:
"I remember [then-Chair of Columbia Pictures Amy Pascal] telling me that they'd met with Tim Burton, who in the meeting said, 'I guess I'm just a DC guy,' which seems like someone who's not really trying hard to get the job."
His lack of interest aside, you can see why Sony would approach Burton to helm "Spider-Man." It's a movie about an outcast (as so many Burton films are) where the villains are deeply-human "monsters" whose bold personalities and colorful manner eclipse those of the story's hero, as was especially the case in "Batman Returns" (one of the most auteur-style superhero tentpoles ever made). At the same time, Burton has always been drawn more to misunderstood outsiders than everyman protagonists like Peter Parker, so it's not exactly shocking he didn't jump at the chance to bring the web-head to life on the big screen. No, "Spider-Man" was better off in Raimi's hands, giving him the chance to marry his chaotic artistic sensibilities with the sincerity and newfound maturity of the films he'd directed shortly before signing on (like "A Simple Plan" and "For Love of the Game").
"Doctor Strange in the Multiverse of Madness" opens in theaters on May 6, 2022.