30 Rock Was Born From The Ashes Of A Much Different Tina Fey Pitch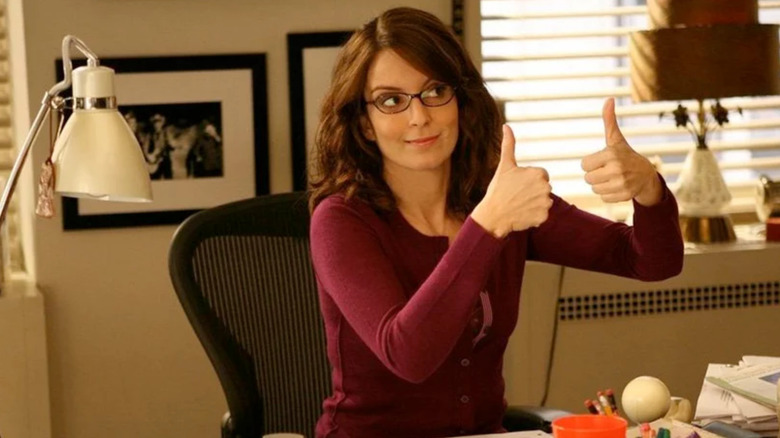 NBCUniversal Television
In a lot of ways, "30 Rock" was a bit of a paradox for television sitcoms when it premiered in 2006. One that arrived in the twilight of a bygone era in which sitcoms primarily aired on television — not a streaming service — and you needed to DVR episodes so you wouldn't lose them to the void. By its second season "30 Rock" did start appearing on streaming services like Hulu thanks to a deal between the company and NBCUniversal. But it aired first on television, a prehistoric world that still shackled the show's success and failure to the ebb and flow of its ratings.
Yet despite a difficulty in courting people sitting in front of television sets, the show went on to be a massive critical success, earning Emmy nominations for every one of its seven seasons and winning three years in a row. The "Saturday Night Live"-styled show also benefited from the big names that made often brief but exceptional cameos, something the series benefited from in having its creator be "SNL" veteran Tina Fey and an executive producer in Lorne Michaels. But the satirical surrealism of its comedy, one that elicits as many laughs as winces, almost had very different surroundings other than Studio 6H.
More current events, less laughs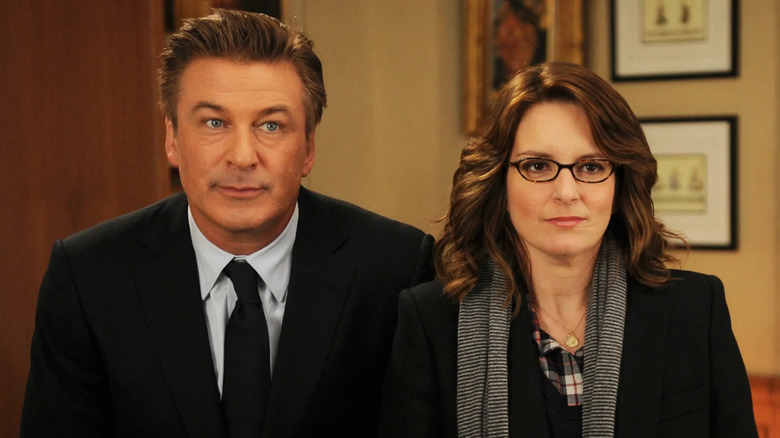 NBCUniversal Television
One of the crucial pieces of "30 Rock" that helped it stay so fresh was its placement of an "SNL"-style sketch show at its center. Before the show premiered there was once even plans to shoot entire episodes of "TGS with Tracy Jordan," which starred Jordan (Tracy Morgan) and Jenna Maroney (Jane Krakowski), and then air them online. But at one time "30 Rock" was going to rely more on current events than live sketch comedy or guest stars. Speaking with Rolling Stone, show creator, writer, and actor Tina Fey revealed the original pitch she gave for "30 Rock" to NBC Vice President Kevin Reilly less resembled "SNL" and more like an Aaron Sorkin series:
"The first pitch was not unlike 'The Newsroom' on HBO. It was good we didn't try to do that, because I would have drowned trying to keep up with the subject matter."
A comedy version of Sorkin's heavy-handed drama "The Newsroom" would've been a daunting project alone just to keep up with current events, never mind finding ways to turn events into potent pieces of comedy and punchlines. Fey also would've played not a writer but a producer, with Alec Baldwin playing a character modeled after Bill O'Reilly. Ironically enough, when "30 Rock" first premiered, Sorkin's series "Studio 60 on the Sunset Strip" became a bit of competition due to its similar premise — though Sorkin's show was canceled after one season. 
It's a fate Fey's show might've faced had she not taken Reilly's advice after her first pitch was denied. Unfolding not unlike an episode of "30 Rock," there's something ironic about an executive planting the seed of the idea in her mind, much like how Jack Donaghy would with Fey's character Liz Lemon. It was Reilly who suggested she model the show after her time as a writer on "SNL," which she left in 2006. But unlike her character, who would probably barrel forward with her "Newsroom" show out of pride in proving Donaghy wrong, Fey had simpler reasons for not wanting to make the show about her job. 
Fey finds 30 Rock's linchpin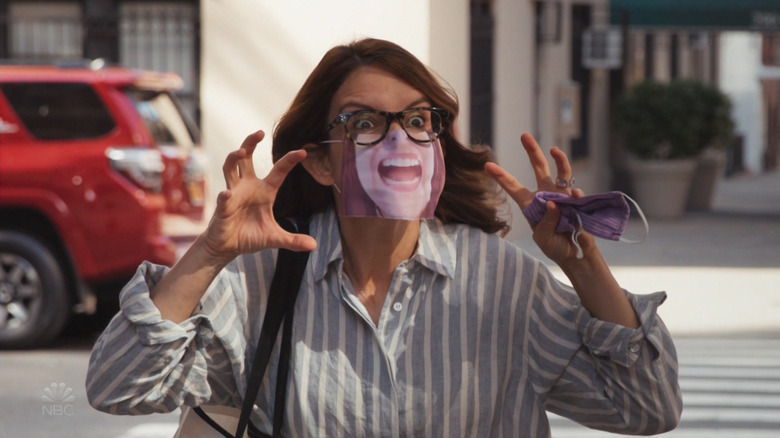 NBCUniversal Television
Much like "Mean Girls" was her first screenplay, penning a sitcom script was a first for Tina Fey. But Fey was not keen on pursuing a show based on one of her other jobs. "It seemed so lazy to just write about writing," she told Rolling Stone. But something changed quite radically when she started imagining Tracy Morgan — not Alec Baldwin — as the on-air talent. She continued:
"I thought, 'Oh, this could be a thing.' I was writing the pilot, I was writing a movie and I was trying to get pregnant, and I was like, 'We'll see what sticks,' and what stuck was the pilot and I got pregnant."
It's the endlessly quoted and sage advice often given to writers: Write what you know. Fey has a point that there's a dullness that infects any attempt to turn something you might see as unglamorous or bland (i.e. your job). But leave it to the "Mr. Mayor" writer to find a way to transform the mundane into the ridiculously hilarious. After all, Tracy Jordan is arguably one of the essential glues that keeps "30 Rock" afloat, not just in the world of the show, but in the real world, where its satire really pushed the limits of its comedy. 
It might be a few years since there were rumblings of a "30 Rock" revival at NBC, and as opposed I may be to the way networks lazily mine old shows for a "new" series, I'd be lying if I said the return of Jordan and Kenneth Parcell (Jack McBrayer) didn't delight me endlessly.