"There's Definitely Been Talk" Of A '30 Rock' Revival, Says Jane Krakowski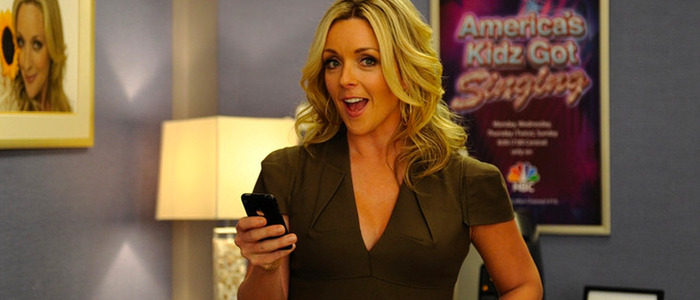 Revivals are hot right now – just look at the ratings of the Roseanne revival for proof. With revival fever sweeping the land, is there a chance of a 30 Rock revival in the future? Jane Krakowski says there's "definitely been talk" of such an idea. Because sure, why not?
Roseanne, Will and Grace, The X-Files, Twin Peaks, Mystery Science Theater 3000 – all these shows received successful revivals, proving that everything old is new again. Here's another show you might be able to add to the revival list soon: 30 Rock, Tina Fey's satire of working in the strange medium that is televised comedy. Jane Krakowski, who played attention-loving 10 among 5s Jenna Maroney on the show, told The Hollywood Reporter that there have been discussions about a possible 30 Rock revival:
"[A revival] would be a dream come true...there's definitely been talk and conversations...We all say over and over again that working on that show was probably the best experience we're ever going to have in our careers, as far as creativity goes. We're still so proud of the writing and the great characters. It was such a success and all of those things were amazing."
"Right now, [reboots are] the trend," Krakowski added. "And I would be thrilled if the trend continued over into 30 Rock."
30 Rock ran for 7 seasons on NBC, between 2006 and 2013. Tina Fey played Liz Lemon, the head writer of a Saturday Night Live-esque comedy series. As the show began, it was primarily a satire of working in that environment, but eventually 30 Rock blossomed into something more absurdist, with great results (give or take a few seasons). In addition to Fey and Krakowski, 30 Rock featured Alec Baldwin, giving possibly the best performance of his career as network executive Jack Donaghy. Other cast members included Tracy Morgan pretty much playing himself, Jack McBrayer as NBC page Kenneth Parcell, Scott Adsit as a producer of the comedy show, and Judah Friedlander as a character 30 Rock had almost no use for, despite being in the opening credits.
A 30 Rock revival certainly isn't the worst idea, and I'm sure plenty of fans would welcome the show back with open arms. At the same time, it feels a bit too soon for a revival. 2013 wasn't that long ago. Roseanne, by comparison, ended its original run in 1997, and didn't launch a revival until 21 years later. This is all probably a moot point anyone, since Krakowski makes it clear that there's nothing official about a revival yet – just that the subject has been breached at least once. Time will tell if 30 Rock returns, but would you watch if it comes back?