Confessions Of A Dangerous Mind Called For A Favor From George Clooney's Favorite Co-Stars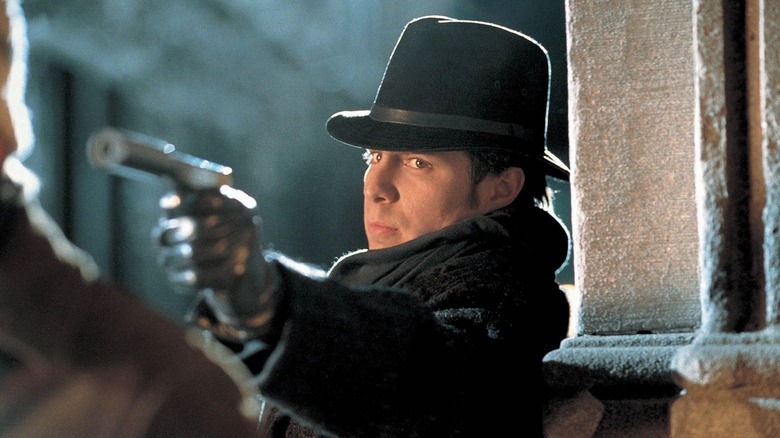 Miramax Films
Chuck Barris was a game show host and TV personality probably best known for creating "The Dating Game," "The Gong Show," and other stalwart (and often sensationalistic and/or lascivious) staples of the 1970s TV landscape. Barris knew that catering to the lowest common denominator meant big business, and approached each one of shows with that ethos; Who knows a man better? His wife or his secretary? Let's find out on "Three's a Crowd." How well do married couples really know each other? Enter "The Newlywed Game." Want to choose a partner based on your future mother-in-law? Why not appear on "How's Your Mother-In-Law?" (And, yes, that is a real show).
Oh yes, and on the side, Barris would moonlight for the CIA, traveling the world under the guise of being a TV producer, but really committing dozens of assassinations. Well, at least that's what Barris claimed in his 1984 autobiography "Confessions of a Dangerous Mind." In the book, he detailed the TV landscape as it was in the late 1950s through his heyday in the late '60s, but also his spy missions and murders of foreign dignitaries. The CIA denied Barris' involvement, of course, and Barris himself later stated explicitly that the book was all hokum; Barris was just a playful prankster pulling our collective leg. 
... Or was he? (Yes. He was.)
In 2002, George Clooney directed a film version of "Confessions of a Dangerous Mind" starring the excellent Sam Rockwell as Barris, and taking every word in Barris' autobiography completely at face value. As such, it was a simultaneous exposé of 1960s TV and a spy thriller. It was Clooney's first film as a director, and — given Clooney's on-screen confidence as a performer — he proved himself perhaps-not-so-surprisingly assured behind the camera. Because Clooney had worked with any number of famous people by 2002, he was able to call in a few favors in terms of casting, including his "Ocean's Eleven" co-stars Brad Pitt and Matt Damon for a pretty cute cameo appearance. 
In a BBC interview from 2014, Clooney talked about how "difficult" it was to get Pitt and Damon.
The Dating Game
The cameo in question was a re-staging of "The Dating Game," based on the real-life fact that Burt Reynolds — one of the most desired movie stars of the 1970s — and Tom Selleck — ditto, but the '80s — were on the show and were not picked. 
To describe "The Dating Game" briefly to the uninitiated: A "bachelorette" contestant was brought out on stage to sit on one side of a partition. On the other side were three "bachelor" competitors. The bachelorette was instructed to interview each of the bachelors and select a dating partner based on their answers. They were not allowed to see what they looked like until after the selection had been made. Flirting and lascivious comments were encouraged, and audiences lived for the moment when the two daters saw one another for the first time, only to be disappointed — or impressed — by their physical appearance. The modern equivalent may be the 2014 BBC show (adapted into a 2021 Netflix revival) "Sexy Beasts," wherein people go on dates while wearing elaborate FX makeup to make them look like animals or monsters. On that show, the contestants would only see each other, sans makeup, after a second date had been arranged. The show is a nightmare. "The Dating Game" was appreciated on the same level in 1965, and all weird, cheap dating shows that came after are children of Barris. 
In "Confessions of a Dangerous Mind," Clooney and screenwriter Charlie Kaufman imagined a "Dating Game" scenario wherein the competing bachelorette became enamored of a sensitive and thoughtful bachelor who, as depicted in the film, looked relatively plain. In the scene, the bachelorette (Maria Bertrand) constantly ignored the other two bachelors, played by Brad Pitt and Matt Damon, two of the most desirable Hollywood leading men of their day. Cute little joke, that. 
Just guys being dudes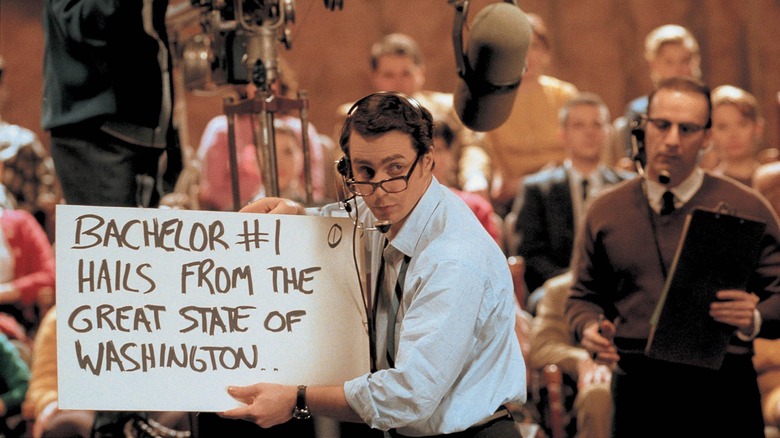 Miramax Films
In the BBC interview, Clooney jokes that Pitt and Damon were forced to audition for their cameos, and that they were paid $20 million for their services. Then he gets real and explains that it was actually very easy, and they were gracious about the whole thing:
"I had to pay Brad and Matt $20 million. That was rough. And they both had to audition for the roles, which I thought was embarrassing ... We were on the tour for 'Ocean's Eleven' and I said, 'Burt Reynolds was on "The Dating Game" and he didn't get picked, and Tom Selleck was on and didn't get picked.' I thought it would be funny if those guys came out. That was a pure and simple favor. I still can't believe they did it; fly up for a shot that we didn't even stop the camera on. But that's what sort of great friends they are.
Clooney, Pitt, and Damon would work together again on two additional "Ocean's" films in 2004 and in 2007. Clooney and Pitt would appear together in the Coen Bros. movie "Burn After Reading" in 2008. Damon would appear in two other Clooney-directed films: "The Monuments Men" in 2014 and "Suburbicon" in 2017. Clooney and Damon also appeared together in the 2005 film "Syriana." In other words, these guys enjoy each other's company, and they'll take any excuse to hang out, even on a movie set.