Irma Vep First Look: Alicia Vikander Is A Star In The HBO Limited Series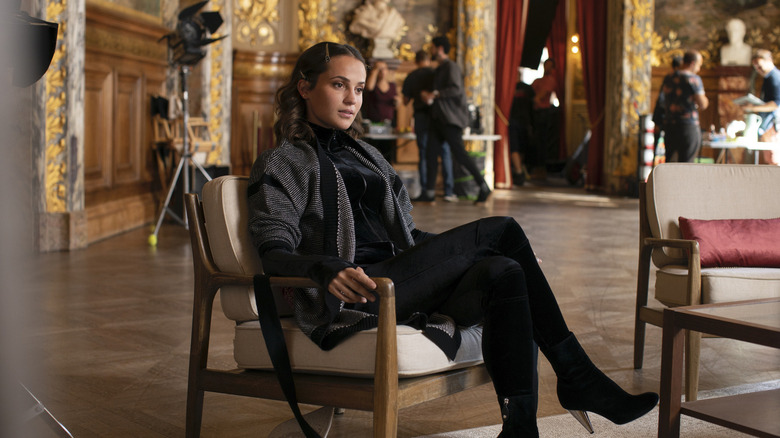 HBO
French filmmaker Olivier Assayas has spent has spent decades crafting unforgettable stories and establishing himself as a major international talent well worth following. His collaborations with actor Kristen Stewart on "Clouds of Sils Maria" and especially 2016's "Personal Shopper" did a lot to pave the way for the actor's Best Actress nomination in last year's "Spencer" (but we still maintain that she should've won that award handily!). Meanwhile, earlier efforts such as "Sentimental Destinies," "Demonlover," and "Clean" helped turn him into a regular presence at the prestigious Cannes Film Festival year in and year out. After so much success on the big screen, however, the director's latest project will take him to the realm of cable and streaming. Thankfully, he'll be helped by remaining in somewhat familiar territory.
HBO's "Irma Vep" is loosely based on Assayas' 1996 film of the same name, telling the story of a disillusioned American actor who travels to France to film a remake of classic French silent film. But she also has to contend with a profound low point in her life,  in the wake of a breakup and a disappointing career in general. Where movie star Maggie Cheung took point in the original film as a fictionalized version of herself, Alicia Vikander steps into the same lead role for the streaming series that's also written and directed by Assayas. Today, the studio released a few first look images of the new show, along with news that "Irma Vep" will debut as a selection at the 2022 Cannes Film Festival next month.
Get a first look at Irma Vep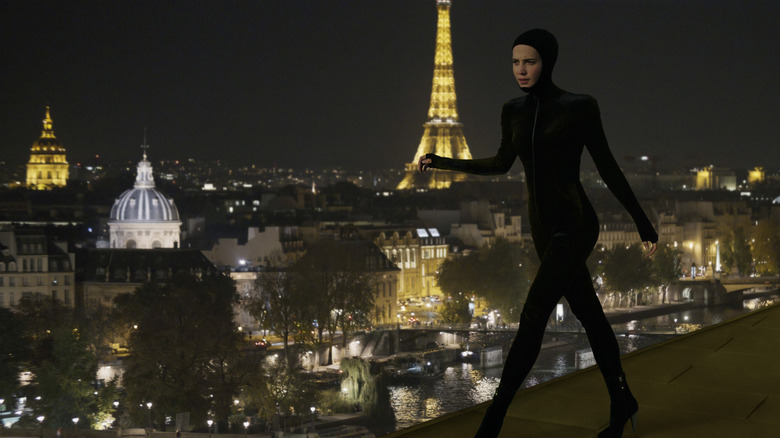 HBO
HBO released a handful of new images of the upcoming "Irma Vep," which stars Alicia Vikander as Mira. She'll be joined by an ensemble cast that includes Vincent Macaigne as René Vidal, Jeanne Balibar as Zoe, Devon Ross as Regina, Lars Eidinger as Gottfried, Vincent Lacoste as Edmond Lagrange, Nora Hamzawi as Carla, Adria Arjona as Laurie, Carrie Brownstein as Zelda, Tom Sturridge as Eamonn, Byron Bowers as Herman, Fala Chen as Cynthia Keng, Hippolyte Girardot as Robert Danjou, Alex Descas as Gregory Desormeaux, and Antoine Reinartz as Jeremie. 
Assayas has typically separated himself from his peers through his mastery of tone, oftentimes crafting complicated and incredibly nuanced portraits of everyday life that tend to defy conventional labels. "Irma Vep" will likely prove to be more of the same in the best way, as Mira's struggles with her identity bleed together with that of the movie character she's been cast to play.
Assayas and Vikander are also serving as executive producers on the HBO series, which will premiere on HBO in June before being made available on HBO Max. You can check out the synopsis for the series below:
Mira (Alicia Vikander) is an American movie star disillusioned by her career and a recent breakup, who comes to France to star as "Irma Vep" in a remake of the French silent film classic, "Les Vampires." Set against the backdrop of a lurid crime thriller, Mira struggles as the distinctions between herself and the character she plays begin to blur and merge. IRMA VEP reveals to us the uncertain ground that lies at the border of fiction and reality, artifice and authenticity, art and life.
After its world premiere at Cannes, "Irma Vep" will arrive on HBO starting on June 6, 2022 before being made available to stream on HBO Max.