Disney+ Docuseries Sketchbook Will Herald The Studio's Return To 2D Hand-Drawn Animation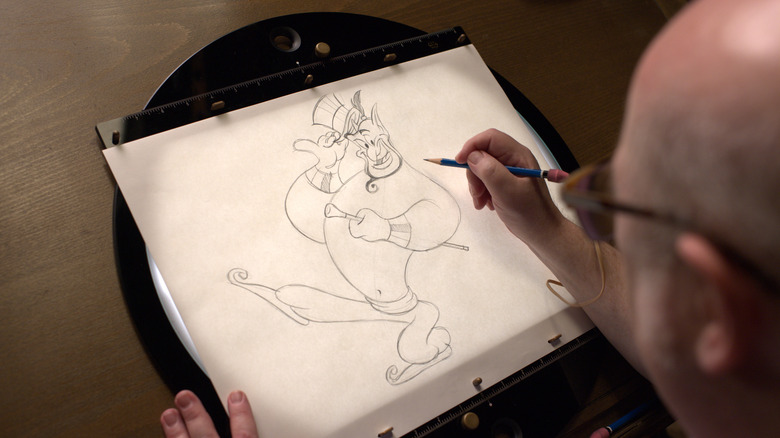 Disney+
When Walt and Roy Disney launched the Disney Brothers Cartoon Studio in 1923, traditional hand-drawn 2D animation put them on the map. After the massive success of the first animated feature film "Snow White and the Seven Dwarves" in 1937, the studio that would eventually become known as Walt Disney Pictures would continue to produce acclaimed animated classics in that style for decades.
But when "Winnie the Pooh" underperformed at the box office in 2011, the Mouse House started to almost completely dedicate their resources to a more "modern" 3D computer-generated approach to their animation style in their film and television projects. While the studio still churned out hit after hit, the old ways that made Disney a household name started to take a back seat to emerging technology.
However, it looks like they're finally making a larger effort to return to their 2D roots. And though it's not an all-new feature or series leading the charge just yet, the upcoming Disney+ series "Sketchbook" will be the one little spark to ignite the fires of imagination and light the way for the future.
A whole new (old) world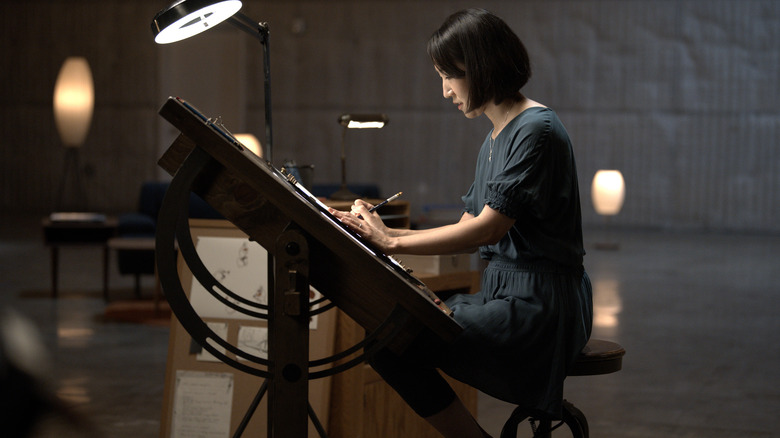 Ahead of their 100th anniversary in 2023, Disney is releasing the six-part Disney+ documentary series "Sketchbook" to spotlight six of their top artists as they show viewers how to draw some of the most iconic characters from throughout the company's history. Although, the show goes above and beyond an educational resource as the artists discuss the collaborative process behind animation and the many people involved in creating a character like The Genie from "Aladdin" or Olaf from "Frozen."
In addition to the new show, this renewed commitment to hand-drawn animation has manifested in the form of a 12-month training program spearheaded by Walt Disney Animation Studios Chief Creative Officer Jennifer Lee and President Clark Spencer. The six animators chosen from the over 2000 applicants will be mentored by 2D animators Rachel Bibb, Mark Henn (who draws Simba from "The Lion King" on "Sketchbook"), Randy Haycock, and 2D animator-director Eric Goldberg (who is featured in the Genie's episode of the show) as they focus on character and effects animation and cleanup. In an interview with IndieWire to promote the behind-the-scenes docuseries, Goldberg shared his excitement for a renewed focus on hand-drawn animation:
"I've been campaigning for a long time to train up people in hand-drawn, and, as the CG films became more and more popular, that idea became less and less important to the studio. But now we have an atmosphere and a group of people who recognize that's part of the legacy here, and to actually have content that requires hand-drawn animation is absolutely great. Thank goodness we have people who can do both here, but to actually commit to training up a new generation is a wonderful thing and I think perfectly appropriate for [us]."
Unfortunately, though Goldberg says that upcoming 2D projects "run the gamut from legacy to originals to hybrids and will include features and series," he doesn't get into any specifics about where or when we'll see the beloved animation style next. I don't want to make it sound like I'm in the "I'll believe it when I see it" camp because, as a life-long Disney fan, I'm legitimately excited to hear these new developments, especially since they're just in time for the 100 year anniversary. However, I'll keep the excitement level around a five for now until something is announced. At that point, I'll be more than happy to turn it up to eleven.
An intimate instructional documentary series, "Sketchbook" takes us onto the desks and into the lives of talented artists and animators. Each episode focuses on a single artist teaching us how to draw a single iconic character from a Walt Disney Animation Studios film. As we learn the steps to drawing these characters, we also discover that the artists themselves each have a unique story to tell about how they made their way to Disney and their chosen character. From the creators of "Chef's Table," this exclusive experience will give viewers of all ages a new understanding of how these beloved characters come to life on screen while introducing them to a new cast of real-life characters along way.
Disney's "Sketchbook" premieres on April 27, 2022 on Disney+.