The Lord Of The Rings TV Show Cost Amazon $465 Million (Or One Jeffrey Bezos Mega-Yacht)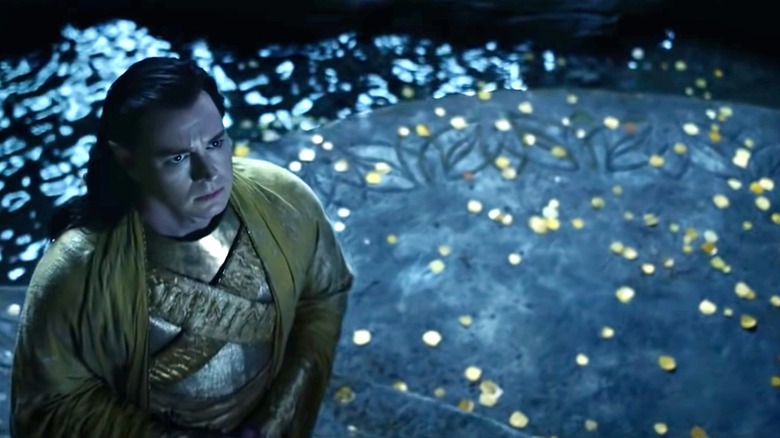 Prime Video
Prime Video has a lot riding on its upcoming streaming series, "The Lord of the Rings: The Rings of Power," and when we say a lot, we mean approximately $58 million per episode. This outpaces even the $30 million per episode that Netflix has reportedly sunk into season 4 of "Stranger Things."
According to Variety, the eight-episode first season of "The Rings of Power" will set Prime Video back a whopping $465 million, which "includes startup costs for launching the series that will presumably be spread out over multiple seasons." Last year, we learned that season 2 of "The Rings of Power" would be leaving New Zealand, where Peter Jackson shot all of the "Lord of the Rings" and "Hobbit" movies, relocating its production to the U.K. At the time, The Hollywood Reporter indicated that "the show's steep cost was a key factor in the decision, with sources saying that the U.K. will be a more economical choice moving forward."
THR also mentioned that Prime Video has a lot of studio space in the U.K. and has used it as the base of operations for many of its other shows. It's not surprising, in principle, that an epic fantasy series shot on location like "The Rings of Power" would cost more to produce on an episode-by-episode basis than "Stranger Things." What is surprising is that HBO's own fantasy epic, the "Game of Thrones" prequel "House of the Dragon," cost far less to produce than either of them, with $20 million dollars going into each episode.
The first season cost almost as much as Jeff Bezo's yacht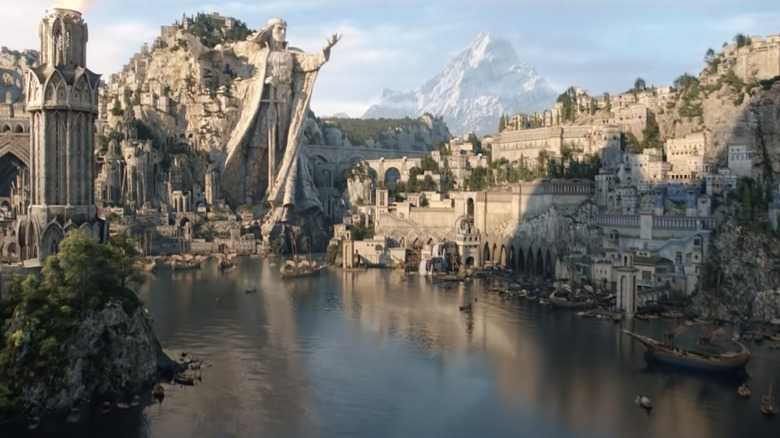 Prime Video
For comparison's sake, the budget of "Spider-Man: No Way Home," the highest-grossing film of 2021 by a wide margin, was $200 million. Prime Video has spent over twice that on the first season of "The Rings of Power," which means that they are essentially treating it as a big-budget movie, spread across eight episodes.
That might be good news for "Lord of the Rings" fans, who will get to see a show with some real production value. But in light of reports this week that Netflix lost $58 billion overnight, you have to wonder how its streaming competitor, Prime Video, can make a budget like this work, especially since "The Rings of Power" can't be expected to bring in theatrical revenue the way "No Way Home" has, to the tune of almost $2 billion.
Maybe Prime Video can't make it work, and the situation was untenable and that's exactly why "The Rings of Power" is leaving New Zealand, the place most viewers associate with Middle-earth. Then again, Jeff Bezos, the founder and executive chairman of Amazon, Prime Video's parent company, reportedly has his own $500 million mega-yacht under construction, so if he can afford that, maybe a $465-million first season for "The Rings of Power" isn't so much in the grand scheme of things.
Meanwhile, the rest of us middle-class Middle-earthlings are left to decide which streaming subscriptions we really need and whether or not $15.49 for Netflix, $14.99 for HBO Max, and $8.99 for Prime Video is really worth it in each case. Based on what happened to Netflix this week, it wouldn't surprise me if Prime Video raised its prices in the future to help cover the cost of "The Rings of Power." Either that or they could always just ask Bezos to sell his mega-yacht.