The Killing Eve Book Series Author Hated The Series Finale Just Like Everyone Else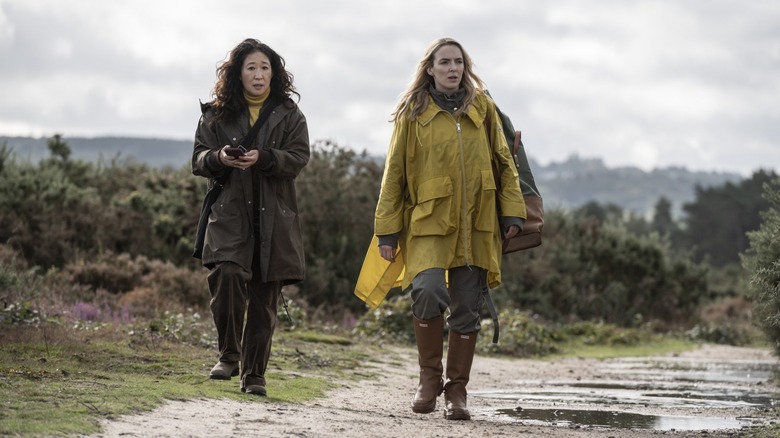 BBC
Warning: major spoilers ahead for "Killing Eve."
After years of bloody, sexy tension, BBC's "Killing Eve" has wrapped up its final season with a bang ... But not the kind of bang fans were hoping for. After watching British investigator Eve (Sandra Oh) and assassin Villanelle (Jodie Corner) become more and more obsessed and enmeshed with each other every season, it seemed like a deeply messed up and also incredibly hot romance was right around the corner. And it was. Kind of. But after a brief glimpse of happiness for the couple, their romance is shattered when Villanelle is suddenly murdered and Eve is left screaming in her wake.
For a show that seemed to bask in its subversiveness, Villanelle's sudden end felt so typical and pedestrian that it almost went full circle and became shocking again, but the keyword there is "almost." Much of the criticism that came out of the "Killing Eve" finale centered on the "bury your gays" trope, in which LGBTQ+ couples or characters are allowed a single, shining moment of happiness before they meet a brutal end.
Punishing Villanelle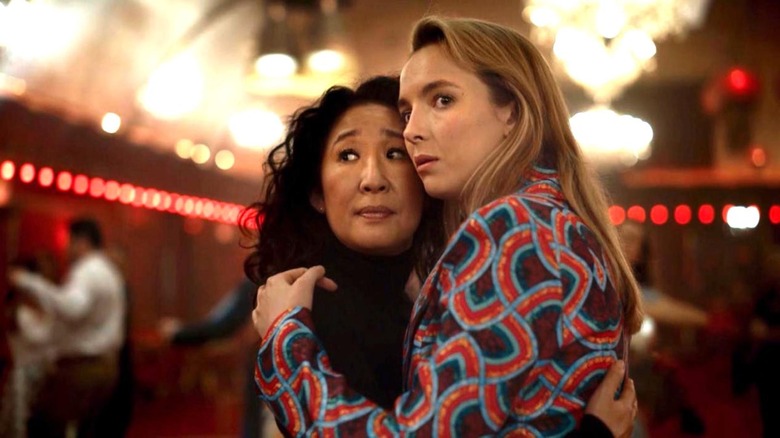 BBC
It's not just fans that are upset about the finale of "Killing Eve." Luke Jennings, author of the "Codename Villanelle" book series that the show is based on, shared his discontent over the finale with an article in The Guardian that both admonishes the series and hopes to soothe fans who are still reeling after that shocking ending. 
Jennings compliments writer/actor Phoebe Waller-Bridge for capturing Villanelle's essence when she was lead writer on the first season, but then makes it clear that he thought the end of season 4 (which was lead by writer Laura Neal) took a wrong turn:
When Phoebe Waller-Bridge and I first discussed Villanelle's character five years ago, we agreed that she was defined by what Phoebe called her 'glory': her subversiveness, her savage power, her insistence on lovely things. That's the Villanelle that I wrote, that Phoebe turned into a screen character, and that Jodie ran with so gloriously ... But the season 4 ending was a bowing to convention. A punishing of Villanelle and Eve for the bloody, erotically impelled chaos they have caused.
Villanelle lives
He goes onto say that the ending he envisioned for Eve and Villanelle while writing the series was very different:
"How much more darkly satisfying, and true to Killing Eve's original spirit, for the couple to walk off into the sunset together? Spoiler alert, but that's how it seemed to me when writing the books."
Jennings ends it all with a promise to readers and viewers alike that no matter what happened in the "Killing Eve" season finale, Villanelle can't be counted out yet:
"I learned the outcome of the final episode in advance, and suspected, rightly, that fans would be upset ... But to those fans, I would say this: Villanelle lives. And on the page, if not on the screen, she will be back."
It's hard to watch your favorite TV show end in that perpetuates a harmful trope, but at least there's some hope on the horizon. And, of course, there's always the books. And fan fiction? There are a lot of ways to drown your TV sorrows — you just have to get through the TV grief.