Pedro Pascal's Past Made Him A Perfect Fit For The Unbearable Weight Of Massive Talent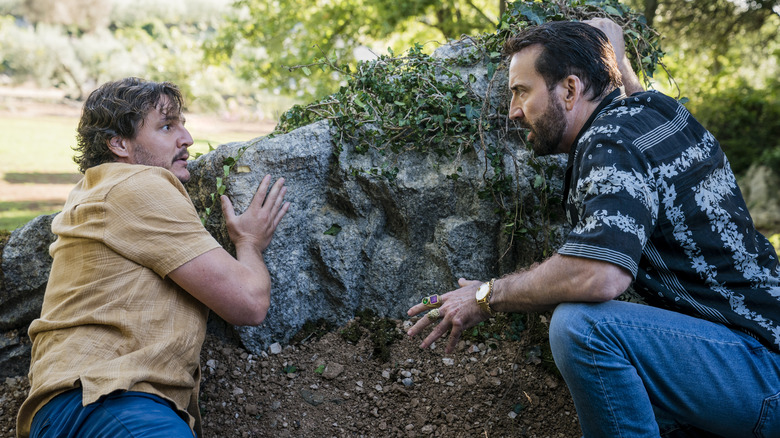 Lionsgate
Cast one of the most recognizable actors throughout the business in his most self-aware movie yet, surround him with a supporting cast of entertaining and immensely likable stars, sprinkle in a hefty dose of espionage antics and bait designed specifically to please cinephiles, and the final result will likely approximate the joys of "The Unbearable Weight of Massive Talent." Admittedly, that description doesn't do much justice to what certainly seems like the most Nicolas Cage movie we've ever seen, but Cage's remarkably varied career has always defied explanation among the likes of us mere mortals anyway.
An unstoppable pop culture force who is also quite meme-able, Nicolas Cage easily stands out as the main draw in his latest movie, featuring washed-up actor "Nick Cage" making a begrudging appearance at the birthday party of a wealthy, Cage-obsessed super fan (Pedro Pascal). Many early reactions to the film singled out Pedro Pascal's delightful performance as Javi Gutierrez, who helped bring a simmering and endearing bromance to the buddy comedy duo at the center of "Massive Talent." Pascal has carved out his own niche as one of the more social media-savvy stars currently working, never hesitating to weigh in on topics like what makes someone worthy of being called a "daddy." So with that in mind, would it surprise anyone to find out that the actor hardly had to fake or exaggerate his real-life love for Nicolas Cage?
While the subject of method acting will seemingly always come fraught with a certain level of controversy, we would gladly sign up for more actors channeling this exact kind of wholesome energy into their performances.
'That could be what got me the part: my true love of Nicolas'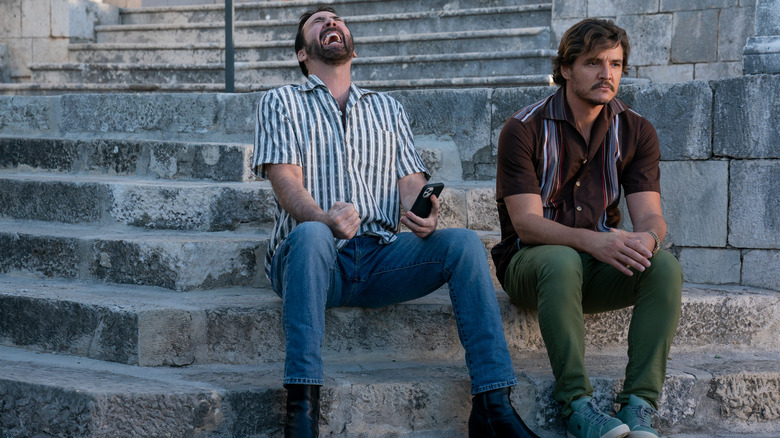 Lionsgate
Perhaps the most significant appeal of "The Unbearable Weight Of Massive Talent" comes from how the marketing never once seemed like it was making Nicolas Cage the butt of the joke, instead celebrating him as one of our few remaining acting talents still capable of reinventing himself, even this established point in his career. We can safely consider Cage's co-star, Pedro Pascal, among the many adoring fans who were eager to see Cage embark on this victory lap of sorts. In an interview with BroBible, Pascal explained how he ended up joining the film in the first place:
"Actually, my agent really, really loved this project. And he called me about it — I was at the airport, sometimes you get an email or you get asked if you're interested in something — this was a phone call to tell me how excited he was about a script. And then he told me what it was about, which I thought was hilarious. I read it that day. And honestly, I'm a big movie nerd, and if you just look at my timeline and at the age that I started to consume cinema, Nicolas Cage was just so much a part of it, and he's kind of my Marlon Brando now."
High praise, indeed! It's one thing for any one of us movie fans to wax poetic about the genuine talent and ability of someone like Cage. It's another thing entirely to receive such overwhelming praise from a peer, especially one as charismatic and skilled in his own right as Pedro Pascal. In describing his love for the actor, Pascal went on to say:
"And within every kind of genre of movies — whether it's a comedy or a low budget independent or something big commercial or action or whatever — he was still bringing these wild characters to life, so that was obviously the biggest draw to me. And then having lunch with [director] Tom Gormican and [screenwriter] Kevin Etten and talking about Nic. Really, that's all that we talked about. I felt like I may have known a little bit more than they did about his career, and that could be what got me the part: my true love of Nicolas."
Yup, that seems like a fitting Hollywood ending to us.