The Predator Will Star In A New Marvel Comic Book Series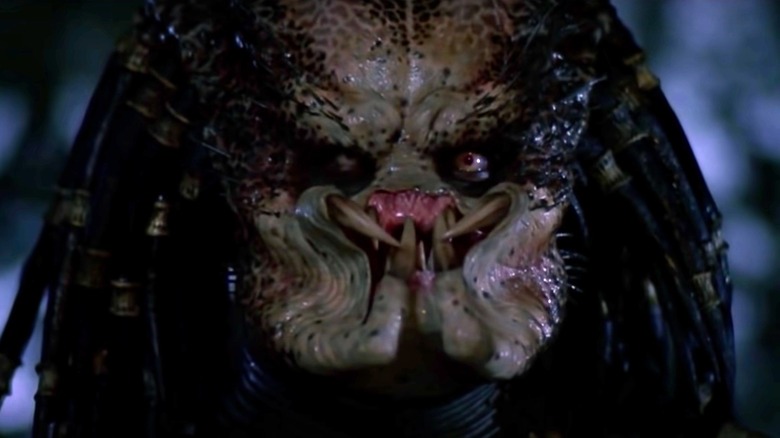 20th Century Fox
The extraterrestrial hunters best known as "Predators" to moviegoers are about to become Marvel Comics characters. This July, one of them will grace the cover of "Predator" #1, a new comic series written by Ed Brisson with art by Kev Walker and cover art by Leinil Francis Yu.
Though he may be "one ugly motherf*****," as Arnold Schwarzenegger's action hero, Dutch, described him in the original 1987 "Predator" film, the Predator is now part of Marvel and the Mouse House thanks to Disney's acquisition of the 21st Century Fox movie studio and its assets in 2019. Dark Horse Comics previously published a number of "Predator" titles over the years.
As AIPT notes, this new "Predator" comic series, the first ever from Marvel, was originally scheduled to go out in June 2021, but it was delayed due to a lawsuit. Since brothers and screenwriters Jim and John Thomas wrote the first "Predator" movie on spec (meaning on their own beforehand) and it was not done work-for-hire for Fox, this made them eligible to try and reclaim the rights to the script after 35 years. They were attempting to do this in court until they reached an amicable settlement with Disney in January of this year (per The Hollywood Reporter).
The settlement of that lawsuit has enabled the "Predator" comic to move forward again. Marvel describes the plot as follows:
The story kicks off when a young girl sees her family slaughtered by a Predator. Years later, though her ship is barely holding together and food is running short, Theta won't stop stalking the spaceways until the Yautja monster who killed her family is dead...or she is.
Let the Predator kill superheroes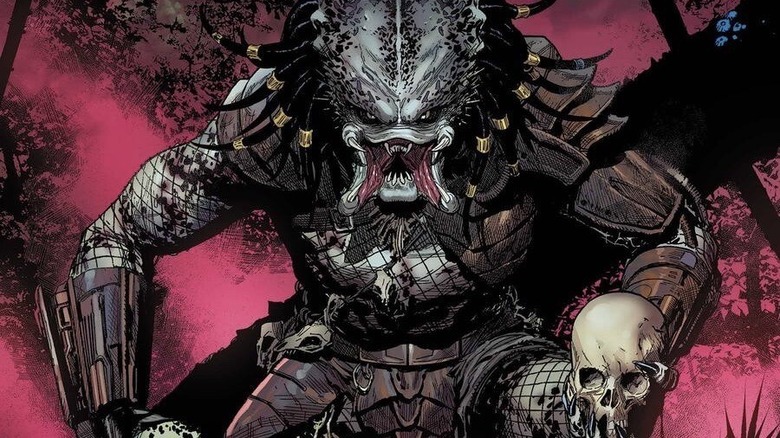 Marvel Comics
Brisson had this to say about writing the upcoming "Predator" comic book series:
"I've been obsessed with Predator since first seeing the film at the drive-in theater as a kid. I can still remember sitting there in horrified fascination and then acting out the movie for my classmates the following week at school. I bought the VHS and wore the hell out of the tape. Getting to write the character's launch for Marvel is a dream come true. When they offered me the gig, I already had a million ideas ready to go. Not only am I excited to write a PREDATOR book, but I'm doubly excited to be working with Kev Walker on the series. The pages he's turned in so far [are] mind-blowing. He's delivered awe-inspiring alien planets; huge, blood-pumping action scenes: and devastatingly emotional beats all in the space of the first issue. I really think we're making something quite special here."
The alien Yautja species are known for hunting humans and Xenomorphs. We've seen it happen across six movies: "Predator," "Predator 2," the two "Alien vs. Predator" spin-offs, then "Predators" with Adrien Brody, and most recently, "The Predator," directed by Shane Black, one of Schwarzenegger's co-stars in the original movie. It will presumably happen again in "Prey," the upcoming Dan Trachtenberg-directed prequel, set 300 years in the past, in which a Comanche warrior fights to protect her tribe from the Predator.
We can only hope that as the Predator integrates into the Marvel family, it will soon begin hunting superheroes, maybe even on the big screen. With as crowded as the superhero movie landscape has gotten, we could probably use the services of a good Predator as a form of superhero population control.
"Predator" #1 goes on sale via comic retailers on July 6, 2022.